FAQS Regarding Use of Buffalo Toronto Public Media Studio Facilities
Who is Buffalo Toronto Public Media and where are your studios located?

WNED PBS is the PBS television affiliate and WBFO is the NPR station in Buffalo, NY and we serve the western New York and southern Ontario communities. Our studios are conveniently located in downtown Buffalo near the waterfront and right across the street from one of Buffalo's premier hotels. Our address is 140 Lower Terrace Street and can be easily accessed from the I-190 going north or south and (from the airport) via 33 west to downtown Buffalo.

How many studios do you have?

We have two television production studios and three radio production studios. On the TV side, WNED PBS's Studio One, our primary production space, is a 7000 square foot, fully soundproofed studio which has been approved by the Governor's Office of Motion Picture & Television Development in New York State as a television/film production facility. This means certain film and TV productions are eligible for tax credits. Please refer to the state film office's website for more information.

http://www.nylovesfilm.com/sound-stages.php

http://www.nylovesfilm.com/tax-incentives.php

Our second facility, WNED PBS's Studio Two is used mainly for fundraising activities but is available for small production projects and photography shoots.

Our radio studios are most frequently utilized for recording audio interviews, usually employing the ISDN standard.

Who can rent the Buffalo Toronto Public Media studios?

The Buffalo Toronto Public Media studios are available to television and film production companies; radio producers and broadcasting companies; independent and freelance producers; advertising agencies; professional photographers and any other professional media organization. We also open our studio to for profit and non-profit businesses and organizations for company presentations, annual meetings, special events and company sponsored galas. Learn more about our Meeting Space Rentals. WNED PBS's Studio One has been rented for a variety of purposes since we moved to our current location in 1993. From television and film production to high profile public meetings, it has hosted hundreds of clients and events. Inquiries for television studio rentals should be made to or Production and Event Facility Rental representatives. On the radio side, contact production engineer Aaron Heverin.

WNED PBS Contact:
Production and Facilities Rental
716-845-7000
RentalInfo@wned.org

WBFO Radio Contact:
Aaron Heverin
Buffalo Toronto Public Media Engineer
(716) 845-7000 ext. 190

Do you have more information on specifications, equipment and rates for the television production studio?

General information on the studio is found elsewhere in this section. Studio One specs:
Dimensions: 73 x 96
Grid height: 21 ft.
350 feet of black curtain on switchable track
Power: 14-20 amp outlets/circuits on studio perimeter

2-50amp 120/208 volt outlets/circuits
200 amp triple phase power available

Dex-O-Tex epoxy over concrete TV gray finish studio floor
Christie HD projector with 20 x 24 motorized drop-down screen
(5) Sony HDC-1400 HD studio cameras on full studio pedestals

(3) box lenses (2) barrel lens-all 14 x 8 with 2X extenders
Autoscript teleprompter units on three box lens cameras

Analog Way Pulse 2 video switcher with RK 350 remote control
Comrex VH2 VOIP Telephone Hybrid
Shure DDS5900 push to talk mic system
Available 30 x 30 green screen (fabric)
ETC Element light board
Mole-Richardson, DeSisti and ETC lighting instruments
Skyjack battery operated 21' scissors lift (2)

To get information on rates or to request a quote please contact the WNED PBS Production and Event Facility Rental Representative at 716-845-7000 or RentalInfo@wned.org.

What amenities can WNED PBS provide to clients?
Easy access is provided by a ground level garage bay with a "straight shot" load-in to our main studio.
For our production clients, WNED PBS offers use of our Mark Russell Green Room, with two adjoining dressing rooms equipped with makeup desks and showers, along with private access to men's and women's bathrooms. The Green Room also has a 50" LCD HD television screen and comfortable seating for up to six people.
Wi-Fi is available throughout the Buffalo Toronto Public Media building.
We have a Lunch Room directly across the hall from Studio One that can be used for crew meals.
A production office can be made available to multi-day and long-term clients.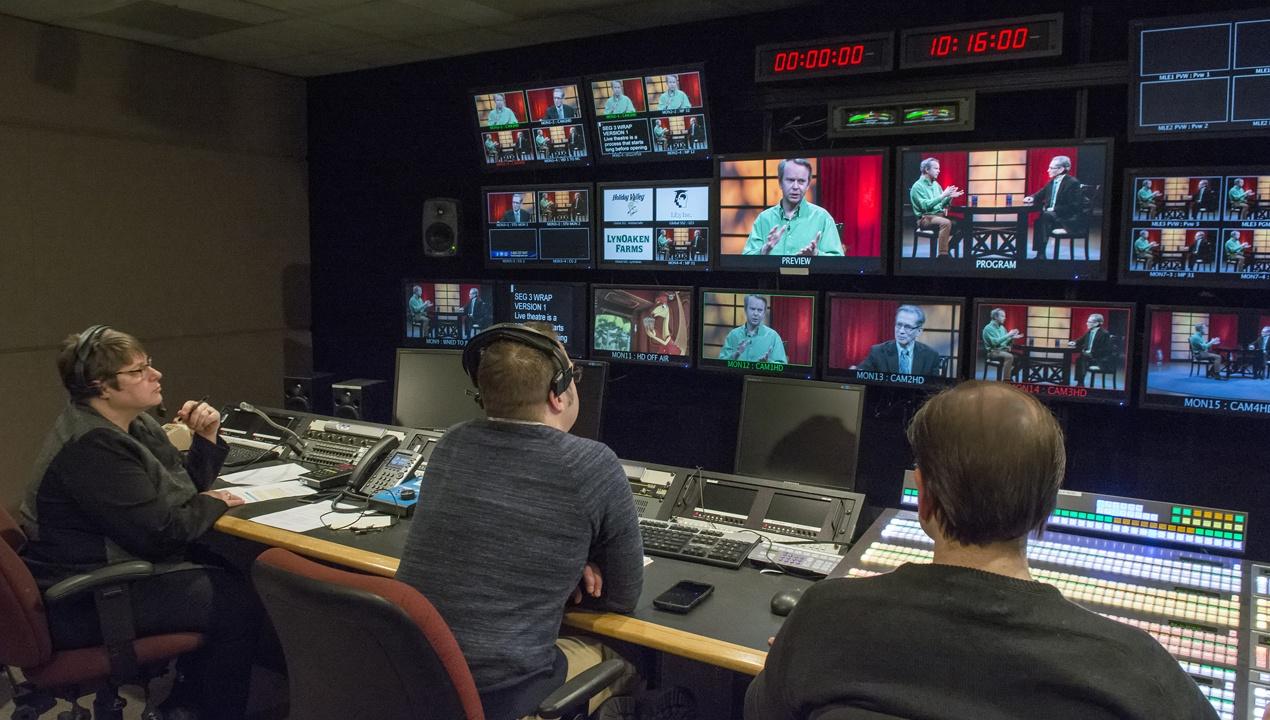 Buffalo Toronto Public Media is conveniently located in downtown Buffalo at 140 Lower Terrace, near the I-190. Access to our free parking lot is on Charles Street (also known as "Mark Russell Alley").