On January 6, 1959, WBFO signs on the air as a 100-watt student radio station licensed to SUNY and operated by the School of Engineering. Inventor Wilson Greatbatch is among those responsible for laying the groundwork for WBFO. The station broadcasts from 6 to 9 pm, weeknights on a budget of $1,300.
Celebrating 60 Years of WBFO
by Dave Debo
The same year he patented the world's first implantable pacemaker, University at Buffalo engineering professor Wilson Greatbatch was involved in another effort – teaching students about radio waves.

Greatbatch and other faculty members started a practical experiment on the UB south campus that ultimately sparked to life on Jan. 6, 1959, with WBFO signing on the air as the region's first educational radio station. Initially conceived as a teaching tool for the engineering school, the first transmissions 60 years ago this month, started a legacy of community service that continues to this day. It also launched the careers of several of public radio's brightest stars and even laid the groundwork for the foundations of NPR itself.


"WBFO played an important role," said Bill Siemering, the first General Manager of WBFO, who went on to be one of the founders of NPR and served as its first director of programming. In fact, he wrote the fledging network's initial mission statement, drawn from concepts pioneered at UB.

"National Public Radio will serve the individual: it will promote personal growth;" Siemering wrote in the original document. "It will regard the individual differences with respect and joy rather than derision and hate; it will celebrate the human experience as infinitely varied rather than vacuous and banal; it will encourage a sense of active constructive participation, rather than apathetic helplessness."

READ IT HERE

Long before it became the news powerhouse that it is today, the station started as an occasional on-the-air effort, run by students for the first several years. It offered a mix of classical music, jazz, poetry, and lectures.

"When I went to WBFO in August 1962, the station was a student club under the Dean of Students who hired me, Richard Siggelkow," Siemering wrote in an e-mail interview with WBFO. "The station was off the air in summer and during vacations; it went on-air at 5 pm."

But it still found time to innovate. In 1960, it was the only local station to cover elections from the headquarters of both local political parties. It also aired English language tapes from Radio Moscow, did a regular remote broadcast from an art gallery, and teamed with WNED PBS to present the first local television broadcast in stereo, according to a history prepared by the University.

Coverage of the Vietnam War student protests included on-scene interviews and panel discussions, often with protesters heard chanting in the background. A Courier-Express newspaper account of the time said it was "a beacon of light and reason amid the passionate and intemperate voices which scream from all sides of the political spectrum."

In 1970, with a nation still dealing with social and racial unrest, the station had a remote studio at 1203 Jefferson Avenue, in the heart of Buffalo's African-American community. Volunteers from the community shared stories, and a mailman played his own jazz records. It launched a tradition of listening to un-heard voices.

"The studio on Jefferson Avenue was very influential in my writing of the NPR mission," Siemering said.
Staffers included "Science Friday" host Ira Flatow, who served as news director. Rich Firestone, the first long-term director of NPR's "All Things Considered," longtime ATC producer and editor Jon "Smokey" Baer, and inaugural ATC host Mike Waters all got their start there.

WBFO Blues host Pat Felballe, a Buffalo Broadcasting Hall of Fame member, hosted a public affairs news program during the 1970s. "Fresh Air" host Terry Gross began her career there and has said that without the WBFO program "This Is Radio," there would be no Fresh Air.
Current WBFO "All things Considered" host Mark Wozniak started at the station in 1978, and was on the air Nov. 5, 1979, for the initial launch of NPR's "Morning Edition". He emceed several call-in trivia game shows on WBFO in the early 1980s, and enjoyed being a volunteer co-host of "A Polka Sunday With Friends" with the late Stan Sluberski on WBFO from 1981 to 1986.

Innovations continued long after the launch of NPR and an eventual evolution into a news service. But music programs were also featured. From 1982 through 1984, UB Professor Bob Rossberg's "Sounds of Swing" chronicled the history of jazz in programs produced here and aired on stations around the country. A mix of jazz and news programs continued up through early 2000.

In 2011, the University at Buffalo sold WBFO to Western New York Public Broadcasting Association, creating the Buffalo Toronto Public Media operation that listeners know today. For six years in a row, from 2013 through 2018, the station won the Associated Press's award as outstanding news operation in New York State.

WBFO is now the largest radio newsroom in Western New York.
See Terry Gross talk of why she misses her time at WBFO
Why Terry Gross Misses WBFO
Terry Gross talks about the programs she misses from her earlier days at WBFO.
WBFO
Sunday marks 60 years of broadcasting for WBFO. The station's very first broadcast aired on January 6, 1959.
Share Your Memories of WBFO
Do you have a story to tell? A fun memory of WBFO? How long have you been listening? Call and leave a message to let us know! By leaving your story, you are giving permission for us to feature it on air and online. (888) 858-9236
Celebrating 60 Years!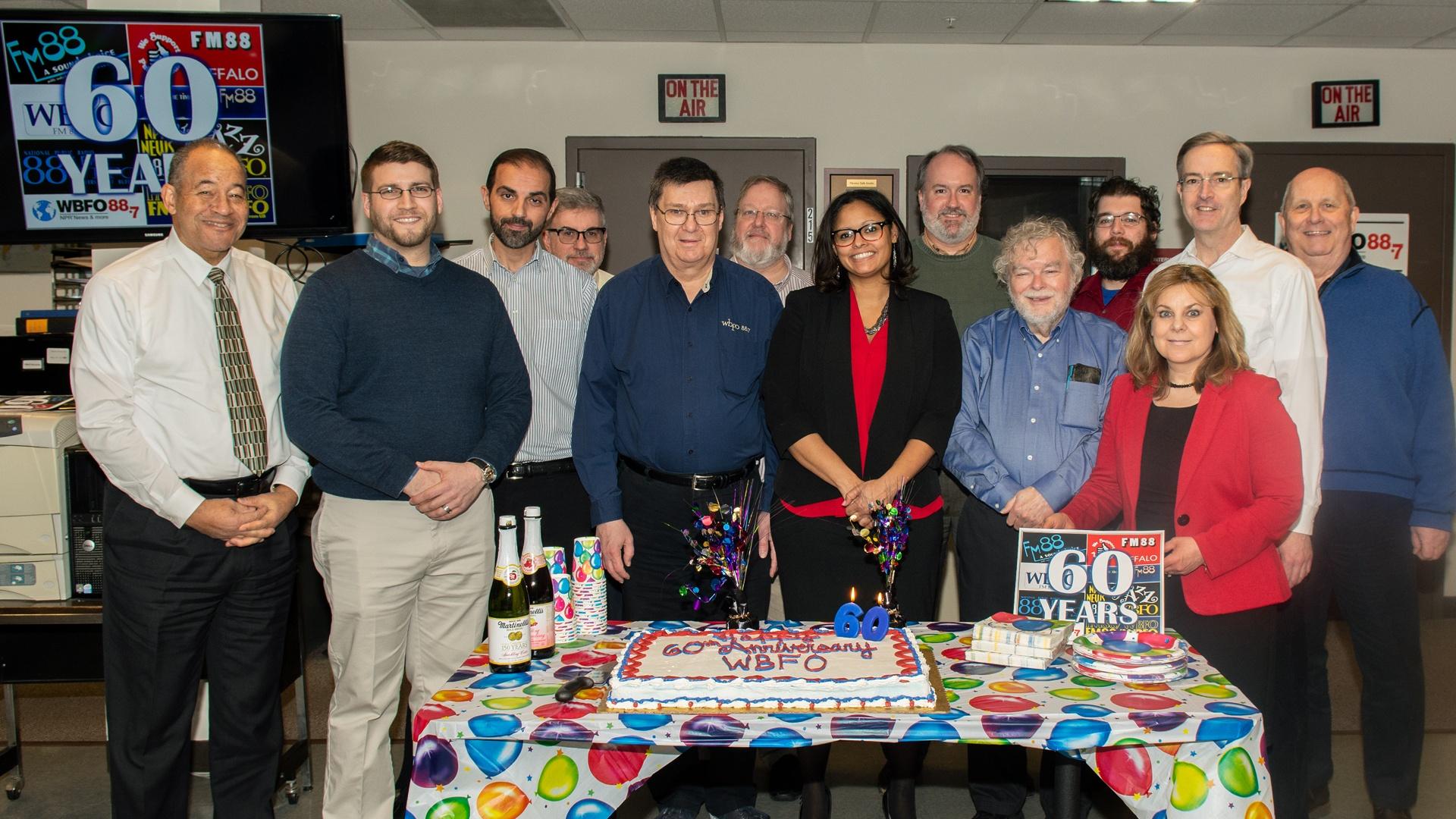 Eileen Elibol Buffalo Toronto Public Media
The WBFO staff gathers to celebrate 60 years of broadcast excellence.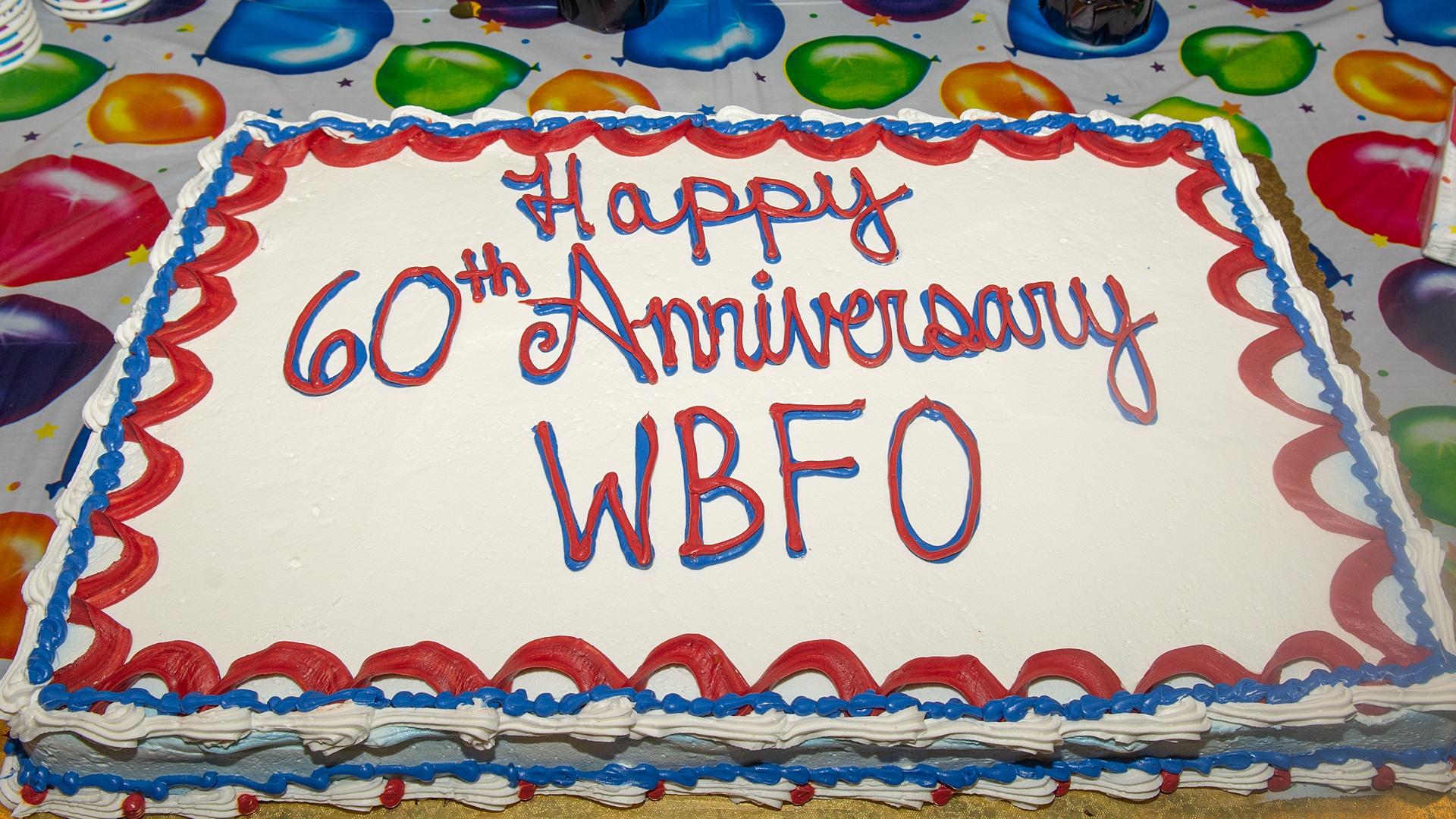 Eileen Eibol Buffalo Toronto Public Media
WBFO signed on the air January 6, 1959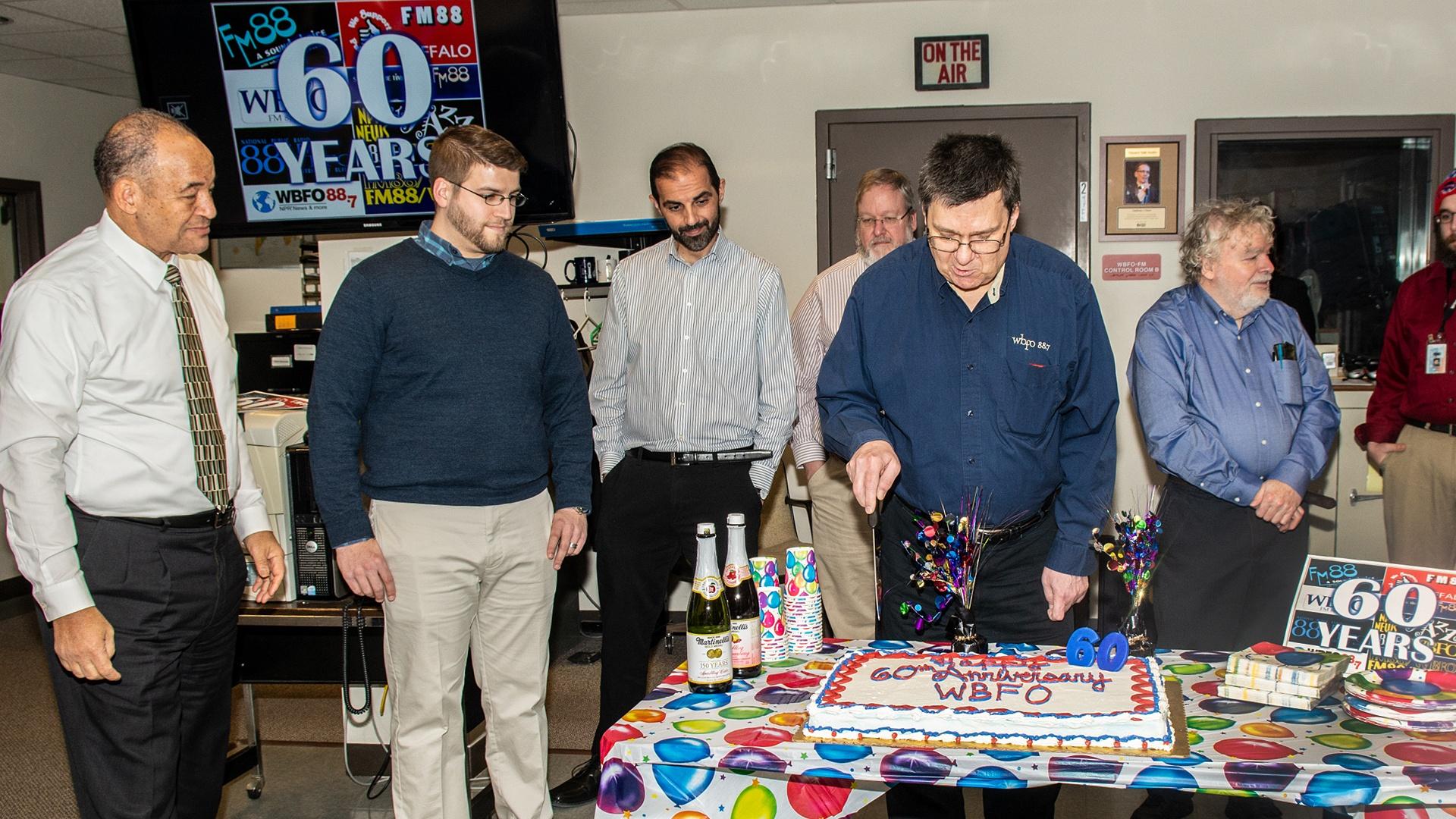 Eileen Elibol Buffalo Toronto Public Media
Mark Wozniak the longest current WBFO employee cut the cake to begin the celebration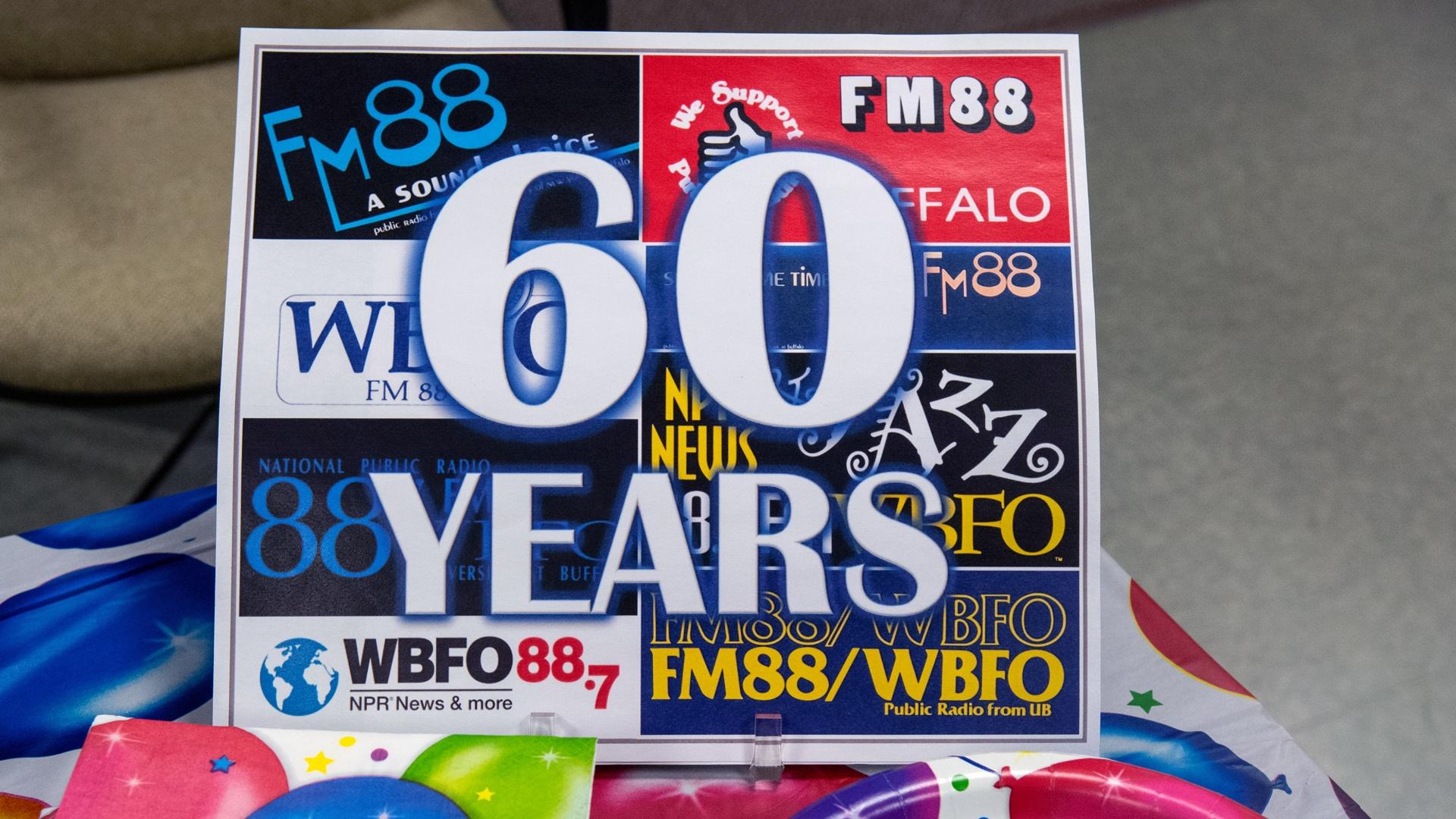 Eileeen Elibol Buffalo Toronto Public Media
Poster featuring a collection of WBFO bumper stickers through the years.