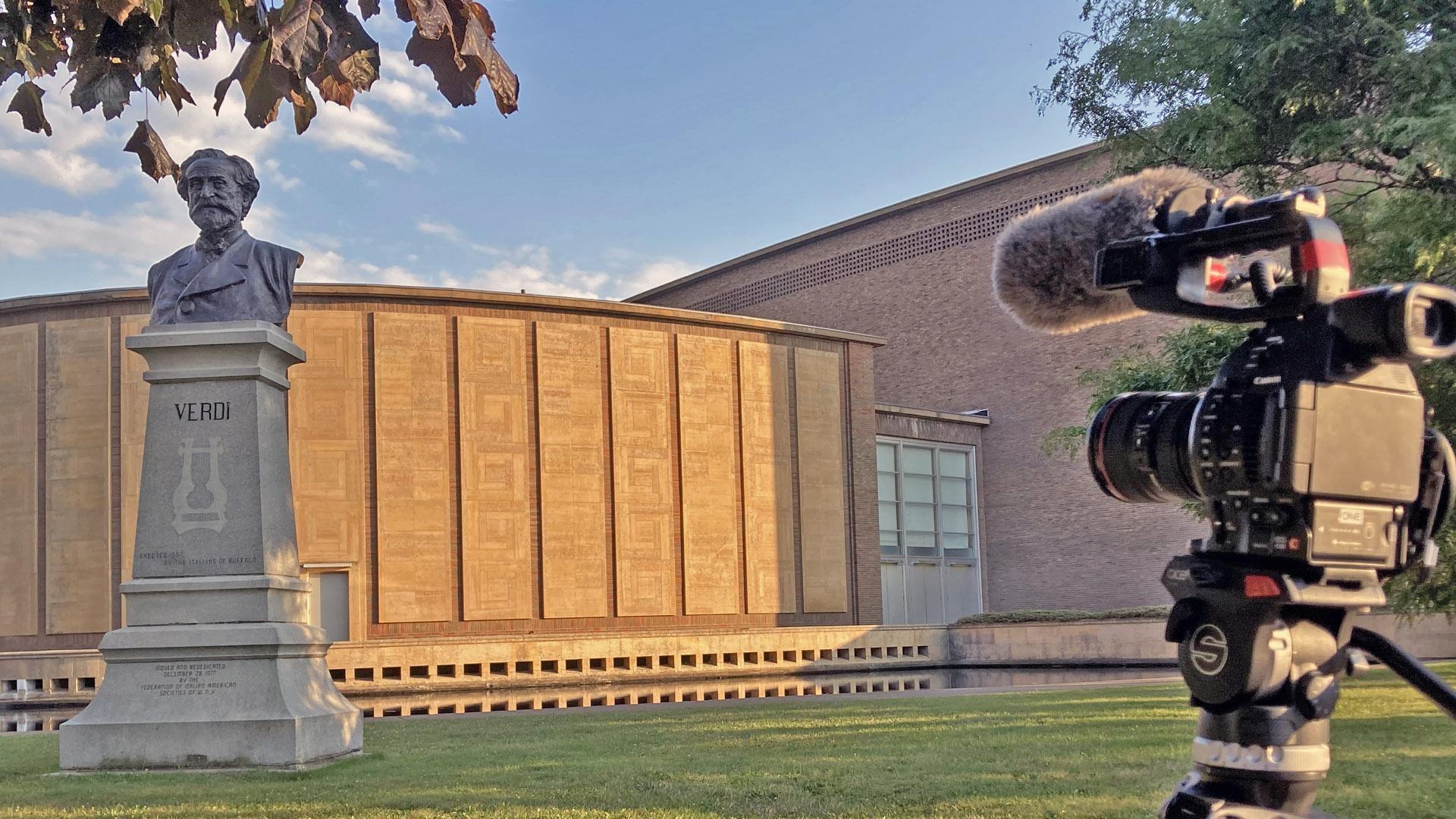 WNED PBS is busy filming our next original production, The Kleinhans Music Hall Experience. Our program shares the rich history of Kleinhans Music Hall in Buffalo, NY and we want you to be a part of it!
Kleinhans is the home of the BPO AND a wonderful place for us to gather as a community. Whether it was a graduation, dance recital, BPO, or rock concert, we invite you to share your photographs, video, and other memorabilia with us for potential use in the documentary and as we create a Kleinhans scrapbook on this site.
Kleinhans Music Hall | Share Your Memories
Please use the link below to share your Kleinhans memories with us. You are encouraged to upload photos, videos and memorabilia too! These stories, photos, and videos will be added to a scrapbook we are creating in tandem with the production.


WNED PBS will review all submissions prior to appearing on the website. Content deemed inappropriate will be rejected. Please read the submission FAQ below prior to submitting your story.

 
The name and photo associated with your Google account will be recorded when you upload files and submit this form.
Your content may be selected to be part of the WNED PBS Kleinhans Music Hall documentary and/or featured in the project website at wned.org and on social media. WNED PBS will reject content that contains inappropriate language, threats, attacks, name-calling, promotional material, or is off topic. Users may only submit content that they own. Content should be free of commercial branding or logos. The submission of content does not guarantee that it will be featured in the documentary or the scrapbook on our website. The decision of whether to include content will be made solely by WNED PBS.

What are the types of stories I should submit?
Brief personal stories of about your memories of Kleinhans Music Hall. Please limit your story to 300 words.

Which types of media can I submit?
Text, photos, audio and/or video.
Please only submit materials that you own – photos that you took, stories you wrote yourself, etc.

What makes a good story?
Your story should be authentic and personal. You can share multiple stories if you wish using the upload link above.

Can I submit my memories if I don't have a gmail account?
Yes! Please submit your memories to production@wned.org. Large files cannot be accepted by email.
What happens after my content is submitted? When will it be visible on the site?
WNED PBS will review all submissions prior to appearing on the website. You will receive an email to notify you when your post is visible. Content deemed inappropriate will be rejected and will not appear on the website.

Why do you need my email address?
You will receive an email if your content is approved for posting on the site. Our documentary production team may also reach out to you via email to learn more about your memories of Kleinhans. WNED PBS will not sell, rent, or disclose your email address to third parties. Please only provide your email address where prompted to in the tool, as this will not be made public. Please do not provide your email address in the body of your story, as doing so will cause your post to be rejected.

Why would the story I submit be rejected?
WNED PBS will not post content that contains inappropriate language or content, threats, attacks, name-calling, promotional material, or off-topic material. Your story will also be rejected if you submit materials whose rights are owned by others, such as a book excerpt or a copyrighted song or photo.
Explore Our Kleinhans Music Hall Scrapbook
See what people are sharing
Michael from Fredonia | Memories of Bob Dylan Concert at Kleinhans Music Hall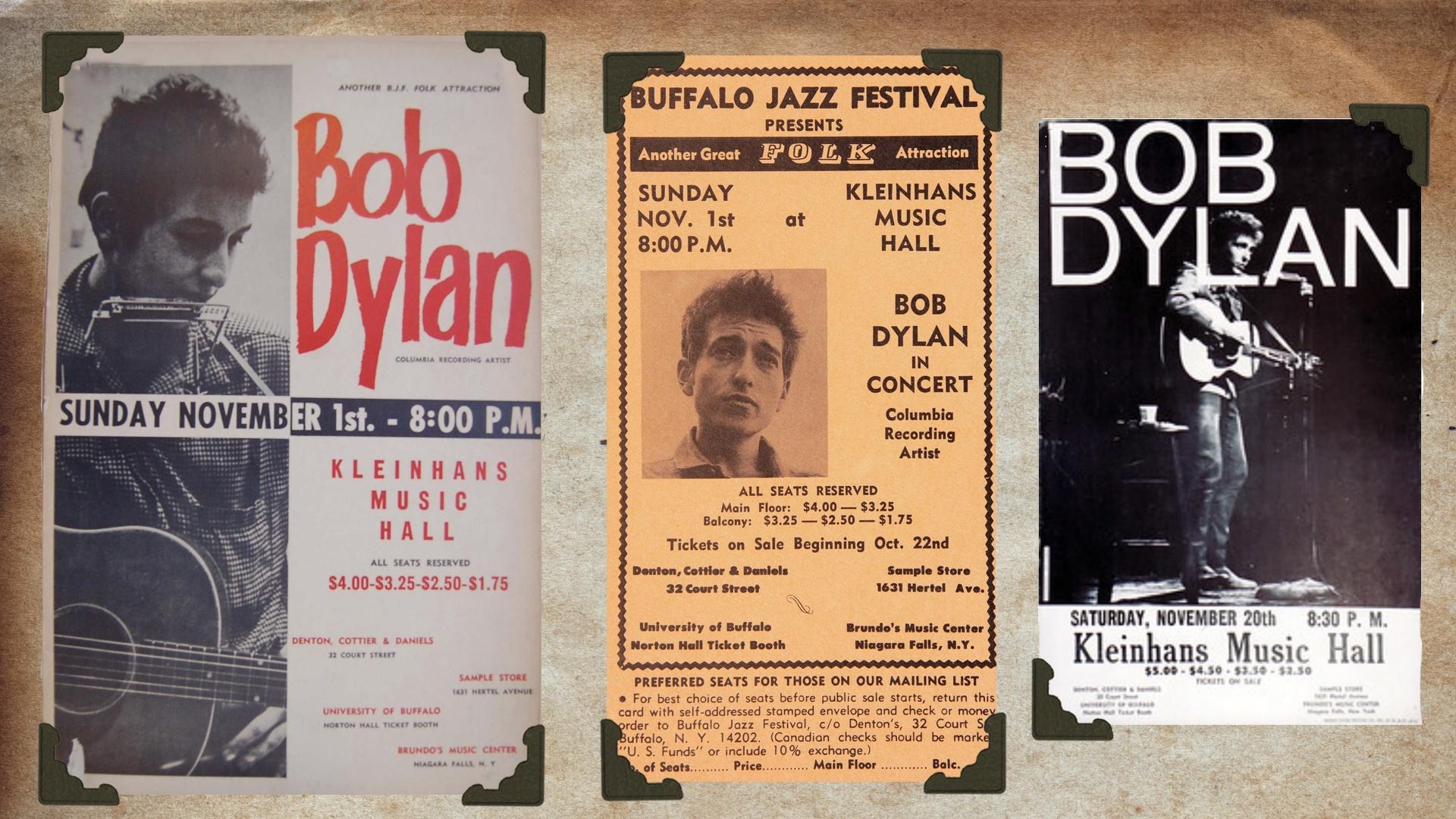 Nov 20, 1965. I was 15. Bob Dylan at Kleinhans. The first set was acoustic - just Bob & his guitar. It felt like church - you could hear a pin drop as we hung on every word. He only spoke twice - "My electric guitar never goes out of tune" as he tuned his guitar. And "I'll be back with my band" at the end of the set.
He returned with his band for set 2 - he didn't introduce them, but it was The Hawks (Later called The Band). All hell broke loose. Half the crowd booed and stomped their feet. Cries of "traitor" and "pray for a power failure". The other half (us included) loved it. I became a life-long fan. I asked my parents for Dylan albums for Christmas and they gave me all 6 of them. It was a life-changing event. Dylan went on to tour the US and the UK. The crowds booed but he persisted. I was there in Nov. 1965 in Buffalo, NY to see music history. It was awesome.
Michael, Fredonia, NY

Peggy from Kenmore | Memories of Concerts at Kleinhans Music Hall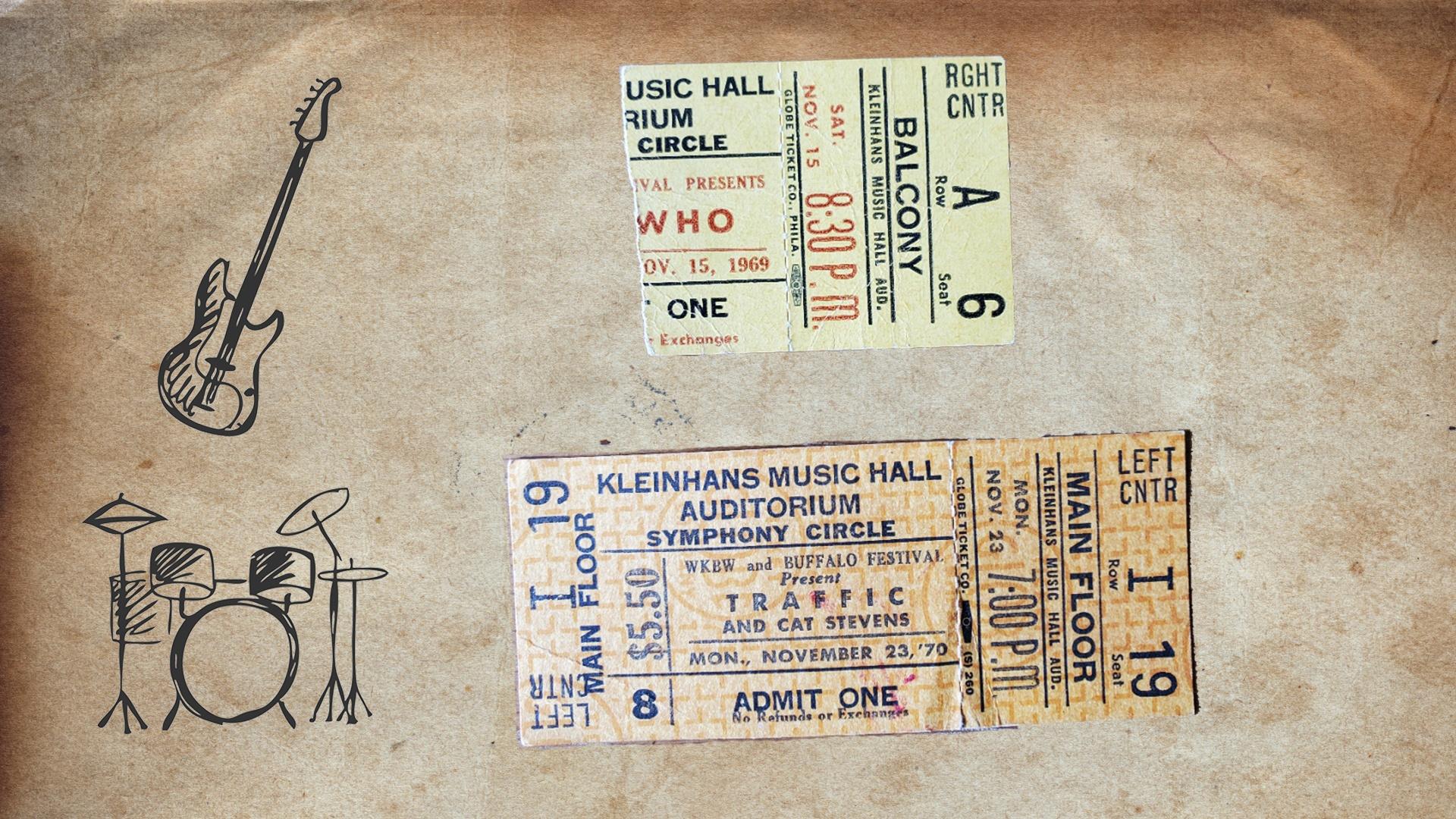 I grew up on West Utica Street and as a child, we would walk down Richmond to Kleinhans frequently. The concert hall has been a part of my life from the start. In high school we would attend the intro to orchestra sessions and like hundreds of others, I have been attending concerts at Kleinhans since the 1960's.
I still have ticket stubs from seeing the Who in 1969 perform Tommy (first row balcony!!!) and Traffic in 1970 with Cat Stevens opening. I regrettably do not have my ticket stub from the Led Zeppelin concert which I also sat in the first row balcony (I think that was 1969 also). I still like to tell people about seeing rock bands at Kleinhans and how surprised (and jealous) they are that we once had that opportunity.
I have also been attending philharmonic concerts since that time also. My girlfriend and I would go on Tuesday evenings and get student discount tickets which allowed us to hear the orchestra for $8.00. I think this was early 70's because I believe Michael Tilson Thomas was conducting – what a gift to be able to enjoy him. We are so lucky in WNY to have such a world class Orchestra and such a gifted maestro as JoAnn Falletta. Going to Kleinhans has always held somewhat of a nostalgic mystique for me and I look forward to any production that is done documenting it.
Peggy, Kenmore, NY

Frank from Kenmore | Memories of St. Stanislaus Boys Choir at Kleinhans Music Hall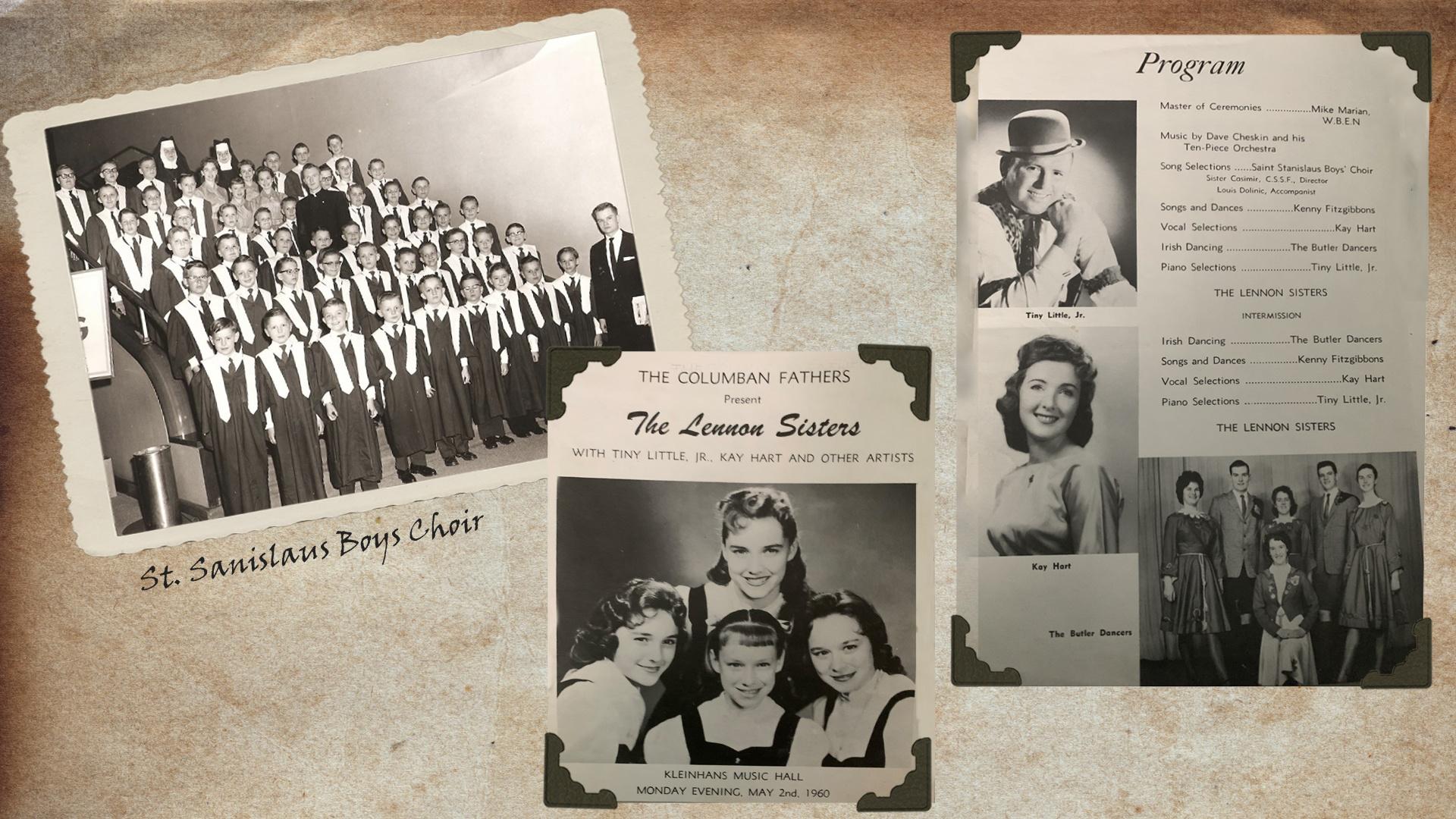 The Saint Stanislaus Boys Choir sang on same program with the renowned Lennon Sisters of Lawrence Welk fame at Kleinhans in 1960. The choir also sang on TV show "Pic a Polka". In 1962 the choir sang in front of 300,000 people at Buffalo City Hall when President Kennedy spoke on Pulaski day.
Frank, Kenmore

Heidi from Williamsville | Memories of the Holiday Pops at Kleinhans Music Hall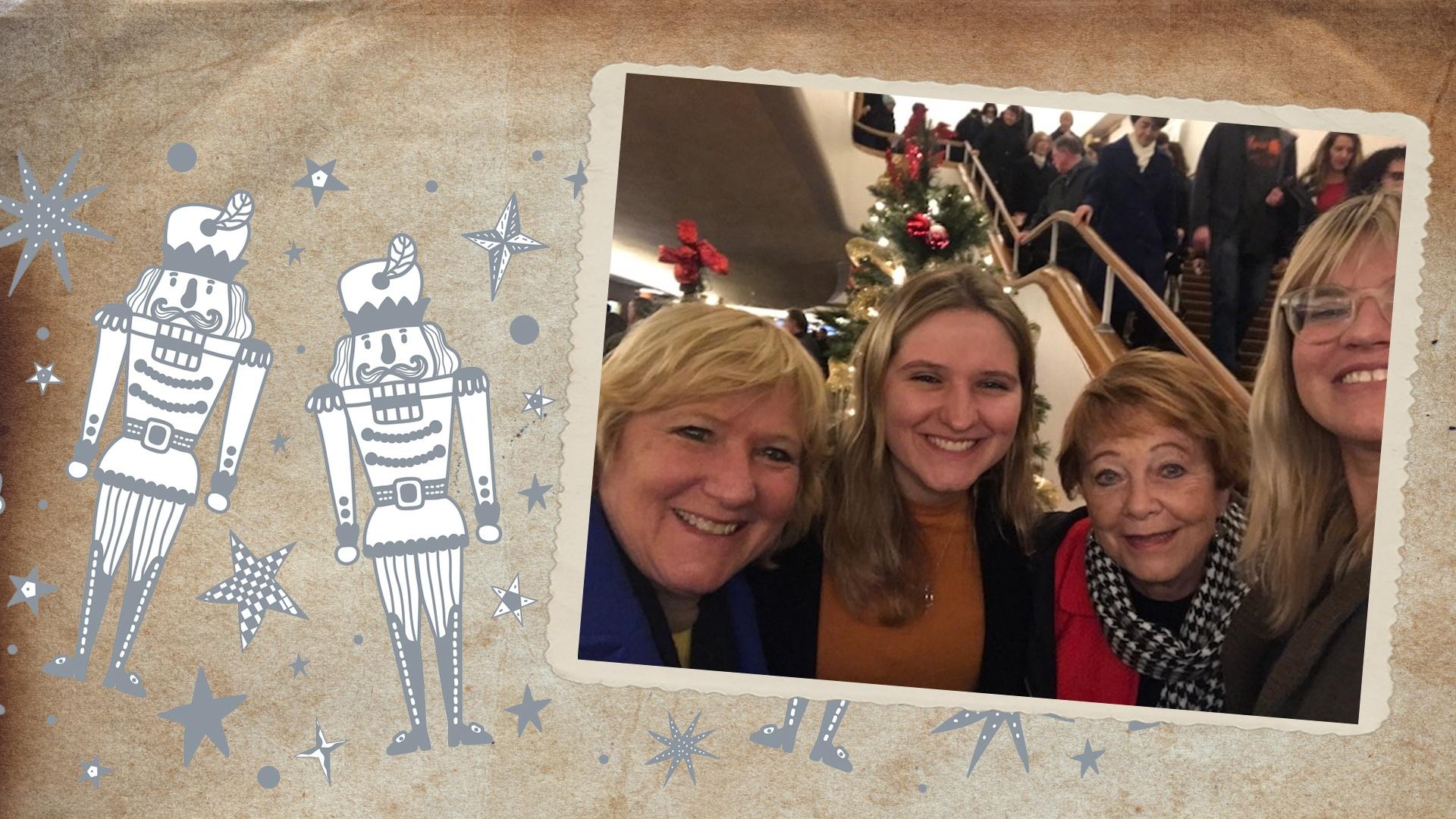 My parents would take my two daughters to the Holiday Pops since they were very young. My Dad has passed, and they are in their 20s, but we keep the tradition going!
Heidi, Williamsville

Roderick from Cheektowaga | Memories of the Concerts at Kleinhans Music Hall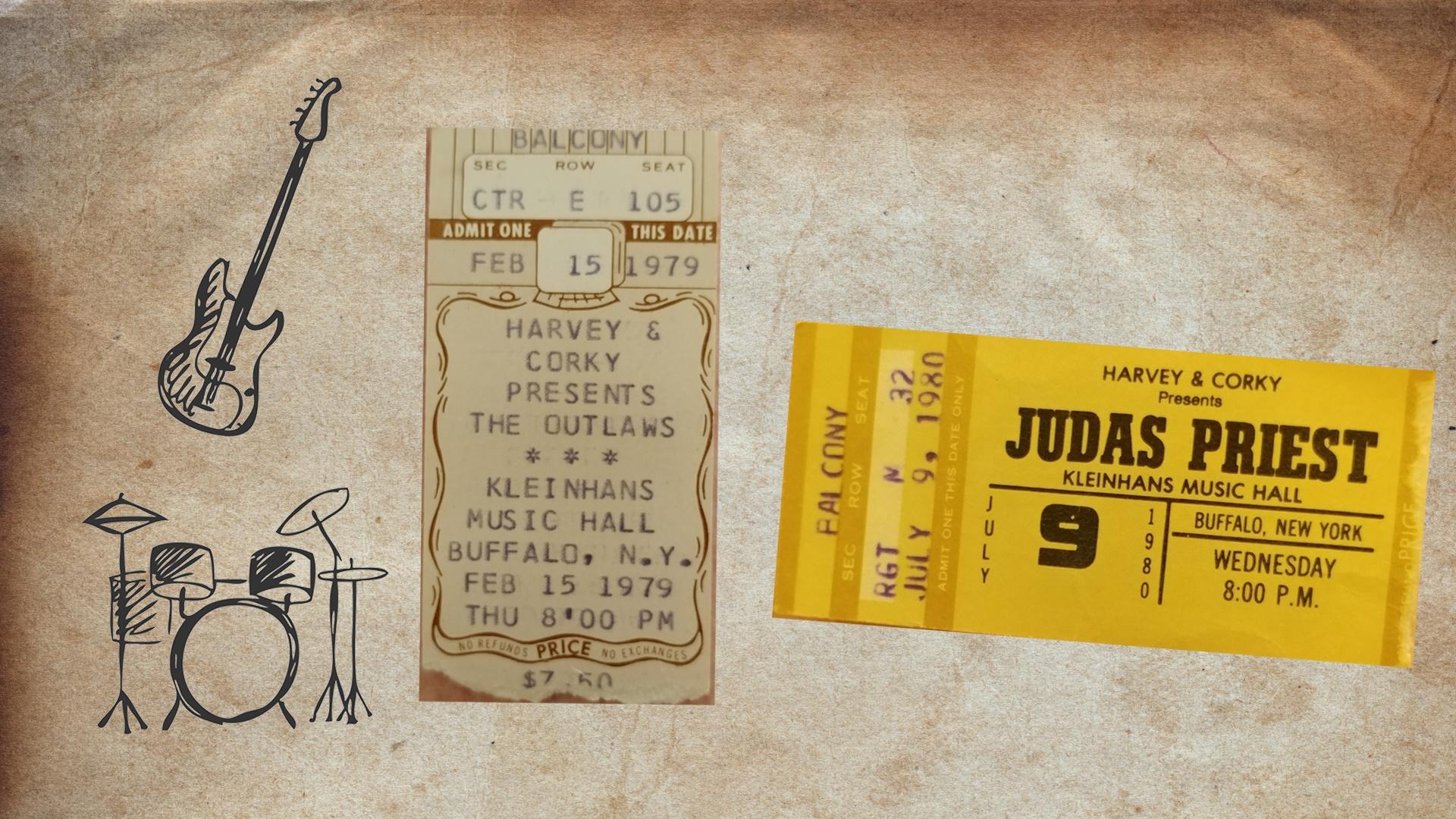 Probably started with school field trips to see the BPO . . . DVORAKs New World Symphony is a favorite . . . Then there's THIS . . .
Roderick, Cheektowaga