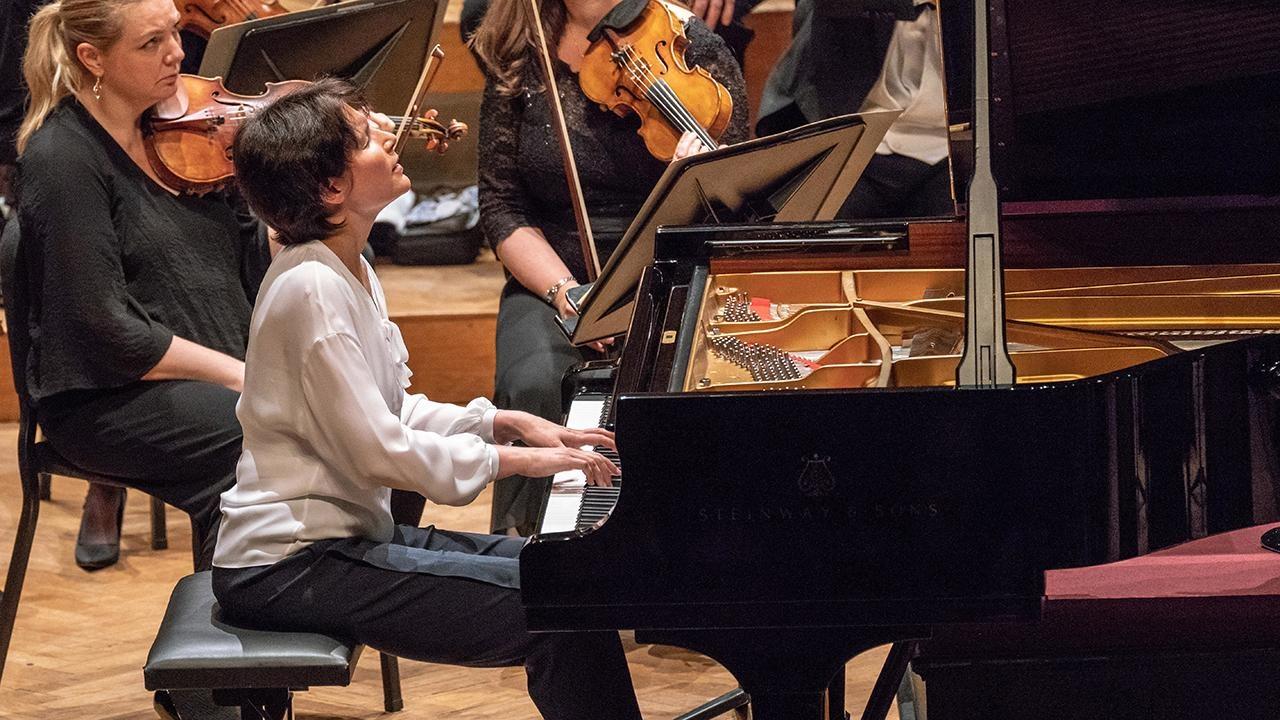 A Conversation with Hélène Grimaud by Ed. Simone
21 May 2018
When I last spoke face-to-face with Hélène Grimaud, it was backstage in Severance Hall, Cleveland. She'd just performed Beethoven's fifth piano concerto and was recovering from a nasty case of what she called "the Russian flu." That was in 2013. Hélène remembered that conversation when we met last week, in Philadelphia, the day before she was to end her two-week Philadelphia Orchestra residency with a performance of Beethoven---this time his fourth concerto.

To talk with Hélène Grimaud is to be put immediately at ease. There's an energy behind her eyes that seems to welcome questions, and her answers evidence just as much eagerness to understand as to be understood.

Settling in a couple of leather chairs in a corner of the lobby of her hotel amid a seemingly endless procession of brides and guests in search thereof, I ask her with a smile how the last five years have been.

"Well, life happens, you know, and there has been continuity" she replies with a smile of her own. "And growth--not constant growth, of course---but overall, it's been happening, been continuing. Overall, it's really been great."

Grimaud seems to weigh almost everything she does by continuity and growth. And why not? She's an award-winning Deutsche Grammophon recording artist; a global phenome of a soloist, who's also called by so many musicians and artists a collaborator par excellence; an author of three books; a cancer survivor; an activist for human and animal rights, and founder of the Wolf Conservation Center in South Salem, NY.

It was a chance encounter with a wolf in Florida that sparked Grimaud's curiosity and eventual championing of wolves. She writes about it in "Wild Harmonies", to date the only one of her books available in English. When I ask her about the status of the Wolf Conservation Center, Grimaud leans in and reports with great excitement that things have never been better.

"I would encourage everyone to go to www.nywolf.org to check out what's going on," she says. "We now have four litters of wolf pups – two litters of red wolves and two of Mexican wolves – so the total now is nearly 45! The center has an amazing team, they're so dedicated, so dynamic, charismatic – the board, the staff and the volunteers. The Center's staff and the ambassador wolves touch so many lives. I couldn't wish for anything better. It's fantastic."

If the continuity and growth of the WCC is a source of pride and enthusiasm for Grimaud, so too is her work with the Philadelphia Orchestra and their music director Yannick Nézet-Séguin. Wrapping up a fortnight of concerts with them in Philadelphia on May 20, Grimaud then heads off to Europe and Israel for a three-week tour with her friend Nézet-Séguin and the Philadelphians. On the tour bill for Grimaud: the Brahms first concerto and Beethoven's fourth.

"I am so glad to be doing the Beethoven fourth with Nézet-Séguin and the Philadelphia Orchestra. It is such a delicate, such a fragile concerto," she says.

When I tell Hélène the fourth is my favorite of Beethoven's piano concertos, she replies, "Oh, mine as well." (Note to WNED Classical listeners---it's also Stratton's.)

"Not the fifth?" I ask.

"Well, of course, I love the fifth and it's a major piece; but it doesn't have this subtlety, this poetry, this lyricism that the fourth has. And for that you need a very special kind of chemistry. Working with Nézet-Séguin and the Philadelphia Orchestra has been such an incredible gift."
And she describes the musical intro of Beethoven's fourth concerto, with its spare, solo opening for piano: a few beautiful bars that set the musical course for the next half hour. "And in the hands of Nézet-Séguin and the Philadelphians," she says, "a very visceral bit of music-making."

"I can't even put words to it," Grimaud says. "When the orchestra comes in after those few opening measures of piano, there's a physical reaction. It's physically felt and it changes everything.

"The way this orchestra plays has la justice stylistique, as we say in French: the stylistic truth. It's not just about dynamics, it's about the architecture, the ability to listen and to react, to play with such incredible sensitivity, with extra soul."

The next day's concert in the Kimmel Center proved Grimaud's point and also amplifies the continuity and growth she talked about. The Beethoven fourth was the first work I heard Hélène Grimaud play, in a 1999 recording with Kurt Masur and the New York Philharmonic. And while that recording broke with enough traditions to get me interested in this pianist's work, her current take on the piece is at once more nuanced and yet looser, freer. And the energy from Grimaud to Nézet-Séguin to the Philadelphia Orchestra and back again made for an electric and ebullient concert experience. Truly the most thrilling Beethoven I've ever heard.

I tell Grimaud of my initial discovery of her work, finding that recording of her and Masur in the CD library at BT Public Media, and of my reaction to it. She answers that she finds it fascinating the way we all react to different performances of the same piece.

"Sometimes I'll do what a friend of mine calls 'vertical tastings,' and I'll go and I'll listen to many different recordings of a piece," she says. "Of course, every interpretation is worthwhile, but you have such different reactions to each performance! Sometimes emotionally, even physically. A performance can alter your pulse, your breathing. It's amazing."

When I mention the apparent spontaneity of her work, and add that even her studio recordings have the energy of live recordings, Grimaud explains.

"Well, that for me is what music is all about; that you play as if the piece was written in the moment, and that the energy and quality of that moment go into the performance. In a concert, of course, the audience is a huge part of that."

Her mention of the audience prompts me to ask about the release of her next recording, which she reports is still in process.

"The form of the release is still being worked on," she says. "But it will be called "Memory" and it's a very special recording."

Her recordings have often come with thematic titles: "Reflection", "Resonances", and "Perspectives".

"Memory", Grimaud tells me, will feature works by Debussy, Satie, Chopin, and Silvestrov. She has expressed her appreciation for the contemporary Ukranian composer Valentyn Silvestrov in print and has performed his The Messenger and Two Dialogues with an Epilogue with the Bavarian Radio Chamber Orchestra. She says she's excited to include his work in her next release.

We pause to take in a bride crossing the hotel lobby with her attendants. "Another wedding!" says Grimaud. The bridal party sighting returns our conversation to life apart from music, and I ask about Grimuad's German shepherd, Chico.

"Great memory," she laughs. "He's still with me. He's 9-1/2 now. Of course, their lives are always too short."

Unable to resist the opportunity, I share a photo of Kiva, our 8-year-old shepherd. When I pass Grimaud my iPad, she grins and her eyes brighten.

"Oh! Look at that face! They have such warmth and depth, don't they?"

It seems a wonderful note on which to end, so I thank her for taking the time to chat on what is, essentially, her day off and I wrap by asking her what's next. She tells me that after the European tour with the Philadelphians, she'll go back to Germany for some recitals, then on to Vail, Colorado for the music festival, and then back to Europe for concerts with Jaap van Sveden. But now, she will head to the Curtis Institute of Music, a short walk from her hotel, to practice.

"I have the room for three hours, from five to eight," she says. And even though we all know daily practice is the life of a great musician, I can't help thinking: continuity and growth again.