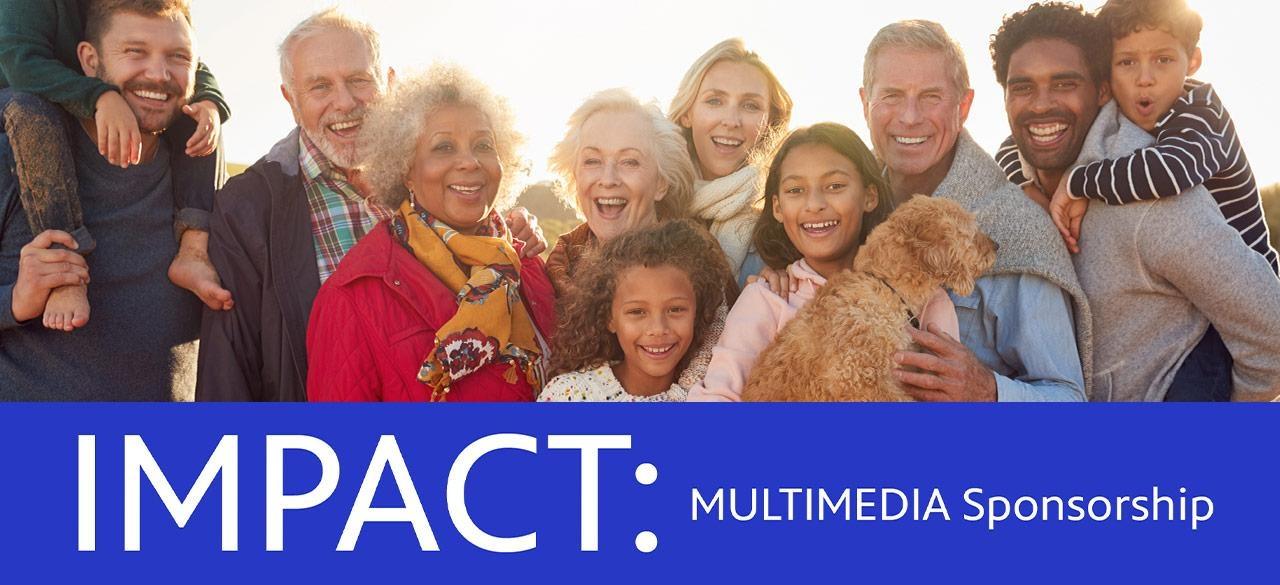 Make an IMPACT with a MULTIMEDIA Sponsorship
Connecting Your Business with people Who Shape Western New York and Southern Ontario
Delivering the highest concentration of well-educated, affluent and influential consumers, WNED PBS, WNED Create, WNED PBS KIDS, WBFO Buffalo's NPR station, WNED Classical, WBFO JazzWorks, and our digital media offer exclusive marketing opportunities in Western New York and Southern Ontario.

Buffalo Toronto Public Media reaches loyal, intelligent audiences in Western New York and Southern Ontario. We provide a unique distinction that comes with a responsibility to deliver the highest quality and unbiased public media content inspiring all people to expand their horizons and be life-long learners. We are proud of and committed to embracing that responsibility with a mission to enlighten, educate, inform, and entertain our audiences through our programming. Your sponsorship can reach your target audience while also supporting that mission!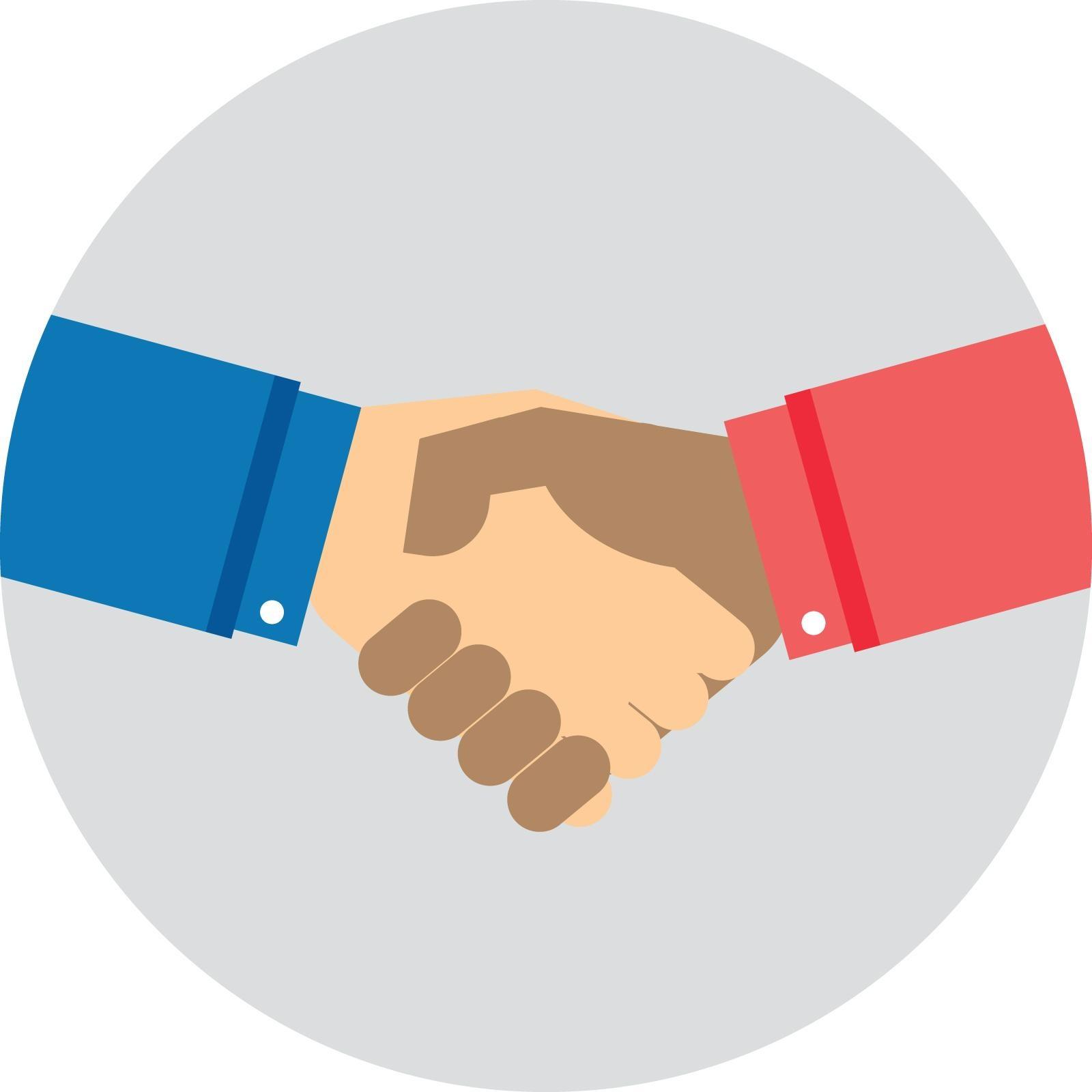 Contact:
Sylvia Bennett
Senior Vice President and Chief Development Officer
716-845-7005
sbennett@wned.org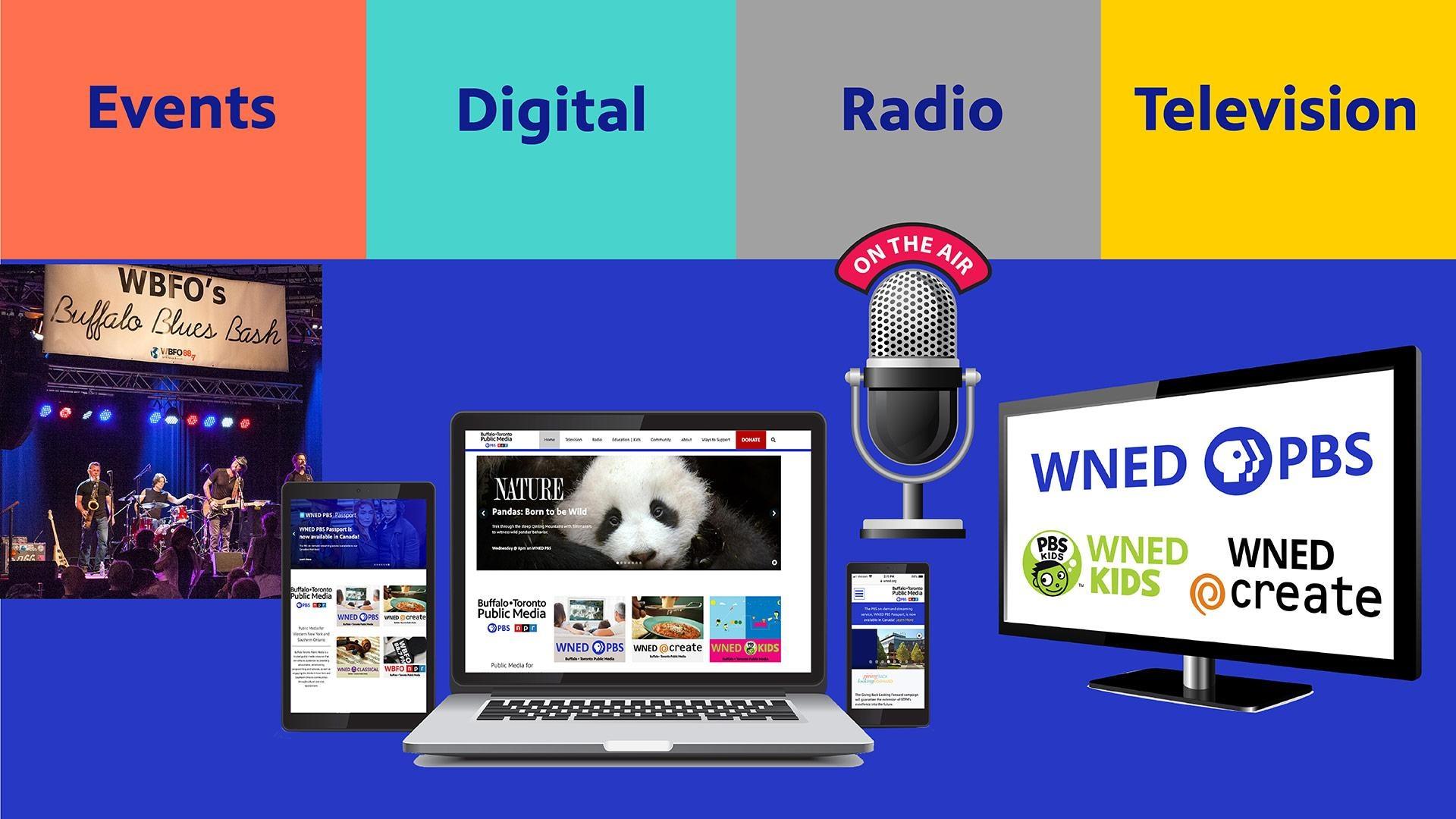 Buffalo Toronto Public Media Reaches:
Weekly Television Impressions | 2,800,000
WNED PBS, WNED Create, WNED PBS Kids,
WNED PBS Passport
Weekly Radio Impressions | 135,000
WBFO, your NPR station, WNED Classical, WBFO Brief Podcast, WBFO JazzWorks plus streaming
Monthly Digital Impressions | 200,000
WNED.org, WBFO.org, WNED PBS, WBFO, WNED Classical, WBFO JazzWorks Mobile apps, Buffalo Toronto Public Media Member Magazine, WBFO E-Newsletter
Source: Television Nielsen Station Index 2020, Radio Nielsen Audio Spring 2020, Monthly Print Reach Constant Contact, Digital Impressions Google Analytics, Streaming Triton Digital.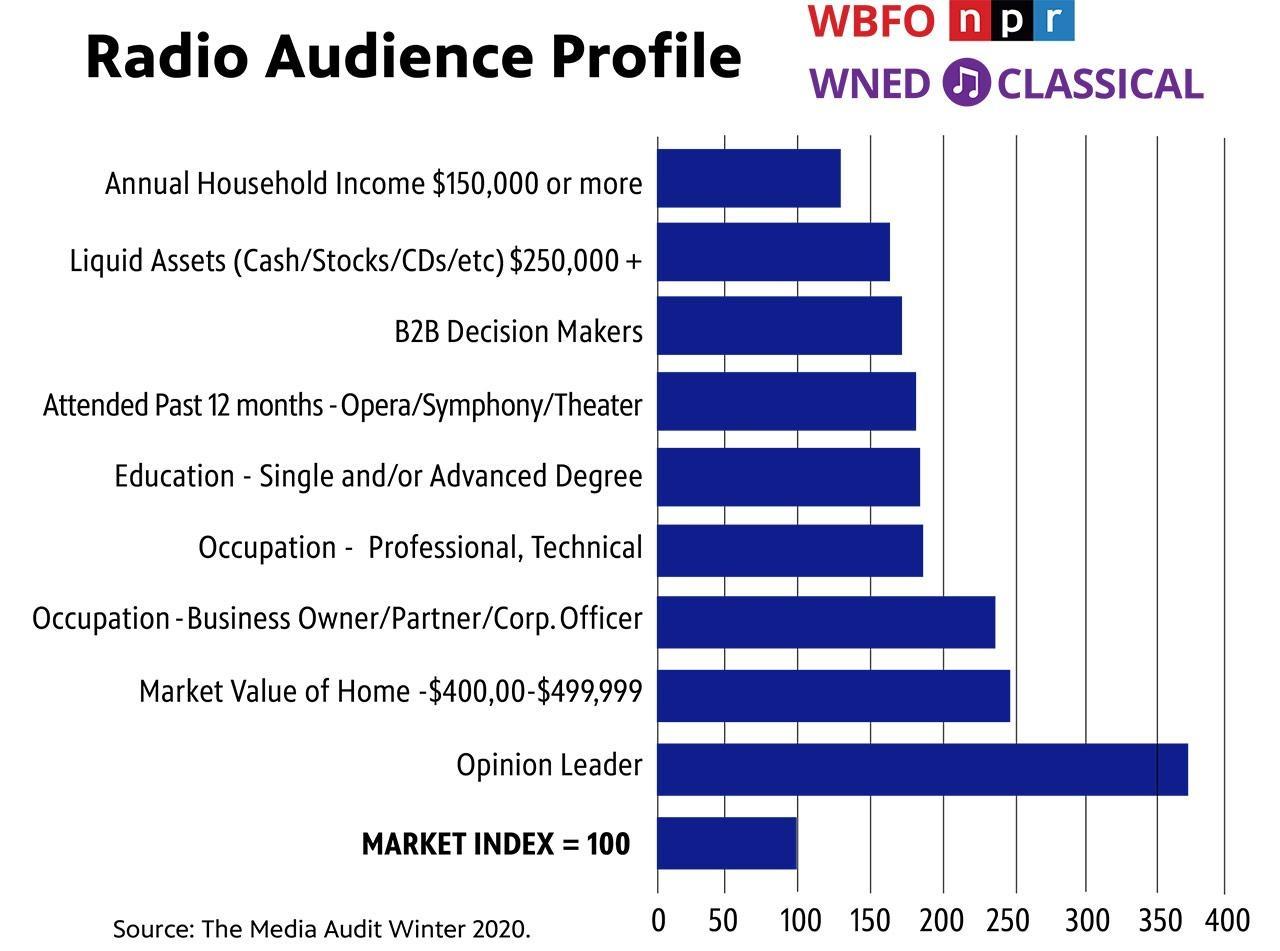 Your company's sponsorship messages provide you with an unrivaled reach to an influential, well-positioned and highly educated audience. Our stations attract a loyal audience from all walks of life. They are culturally passionate and concerned about the issues facing their community and the world at large.
75%of public radio listeners hold a more positive opinion of a company when they learn it supports public radio.
Source: Lightspeed Research, State of Sponsorship Survey, March 2019.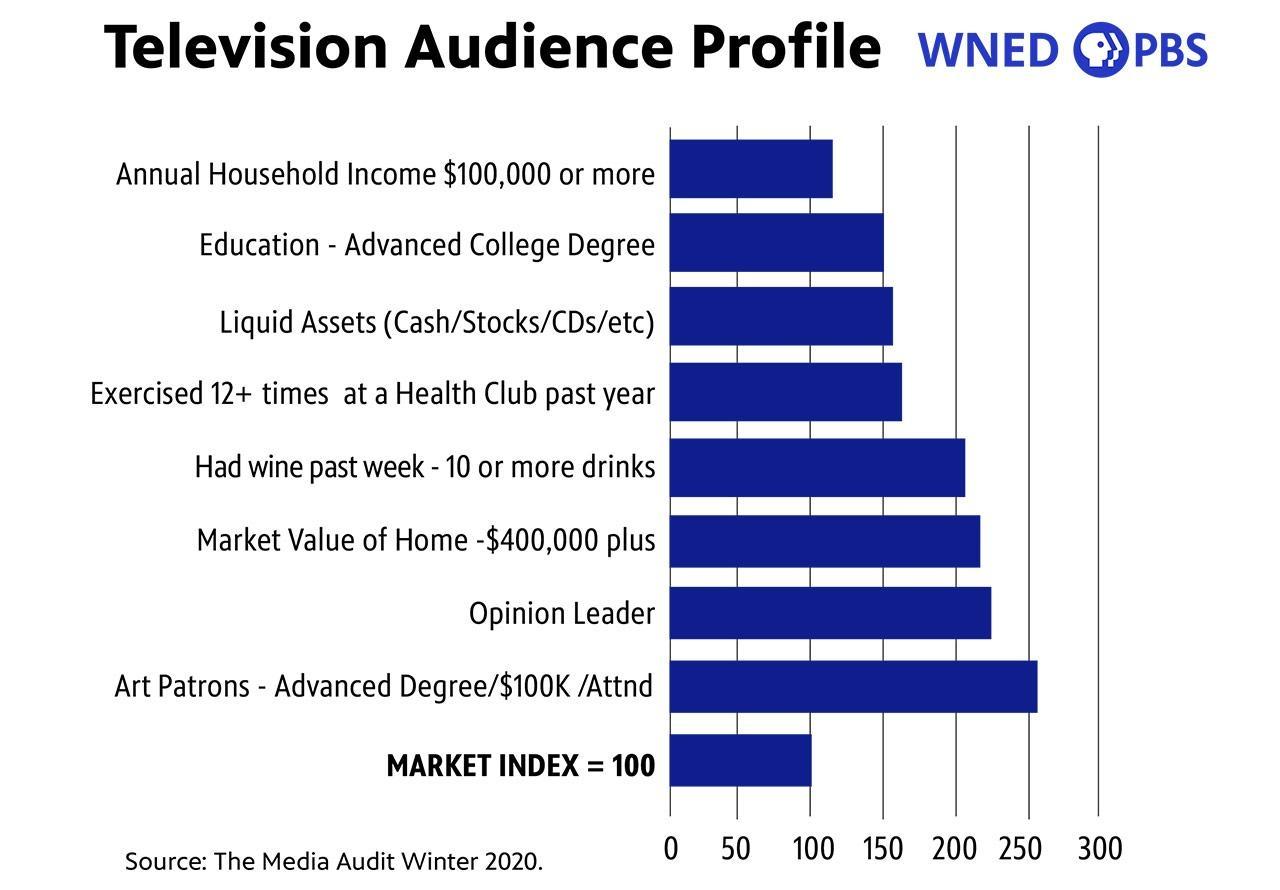 Your message will reach into the homes, automobiles and offices of consumers and business decision makers that regard your message as a statement of character from a company that supports public broadcasting just like they do.
The PBS Sponsorship Study shows 61% of viewers say that PBS sponsors are different and better than other networks and half say that PBS sponsors are high-quality brands.
Source: City Squares Commercialism Research 2019.
57%of viewers have a more favorable view of a brand for sponsoring PBS.
Source: City Squares Commercialism Research 2019.


If you're looking for a specific type of business, product or service, please consider doing business with our underwriting supporters.
G & L Flooring | WNED PBS Underwriter
G & L Flooring has been an underwriter with WNED PBS for years. G & L Flooring's owner says, "The announcements have brought me quite a bit of new business, as well as some goodwill from my existing customers."
Milk For Health | WNED PBS Underwriter
Milk for Health has been one of our longest loyal underwriters for over 20 years. The spots are always creative and fit our programming so well. The dairy farmers and their agency appreciate the close association we've had. It benefits the community and has moved product substantially over the years.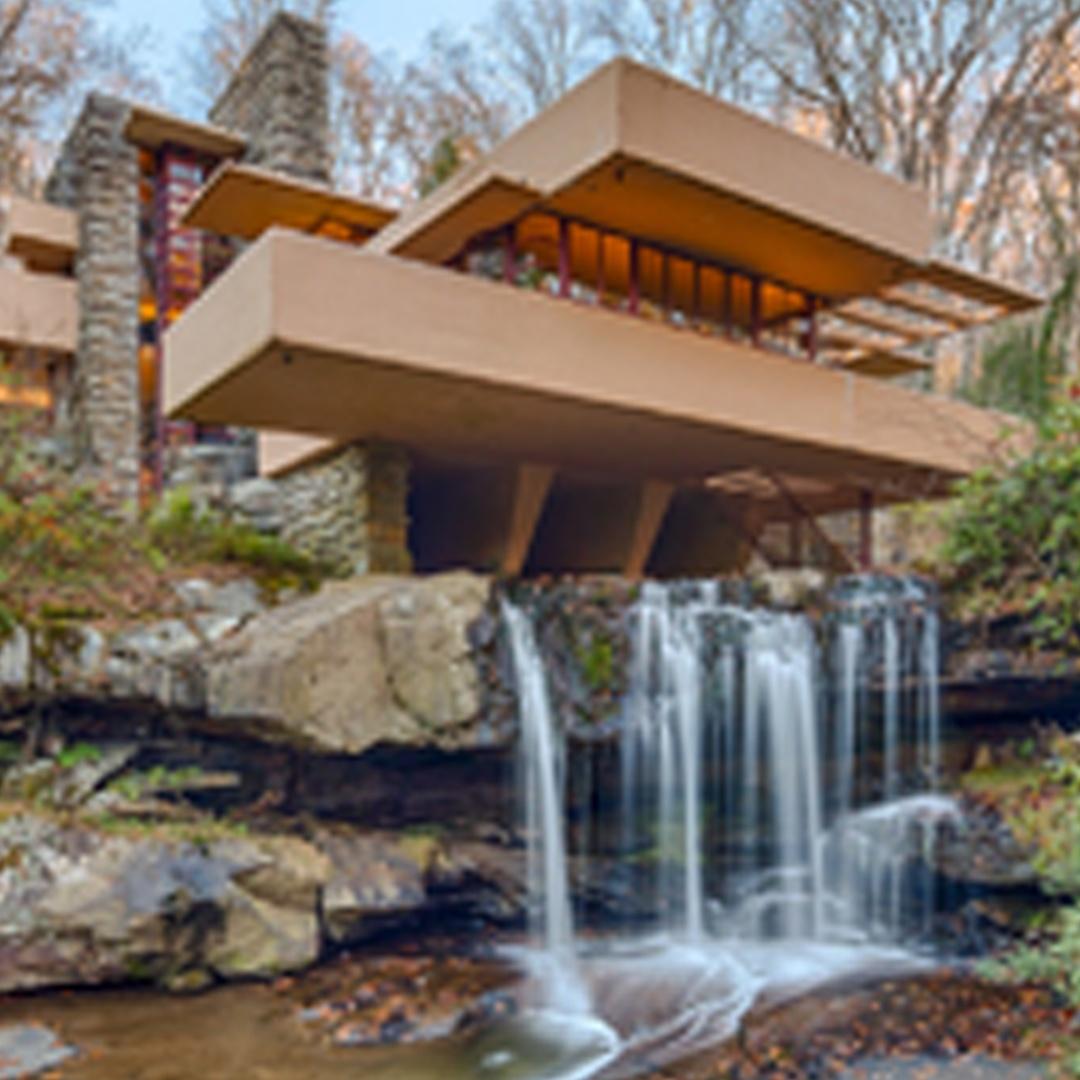 WBFO Underwriter
Western Pennsylvania Conservancy | Fallingwater
Western PA Conservancy has been a WBFO underwriter for many years promoting tourism to visit Fallingwater, a Frank Lloyd Wright iconic masterpiece near Pittsburgh, PA. WBFO listeners are affluent, well-educated and appreciate the artistic nature of Frank Lloyd Wright's architecture. Buffalo is home to The Martin House and Graycliff Estate creating a synergy in and amongst the three FLW homes.