Enjoy WNED PBS KIDS Family Night With Your Children!
Pop the popcorn, gather the juice boxes and make a date for Family Night with your children. It's easy with a little help from WNED PBS KIDS.
Each Friday, the WNED PBS KIDS Channel brings you special programming for your family. Between 7 pm and 9 pm, you can see some of your favorites from PBS KIDS including movie specials and themed programming. The Family Night specials will repeat again on Saturday and Sunday nights.

You can find all the fun on WNED PBS KIDS Channel 17.3 over the air or on Channel 1276 on Spectrum, Channel 18 on Verizon FiOS and Channel 221 on Comcast Cable. Remember, that you can watch WNED PBS KIDS on your computer, tablet or phone too!
WNED PBS KIDS Family Night Schedule
Air Dates Subject to Change
---
Cyberchase Marathon - December 29-31, 2017
It's a Cyberchase marathon featuring new episodes including "A Reboot Eve to Remember," "Creech's Creature Quandary," "A Murky Mystery in Mermaidos" and "Plantassaurus."
"Reboot Eve to Remember" - Delete joins forces with the CyberSquad to build a giant windmill for the little town of Bottowa after Hacker steals its power source.
"Creech's Creature Quandary" - The pals disagree whether a bike path should stay of go after Inez explains the damage it's doing to Creature families.
"A Murky Mystery in Mermaidos" -Digit is going on his annual visit to Mermaidos, an underwater paradise, to visit Eugene, one of his best friends in the whole cyber-world. But when Digit arrives, something is wrong. Mermaidos is murky and warm and the fish are leaving in droves.
"Plantassaurus" -It's a special night in Cyberspace for Matt, Inez and Jackie. Motherboard has invited them to a slumber party in the newly renovated Control Central! But a case of sneezes, itchy eyes and scratchy throats threatens to put a damper on the slumber fun. And to make matters worse, Hacker has his own surprises in store for Motherboard that night.
To continue the fun try these activities:
Make a few simple cuts in paper and
Step Into Cyberspace
Make
Matt's Coder/Decoder
Gollywood Squares Game
Recipe for Chocoberry Chillers
---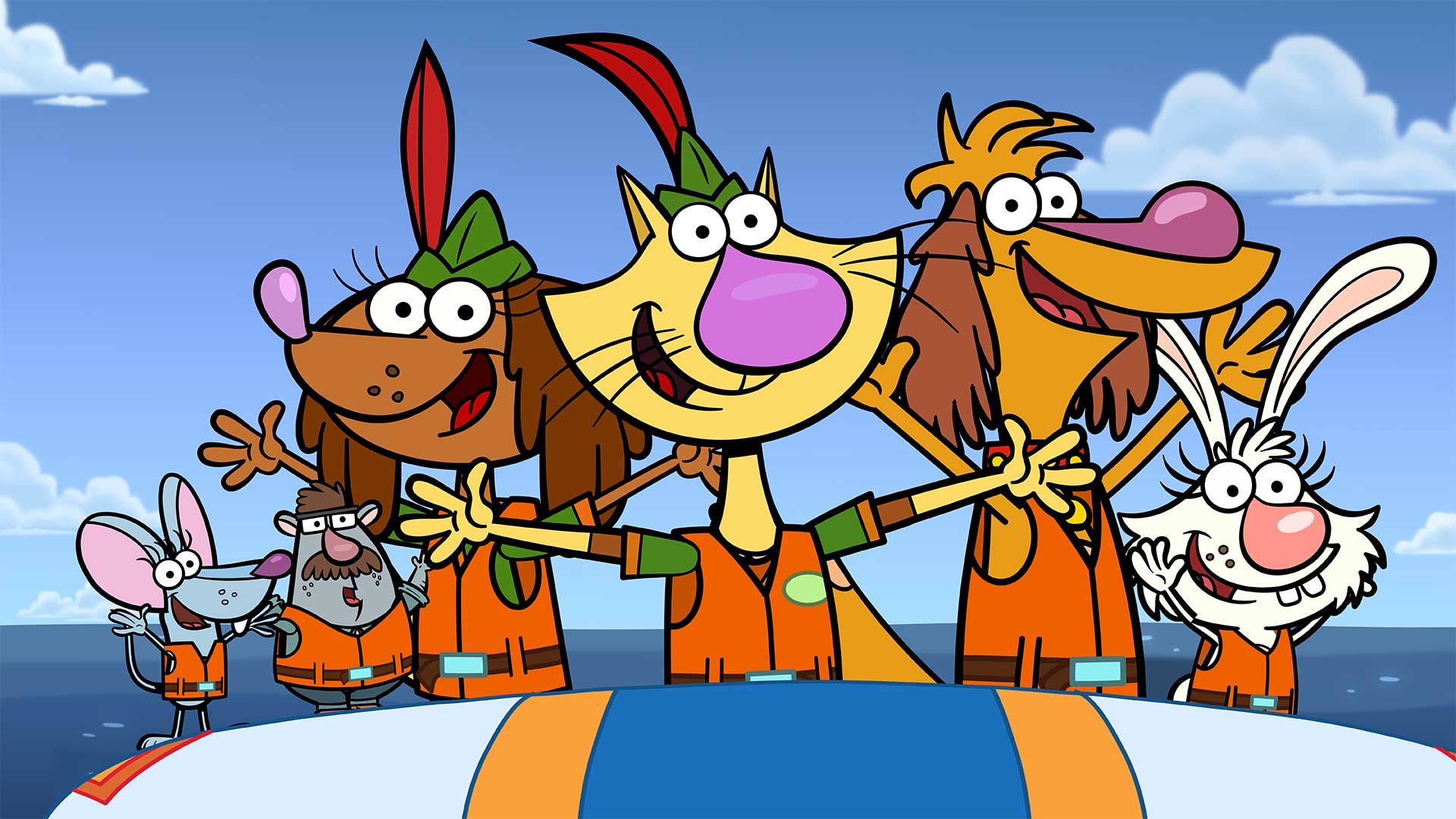 Nature Cat: Ocean Commotion January 5-7, 2018
Nature Cat and his pals go on an aquatic adventure to save Hal's favorite chew toy. Along the way, they learn that all waterways are interconnected and meet up with a new special friend named Nature Dog who helps them navigate the oceans.





To continue the fun try these fun activities:



You can go on a water adventure with Nature Cat and his friends when you play Racing Rapids. Who will you play for, Nature Cat, Hal, Squeeks or Daisy?
Bring the ocean home when you create your own paper plate aquarium.
Is your kid interested in the water system? You can learn more about water conservation with this activity from Adventures in Learning on PBS Parents.

More Activities-
DIY Sail Boat
Water Conservation Awareness Activity
Make a Mini Composter
Make Edible Slime
Stay Hydrated with Fruit-Flavored Water
Makin' Tracks with Paint
---
WORDGIRL: The Rise of Ms. Power - January 12 - 14, 2018
Miss Power is the new super hero in town, but she uses mean words against others and may be a super villain. When WordGirl tries to stand up to Miss Power, she is belittled and stripped of her super hero star. Huggy shows WordGirl a book full of secret battle moves from her home planet, Lexicon. Will it be enough to save the city from Miss Power?
To continue the fun try these fun activities:
Help WordGirl defeat Miss Power in an epic battle of words when you play
WORDGIRL: Face-Off
.
Who's your favorite character in WORDGIRL? You can
explore your favorites
, play games and download a new bookmark (for your New Year's Reading) at pbskids.org/wordgirl.
Miss Power isn't very nice, and WordGirl defeats her by using words that are kind instead of hurtful. You can practice being kind with this
Compliment Card game from WORDGIRL
.
---
Odd Squad: World Turned Odd **NEW** - January 19 - 22, 2018
When Oona, Olympia, and Otis accidentally change the past, they undo every odd case Odd Squad has ever solved! The agents embark on a mission across time to set things right!
To continue the fun try these activities:
Create Your Own Paper Plate Aquarium
Find Your Badge Number
Take the Odd Squad Quiz
Make Your Own Badge
Color by Number
Find the Blob Sleuthing Game
Spy School Games
---
Arthur: D.W. and the Beastly Birthday – January 26 - 29, 2018
Time to put on your party hats and dancing shoes – D.W. is turning five! When her birthday doesn't go as planned, D.W. runs away to the magical island of Ukubonga. Meanwhile, Arthur has skipped her birthday party to go on a school trip to the planetarium, but instead of transporting him into outer space, it transports him 4 years into the future! This is one party you don't want to miss.
To continue the fun try these activities:
No birthday's complete without a party, and no party's complete without music! You can create some crazy music with
D.W.'s Crank It Up game
. Create it, record it, and play it.
Everyone can get in the party spirit by creating a D.W. Birthday Party complete with
D.W. Birthday Crowns
and
Arthur themed decorations and activities
.
Need some snack ideas for your D.W. Birthday Party?
PBS Parents' Kitchen Explorers has a bunch of healthier party snack ideas
for you.
---
Odd Squad: The Movie – February 2 - 4, 2018
The Season 2 cast teams up with the Season 1 cast to stop Weird Team and save the world from destruction in this
Odd Squad
movie event! In this feature-length
Odd Squad
event, a rival group of adults that calls itself Weird Team arrives with a gadget that fixes any odd problem. As a result, Odd Squad is run out of business and all the agents are forced to disband and go back to their lives as regular kids. Using math skills and teamwork, the kids discover Weird Team isn't actually solving problems, but just covering them up.
To continue the fun try these activities:
The ODD SQUAD agents are going to need a lot of help if they're going to save the world. You can
brush up on your skills by working on a few cases
.
If you're an ODD SQUAD agent, there's one thing you need (other than a solid knowledge of math). You need your own badge.
Download one here
, add your agent number and customize it to reflect your agent personality.
Get ready for the big event by making something sweet,
slushies!
... And, you can practice some math while you're at it. You never know when you'll need it!