The BPO and JoAnn Falletta have partnered with WNED PBS to present BPO Musician Portraits, a six-part musical showcase of television specials featuring select musicians from the Buffalo Philharmonic Orchestra. These personal concerts hosted by JoAnn Falletta, feature selections picked by the musicians to share with you.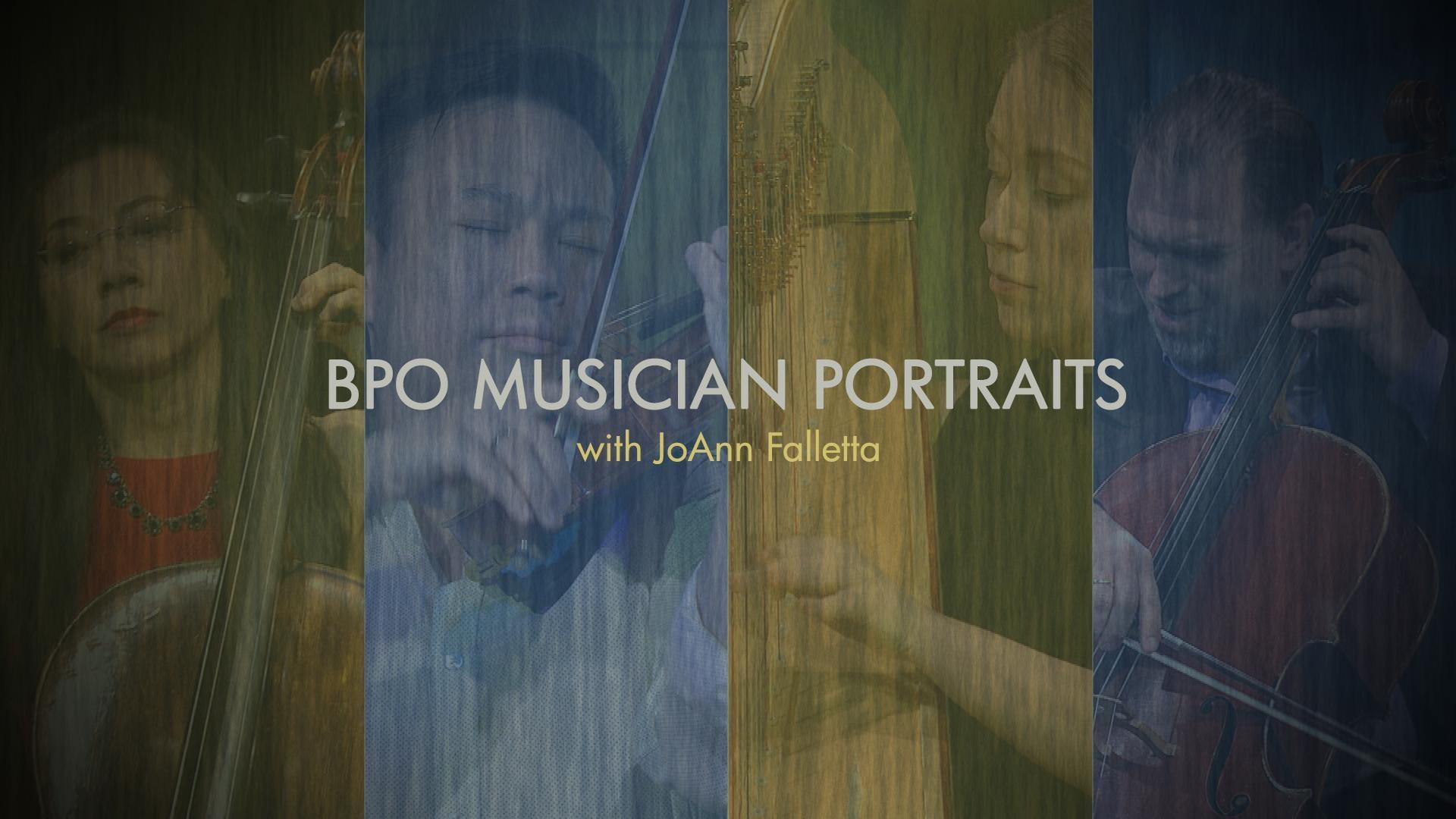 BPO Musician Portraits feature string, brass, and woodwind performances from Roman Mekinulov, Principal Cello and Eric Heubner, Piano, Feng Hew, Assistant Principal Cello, Shieh-Jian Tsai, Section 2nd Violin, Madeline Olson, Principal Harp, Henry Ward, Principal Oboe, Patti DiLutis, Clarinet, Glenn Einschlag, Principal Bassoon, Jacek Muzyk, Principal French Horn, Alex Jokipii, Principal Trumpet, Geoff Hardcastle, 2nd Trumpet, Jonathan Lombardo, Principal Trombone, Filipe Pereira, Bass Trombone, and BPO concertmaster Nikki Chooi. The series premiered in June 2020.
During the COVID-19 pandemic, the BPO was forced to cancel performances at Kleinhans Music Hall. We are proud to present these intimate concerts with our audience and look forward to a time the entire orchestra can come together again.
---
Original Production
---
This program is funded in part by Cindy and Francis Letro, proud supporters of Buffalo Toronto Public Media and the Buffalo Philharmonic Orchestra.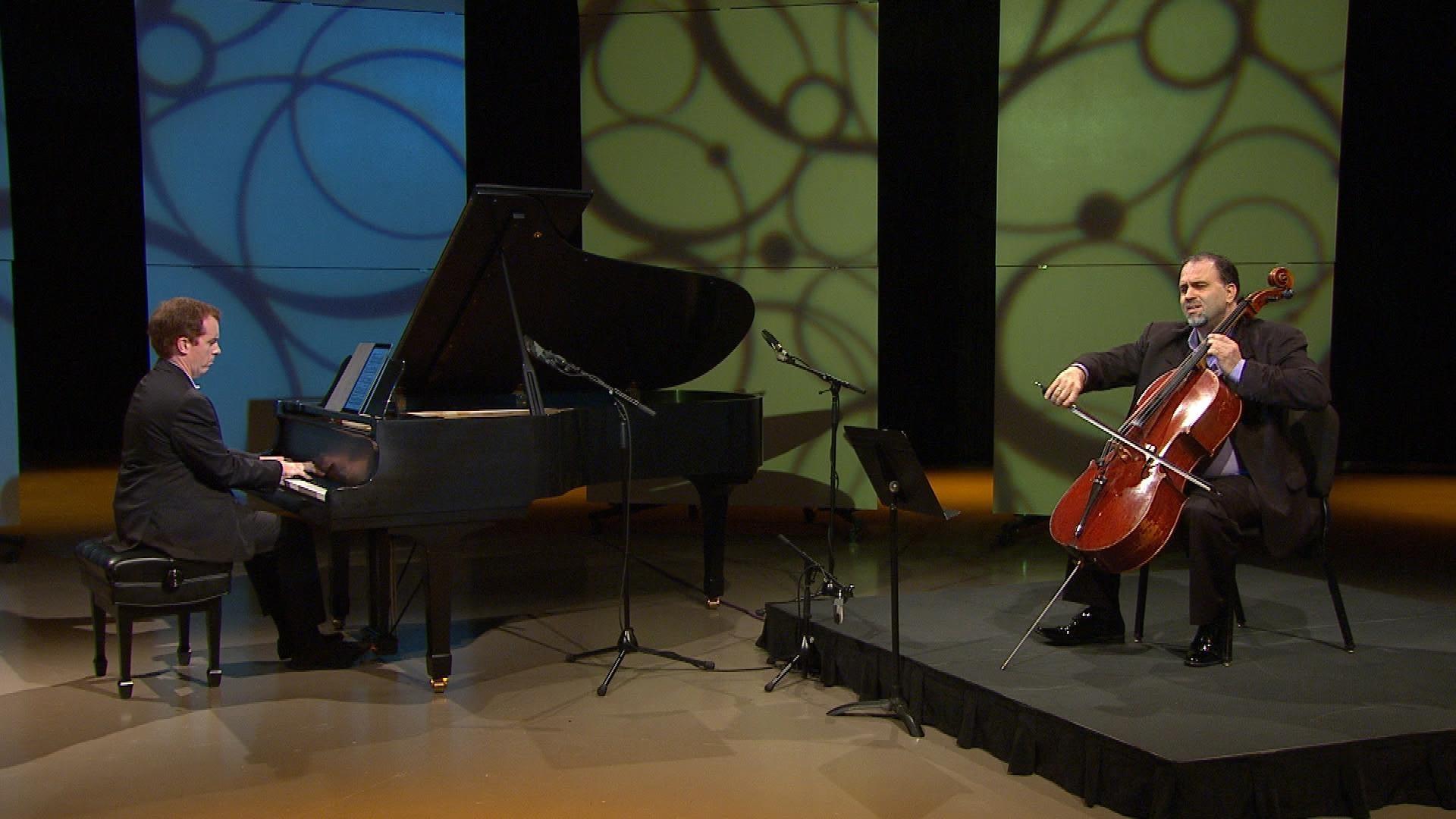 ---
Roman Mekinulov, Principal Cello, and Eric Heubner, Piano, have chosen to perform movements from Rachmaninoff's Sonata in G minor for Cello and Piano, Op. 19.
---
In this performance, we present Roman Mekinulov, our principal cellist, and Pianist Eric Huebner.
Roman was born in Russia, trained at Julliard, and joined our orchestra in 2002 from a previous post as principal cellist in Sao Paolo, Brazil. Eric also trained at Julliard, and in addition to playing with the BPO, he's the pianist for the New York Philharmonic and the director of undergraduate studies at the University at Buffalo, School of Music.
They will be playing the Rachmaninoff Sonata. Roman fell in love with it the first time he heard it, and he had the incredible experience of studying it with his teacher Harvey Shapiro, who learned it directly from Rachmaninoff and was able to pass on to Roman the composer's insights and interpretation.
Roman tells us that when he plays this piece he feels very Russian and very close to the composer. As an emigre himself, Roman seems to understand the composer in a special way, and Eric is the ideal partner- virtuosic and sensitive to every nuance.
Rachmaninoff's music conjures up the extravagant and tragic world of Russia in the last years under the Czar- in the time of Nicholas and Alexandra. The music glows with a dark beauty that echoes Rachmaninoff's own character. Having left his country when the revolution came in 1917, he suffered from homesickness for the rest of his life. Rachmaninoff's pain, his passion, and his love for Russia shine through Roman and Eric's heartfelt performance.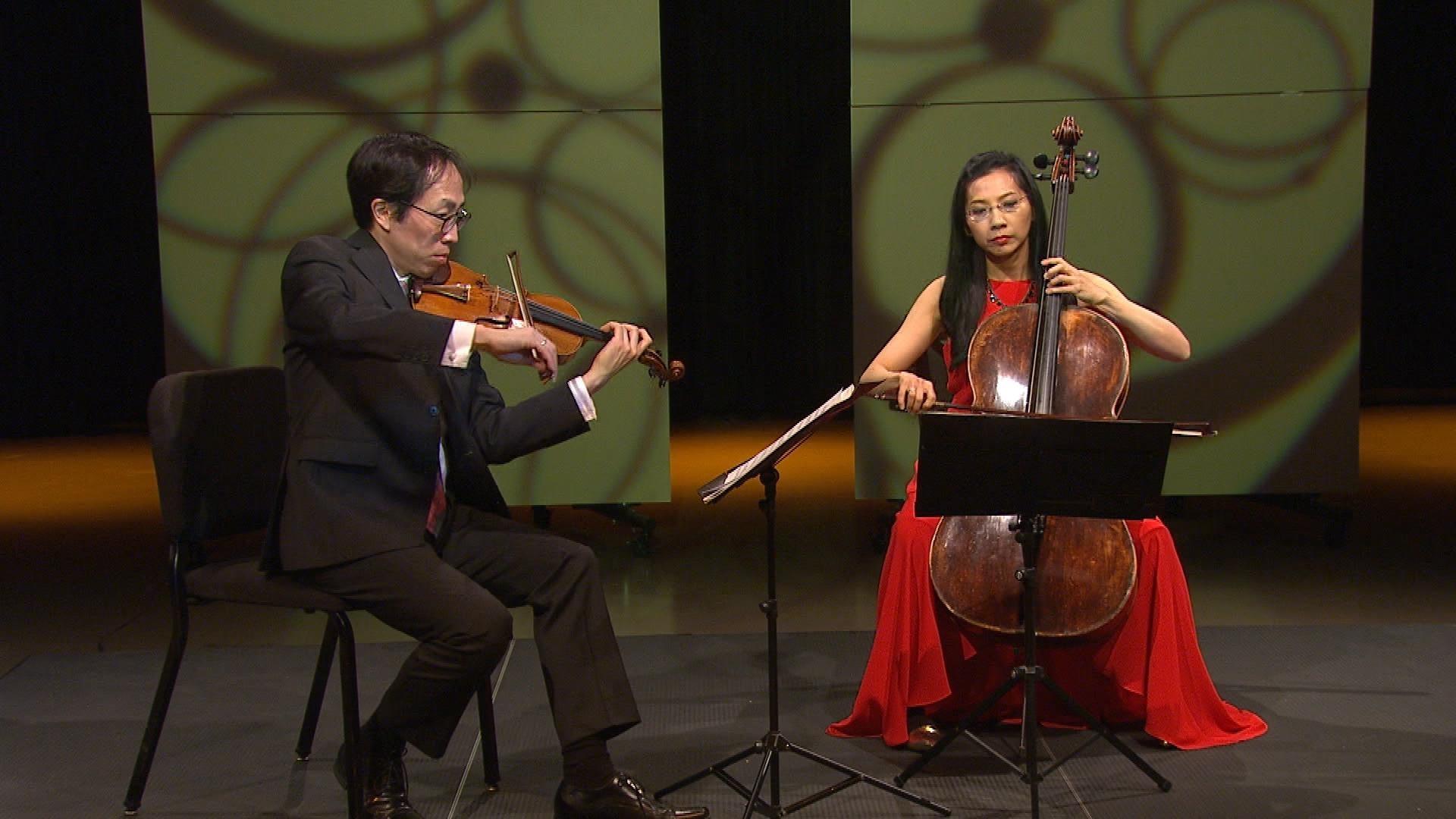 ---
Feng Hew, Associate Principal Cello and Shieh-Jian Tsai, Section 2nd violin, perform pieces from Beethoven, a special arrangement of Bach: Aria from Goldberg Variations, Glière, and Gershwin.
---
In this performance, we present Feng Hew on cello and Shieh-Jian Tsai on the violin. This husband and wife duo are both from Taiwan, and each studied at the New England Conservatory of music, but met, fell in love, and married here in Buffalo.
An interesting fact – Feng studied with prominent cellist, Larry Lesser. His wife, Masuko Ushioda, the renowned Japanese violinist, was Shieh-Jian's teacher.
Feng and Shieh-Jian not only play in orchestra together, they very often perform chamber music, and as a duo. In this performance, they play a piece by Bach, originally composed for piano, which has been arranged as a string trio for violin, viola, and cello, and Feng is playing both viola and cello parts.
Feng shared with JoAnn that they know each other so well that they could even play together if they were in separate rooms. Their deep and intrinsic connection makes for the perfect expression of true chamber music, which we hear them explore in several different styles in this program featuring pieces by Bach, Beethoven, Glière, and personal arrangement of "Someone to Watch Over Me" by Gershwin.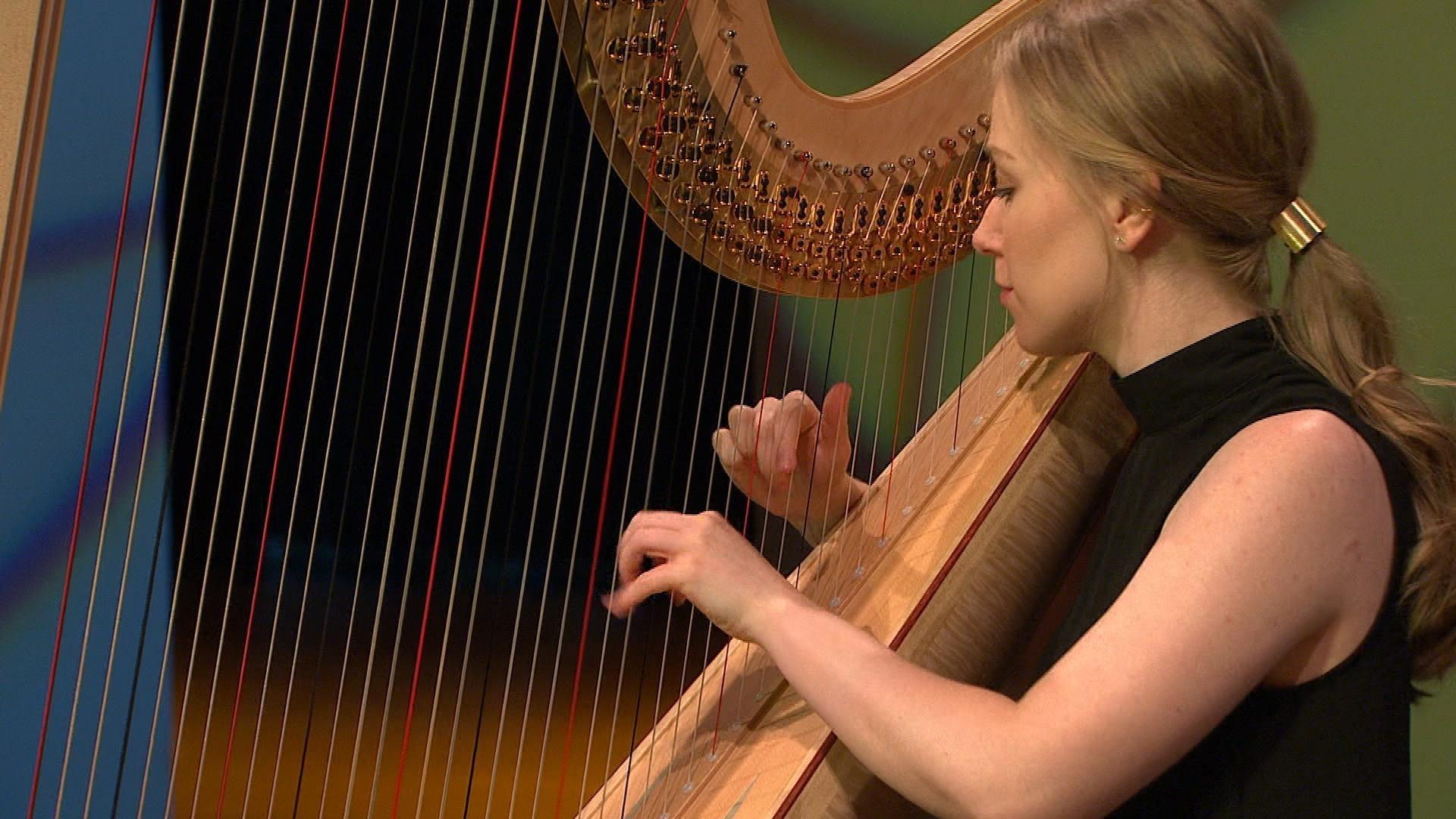 ---
One of the BPO's newest members is Madeline Olson, Principal Harp. She has put together a program featuring works from Dussek, Albeniz, Tournier, and Paradisi.
In this performance, we present Madeline Olson, our newest member of the orchestra, playing the harp.
The harp is one of the oldest instruments in the world. It appears as early as 3000 BC in wall paintings in Egypt. A close-up shot of the modern harp reveals that the strings are of different colors....all the "C"s are red, and all the "F"s are black. The foot pedals are how the harpist can add sharps and flats to the "white keys" of the strings. They are a very important part of playing the harp that the audience often does not notice.
Madeline's choice of repertoire is a breathtaking illustration of the amazing colors and timbral possibilities of the harp, and the complexity of the instrument. The harp is deeply valued as a solo instrument, in chamber music, as an accompanist beautifying a melodic line, in orchestral repertoire where it adds drama, sweep and excitement, or gentle and poetic elegance.
Madeline hails from California and is a recent graduate of Julliard. What initially drew her to the harp as a child was its sheer impressiveness. She loved that there was a form of the harp in almost every culture globally throughout history, from the bow harps in Africa or the Kafir harp in Afghanistan to the Paraguayan harp, which serves as its national instrument.
Madeline feels the harp is just starting to be explored and it is exciting to see all the new ideas composers are bringing to the instrument.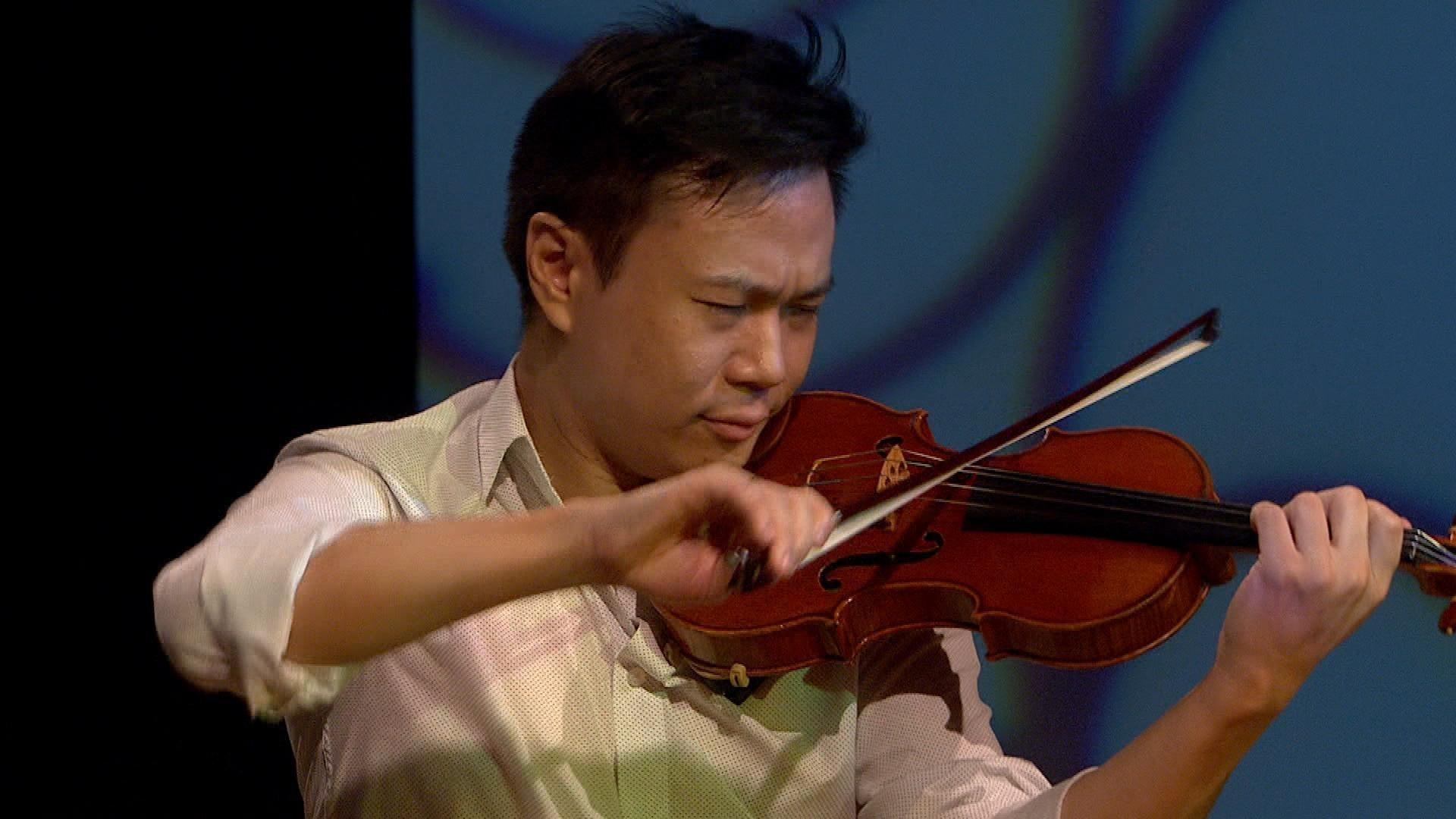 ---
The fourth porgram in the series features a personal concert with Nikki Chooi, Concertmaster with the BPO. He has selected compositions by Back, Massenet, and Tchaikovsky: Excerpts from Swan Lake.
In this performance, we present our concertmaster, Nikki Chooi.
Nikki joined BPO in 2019 after they conducted an international search for a new concertmaster. JoAnn Falleta says, "Nikki had only played six months with us, but had already created a new landscape in the string section, with superlative playing, warm friendship, and gentle leadership."
Nikki studied at the Curtis Institute of Music and The Juilliard School. He was born in beautiful Victoria, British Columbia, and is a proud citizen of both Canada and the United States.
He'll be performing a program featuring pieces by Bach, Massenet, and Tchaikovsky. Nikki recently watched the film Black Swan and was drawn to its beautiful score featuring many Tchaikovsky solos for violin from Swan Lake that he wants to share with the audience.
The Bach Chaconne that Nikki plays on this program is considered one of the glorious treasures of the violin repertoire. Bach composed the chaconne sometime between 1718 and 1720. Historians speculate that Bach composed it after returning from a trip and found his wife (and the mother of seven of his children) Maria Barbara had died. The music portrays raw, profound emotion.
Perhaps Brahms expressed this best when he described the Chaconne to Clara Schumann- "On one stave, for a small instrument, the man writes a whole world of the deepest thoughts and most powerful feelings."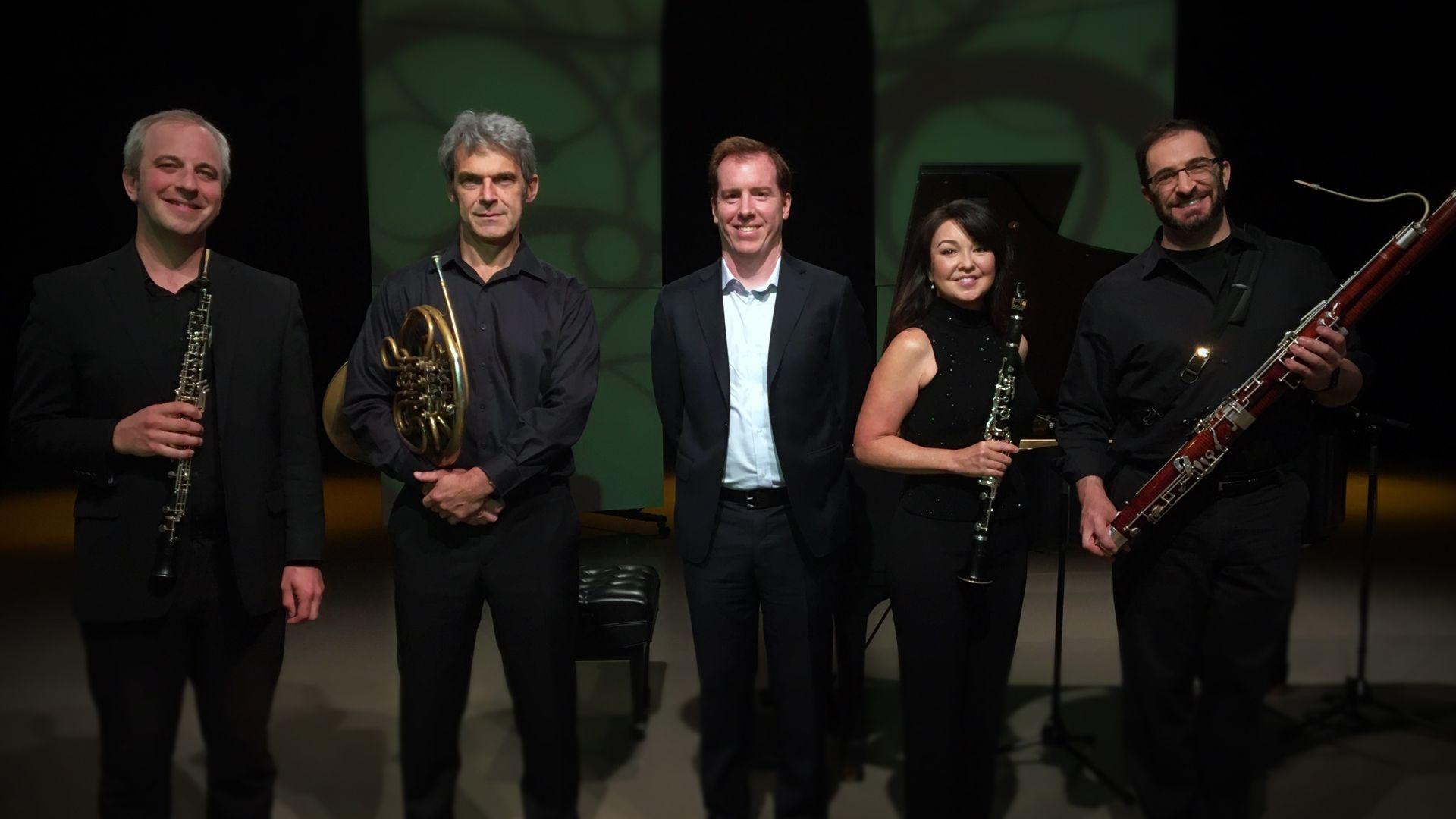 ---
A chamber music ensemble featuring principal oboist Henry Ward, clarinetist Patti Dilutis, principal bassoonist Glenn Einschlag, principal French hornist Jacek Muzyk and Eric Huebner (piano) performs in the fifth epsiode of BPO Musician Portraits.
In this performance, a chamber ensemble featuring woodwinds, french horn and piano perform Mozart's Woodwind Quintet in E-flat Major, K. 452.
Eric Huebner, Piano, was featured in the first episode of the Musician Portrait series. He returns to perform in this woodwind quintet. Eric trained at Julliard, and in addition to playing with the BPO, he's the pianist for the New York Philharmonic and the director of undergraduate studies at the University at Buffalo.
Joining Eric is Henry Ward, Principal Oboe. During his youth, Henry was a member of the Philadelphia Boys Choir, performing with Pavorotti, Vanessa Williams and traveled to Australia, South Africa and Cuba. He also began playing the oboe with its bright, penetrating sound as a child. Apparently, no one in the school was interested, but they needed someone, so Henry volunteered. That fateful decision led him to the New England Conservatory and he enjoyed a whirlwind freelance career before settling in Buffalo.
Patti DiLutis, Clarinet, says her instrument chose her. She desperately wanted to play the flute as a child, but failed to make a sound on the instrument. She was given a clarinet to try and was able to honk out a gooselike sound, and figured she'd give it a try. She had no idea then of how important the instrument would become to her.
Mozart's Quintet includes the mellow and velvety sound of the bassoon, played in this performance by Glenn Einschlag. When Glenn isn't busy performing with the BPO, his other passion is teaching it to developing musicians at the Glen Gould Royal Conservatory in Toronto, Ontario Canada.
Rounding out the quintet is Jacek Muzyk, Principal French Horn. Jacek is originally from Radom, Poland and has an interesting musical journey. His first instrument was piano, and he enjoyed playing jazz, a genre forbidden in Poland. As punishment, he was given the horn as his new major. Clearly, this was fate, as he went on to graduate from the Academy of Music in Krakow, received another master's degree from the Mannes College of Music, and continued his studies at Juilliard and Rice University.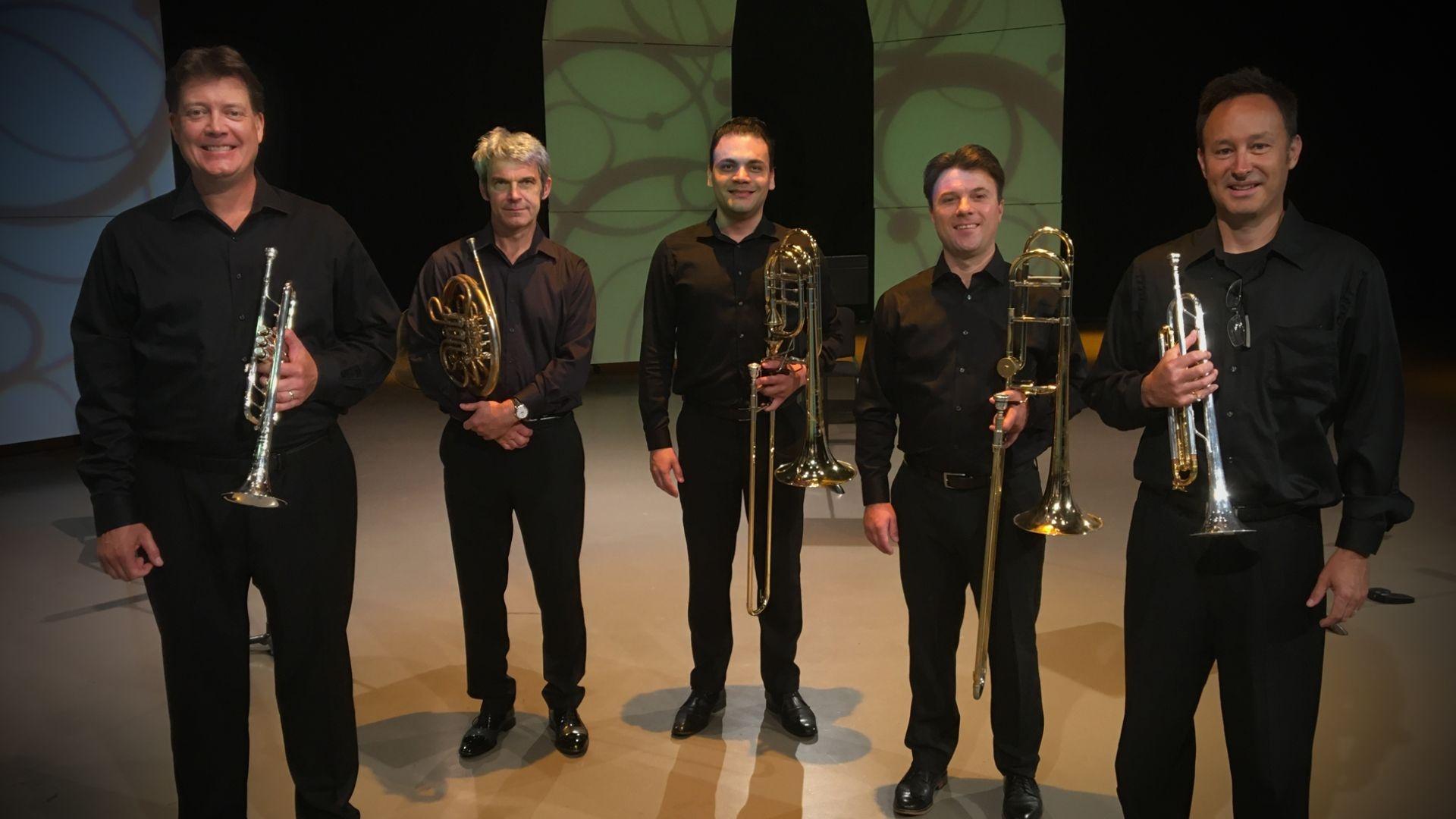 ---
The sixth program in the series features a brass quintet with principal trumpeter Alex Jokipii, trumpeter Geoffrey Hardcastle, principal French hornist Jacek Muzyk, principal trombonist Jonathan Lombardo and bass trombonist Felipe Pereira.
In this performance, the BPO's Brass Quintet perform a diverse selection of compositions, which highlight the vibrant and sacred sounds of the trumpet, french horn, trombone, and bass trombone.
The lineup of talented musician include Alex Jokipii, Principal Trumpet. Alex has been delighting BPO audiences since 1998. His time with the trumpet began in Detroit, Michigan in fifth grade band. Music was a family affair, as his mother also played trumpet in school. She held on to the instrument, and passed it on to Alex. One of many highlights in his successful career includes playing and recording the world premiere of a trumpet concerto written for him by Jaakko Kuuisisto with the Buffalo Philharmonic in 2018.
Geoff Hardcastle grew up listening to his father's Harry James albums and chose to take up the trumpet because he thought it was "cool." Living in California as a young boy, he remembers seeing the blizzard of '77 on television and thought he never wanted to live in such a place. Despite the winters, Geoff has felt the warmth of the Buffalo community, and has proudly called the BPO and Buffalo home since 2006.
Jacek Muykz, Principal French Horn is featured in the brass quintet and in the woodwind quintet performances of this series. Jacek was born in Poland, where he studied music and enjoyed playing jazz, a forbidden genre. As punishment, he was given a horn to study instead. How gratifying it was, in 2018, to help arrange a tour of performances in Poland with the entire Buffalo Philharmonic Orchestra.
Jonathan Lombardo, Principal Trombone, joined the BPO in 2004. He studied music at Julliard and recently received his master's degree from the University at Buffalo in 2020. His childhood was full of a variety of interests, including riding horses competitively, and placing 2nd in the state of Massachusetts. Rural East Aurora, NY was the perfect place for Jonathan to connect to his roots. In 2012, he purchased a dilapidated farmhouse, and completely restored it in two years' time to its original charm.
Rounding out the quintet on bass trombone is Filipe Pereira, originally from Brazil. He worked there as a military musician before coming to the United States. His first instrument was the euphonium, and then tenor trombone. The local marching band just before an important audition took it from him. He managed to get a loan of a bass trombone for the audition, won the audition, fell in love with the instrument, and never looked back. He just recently joined the orchestra in 2019, and was only able to play with them a few months before the COVID pandemic.
WNED PBS Specials
BPO Musician Portraits | Preview
0:59
Published: