Opera on WNED Classical
Enjoy complete performances of world famous operas from Verdi, Puccini, Mozart and many more Saturdays at 1pm.
For many years, radio broadcasts from "The Metropolitan Opera" have been a Saturday tradition in many American households. Met Opera broadcasts are usually performed live from Lincoln Center in New York City and can be heard from December through May on WNED Classical.
The WFMT Radio Network Opera series complements the Metropolitan Opera Broadcasts, filling in the schedule to complete the year. From Milan to New York, Barcelona to Chicago, you'll have a front-row seat to performances from some of the world's greatest opera companies and performers.
Celebrate the return of Met Opera Radio live broadcasts for the 2021-22 season
After the longest shutdown in its history, The Metropolitan Opera is ready to resume live broadcasts on WNED Classical for the 2021-22 season.
Launched in 1931, the Metropolitan Opera's Saturday matinee broadcasts are the longest-running continuous classical program in radio history. The 2021-22 Metropolitan Opera Radio Broadcast season opens on December 4th, 2021 – the Met's 91st consecutive year on the air and a milestone for the longest-running classical music series in American broadcast history. Hear thrilling live performances by today's most celebrated artists, as well as legendary singers originally captured live in broadcasts spanning almost nine decades of Met history.
Host Mary Jo Heath and commentator Ira Siff return each week, and intermissions will include new interviews with artists, special features, and a virtual Opera Quiz. Broadcasts can be heard on WNED Classical, part of the Toll Brothers– Metropolitan Opera International Radio Network at 1pm every Saturday through June 11, 2022.
WNED Classical Opera Broadcast Schedule | Saturdays at 1 pm
May 7 | Turandot (in Italian) / Puccini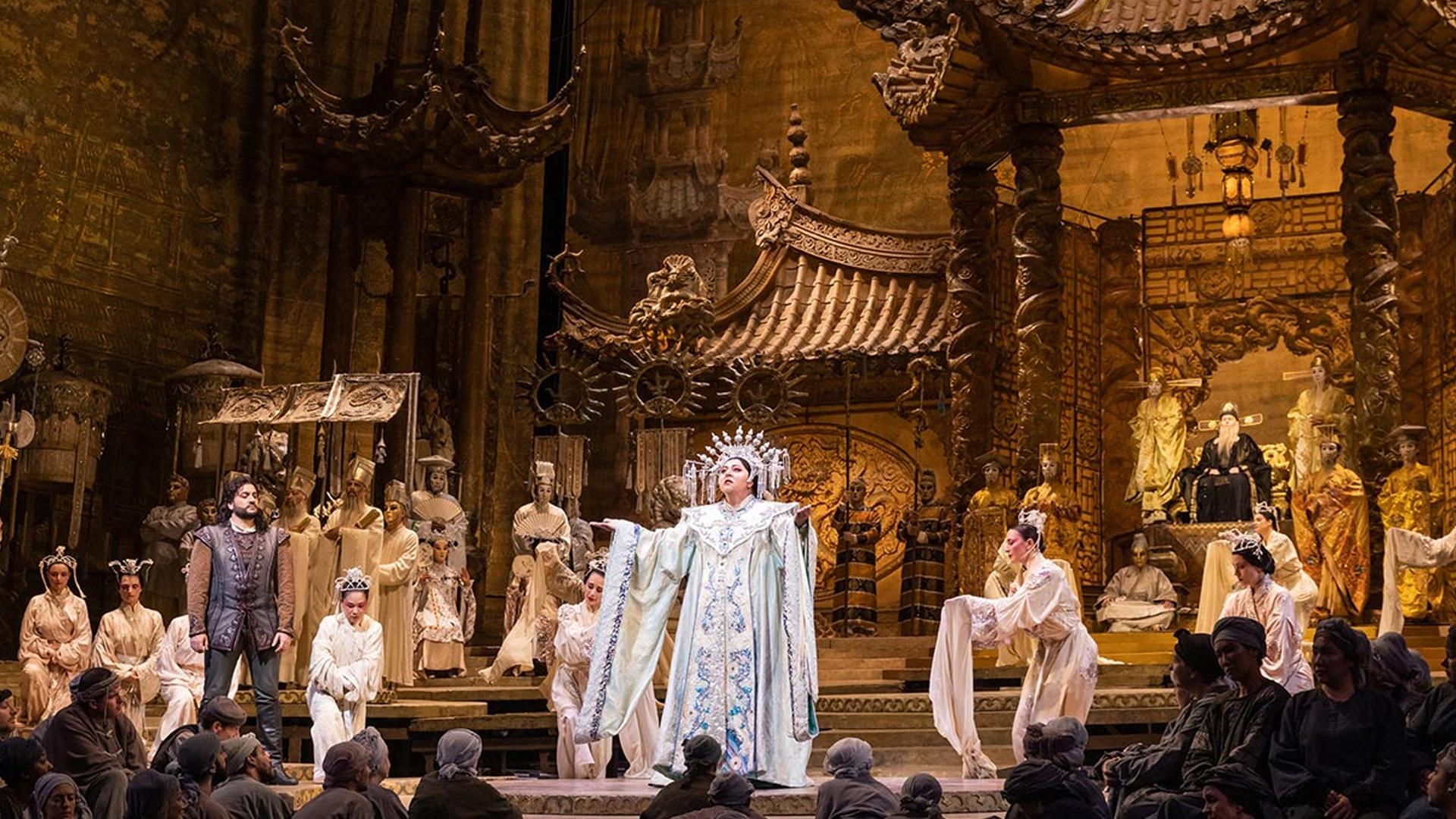 One of today's most thrilling voices performs the title role of the legendary cold-hearted princess. Ssuperstar Anna Netrebko, makes her long-awaited Met role debut after providing a hair-raising preview in 2019's New Year's Eve Gala. Tenor Yonghoon Lee is the bold prince determined to win Turandot's love, alongside soprano Ermonela Jaho as the devoted servant Liù and bass-baritone James Morris and bass Ferruccio Furlanetto as the blind king Timur. Marco Armiliato conducts Puccini's stirring score.
The large Turandot orchestra calls for a wide variety of instruments, including alto saxophones, celesta, bass xylophone, harps, and an organ. There are several genuine Chinese themes that are integrated into the score in a suave and brilliantly original manner, including the big imperial anthem in Act II. The opera also contains moments of sheer melodic beauty in Puccini's most lyrical vein, most notably in the tenor's unforgettable song of triumph, "Nessun dorma," which opens Act III.
COMPOSER: Giacomo Puccini
LIBRETTO: Giuseppe Adami & Renato Simoni
VENUE: The Metropolitan Opera House, Lincoln Center for the Performing Arts NYC
PRESENTING COMPANY: The Metropolitan Opera
CAST:
Anna Netrebko:Turandot
Yonghoon Lee: Calàf
Ermonela Jaho: Liù
Ferruccio Furlanetto: Timur
CONDUCTOR: Marco Armiliato
May 14 | Die Meistersinger vonNürnberg (in German) / Wagner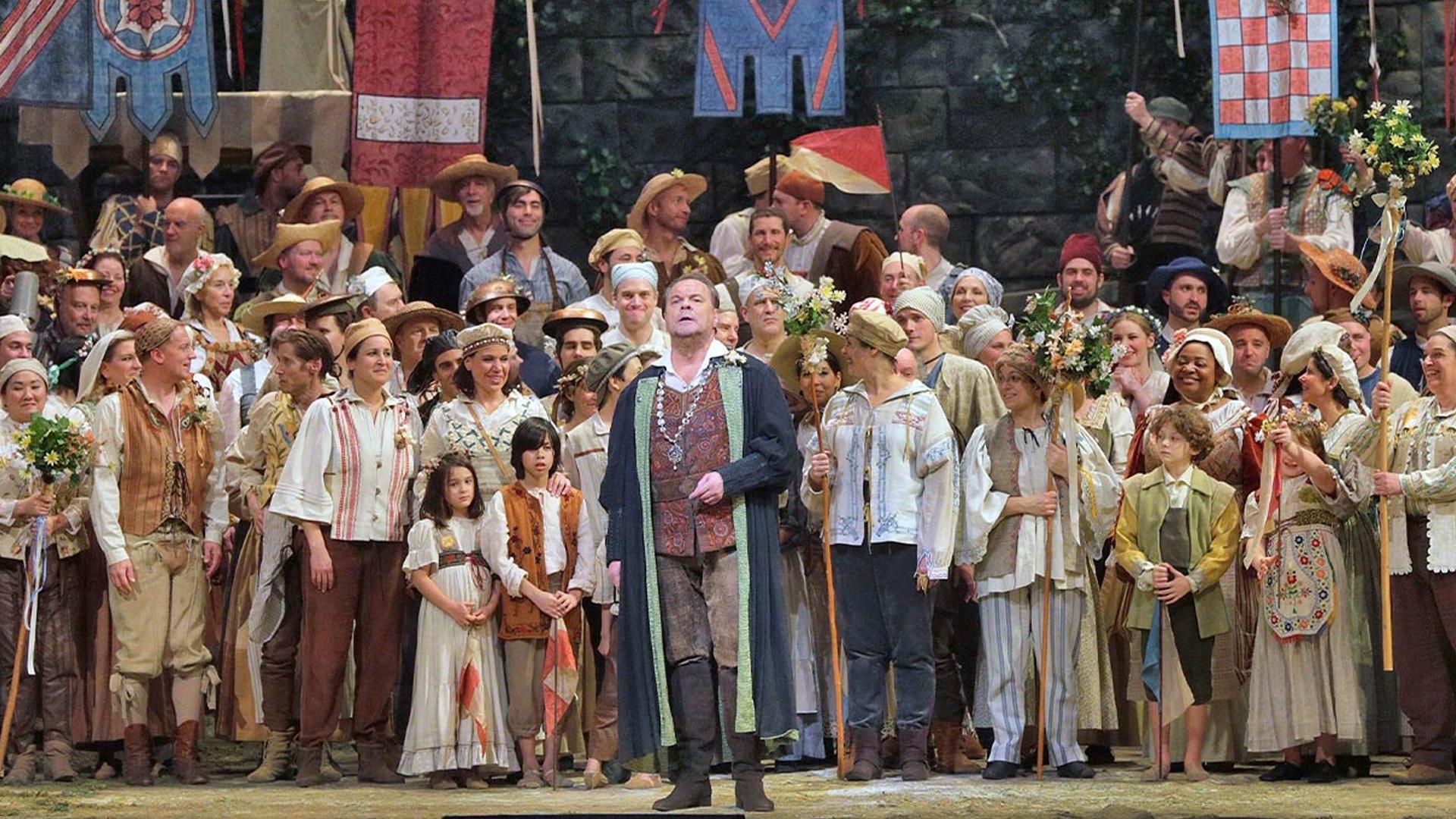 Performance from Fall 2021
Wagner's sublime comedy takes the Met stage for the first time in seven years. Antonio Pappano conducts an unbeatable cast led by renowned baritone Michael Volle as the wise cobbler Hans Sachs and sensational soprano Lise Davidsen—returning triumphantly following her rapturously hailed 2019 company debut—as Eva. Tenor Klaus Florian Vogt and baritone Johannes Martin Kränzle join them as Walther von Stolzing and Beckmesser.
The score of Meistersinger is a sublime achievement, at once lyric, grand, and amazingly detailed. It shows Wagner's absolute command of his craft, from the lush orchestration to the soaring vocal solos to stirring ensembles. The many choruses also demonstrate the scope of Wagner's genius, most notably the foursquare chorale that opens the work, the near anarchy of the complex riot scene in Act II, and the playful apprentices' songs in Act III.
COMPOSER: Richard Wagner
LIBRETTO: Richard Wagner
VENUE: The Metropolitan Opera House, Lincoln Center for the Performing Arts NYC
PRESENTING COMPANY: The Metropolitan Opera
CAST:
Michael Volle: Hans Sachs
Klaus Florian Vogt: Walther Von Stolzing
Lise Davidsen: Eva
Johannes Martin Kränzle: Beckmesser
Georg Zeppenfeld: Pogner
Paul Appleby: David
Claudia Mahnke: Magdalene
Martin Gantner: Kothner
Alexander Tsymbalyuk: Nightwatchman
May 21 | Lucia di Lammermoor (in Italian) / Donizetti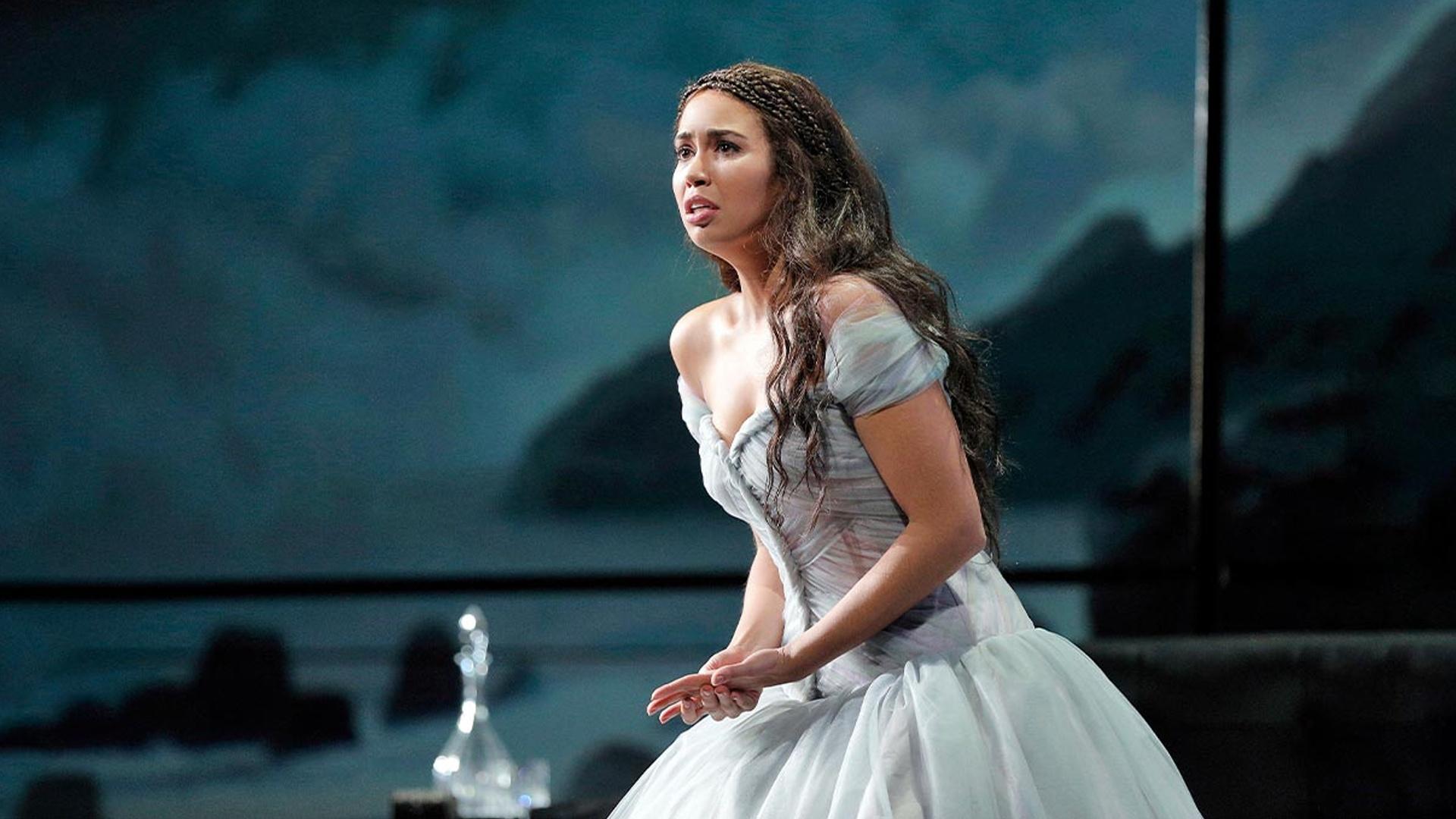 In recent seasons, soprano Nadine Sierra has brought down the house at the Met with virtuosic vocalism and captivating stage presence as Gilda in Rigoletto, Susanna in Le Nozze di Figaro, and Ilia in Idomeneo. Now, she takes on one of the repertory's most formidable and storied roles, the haunted heroine of Lucia di Lammermoor, in an electrifying new staging by in-demand Australian theater and film director Simon Stone, conducted by Riccardo Frizza. Show-stopping tenor Javier Camarena adds to the bel canto fireworks as Lucia's beloved, Edgardo, with baritone Artur Ruciński as her overbearing brother, Enrico, and bass Matthew Rose as her tutor, Raimondo.
Donizetti's operas and those of his Italian contemporaries came to be classified under the heading of bel canto ("beautiful singing"), a genre that focused on vocal agility and lyrical beauty to express drama. Today, the great challenge in performing this music lies in finding the right balance between elegant but athletic vocalism and dramatic insight. Individual moments from the score that can be charming on their own take on increased dramatic force when heard within the context of the piece, perhaps most apparent in the soprano's extended Mad Scene in Act III.
COMPOSER: Gaetano Donizetti
LIBRETTO: Salvadore Cammarano
VENUE: The Metropolitan Opera House, Lincoln Center for the Performing Arts NYC
PRESENTING COMPANY: A co-production of the Metropolitan Opera and LA Opera
CAST:
Nadine Sierra: Lucia
Javier Camarena: Edgardo
Artur Ruciński: Enrico
Matthew Rose: Raimondo
CONDUCTOR: Riccardo Frizza
May 28 | Akhnaten / Glass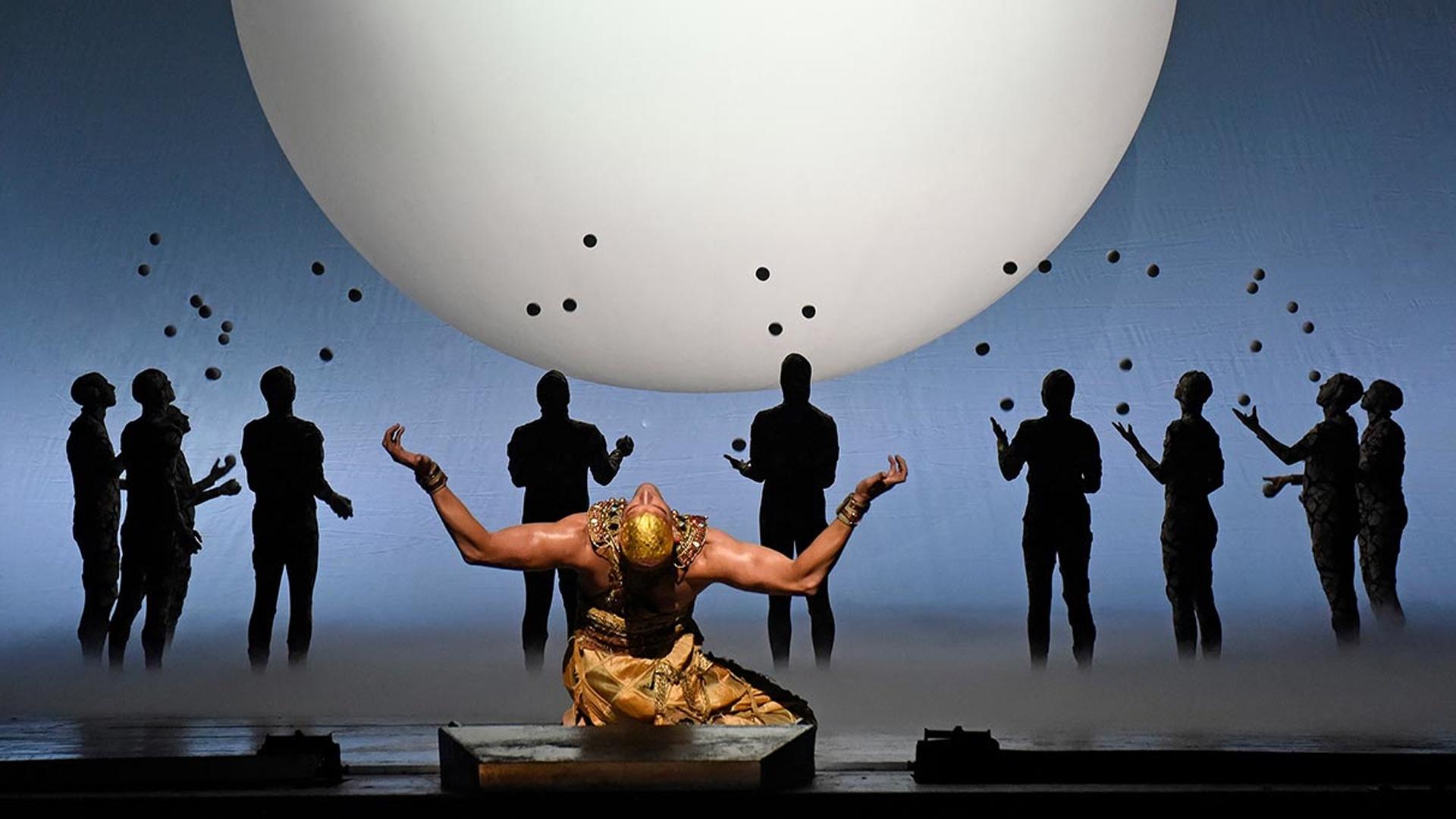 Philip Glass's mesmerizing modern masterpiece—a smash-hit in its 2019 company-premiere run—returns in Phelim McDermott's unforgettable production, which brings ancient Egypt to vivid life with striking stage tableaux and a troupe of jugglers. Countertenor Anthony Roth Costanzo reprises his celebrated turn as the revolutionary pharaoh Akhnaten, with mezzo-soprano Rihab Chaieb as his wife and queen, Nefertiti. Once again at the helm is conductor Karen Kamensek, a noted master of Glass's music.
The score of this opera is lyrical, elegiac, and, while clearly a product of its famous composer (whose intricate, repetitive sonic textures unfold differently than most other classical music), is among the most easily appreciated of his creation. The vocal lines also tend toward the melodic, even if they are original and remarkable. The enigmatic title role is sung by a countertenor, and the chorus also has an important role throughout, appearing as priests in the beginning, people of Egypt throughout, and the spirits of the departed at the end.
COMPOSER: Philip Glass
LIBRETTO: Philip Glass
VENUE: The Metropolitan Opera House, Lincoln Center for the Performing Arts NYC
PRESENTING COMPANY: The Metropolitan Opera in collaboration with Improbable
CAST:
Anthony Roth Costanzo: Akhnaten
Rihab Chaieb: Nefertiti
Zachary James: Amenhotep III
Disella Lárusdóttir: Queen Tye
Aaron Blake: High Priest of Amon
Richard Bernstein: Aye
Will Liverman: Horemhab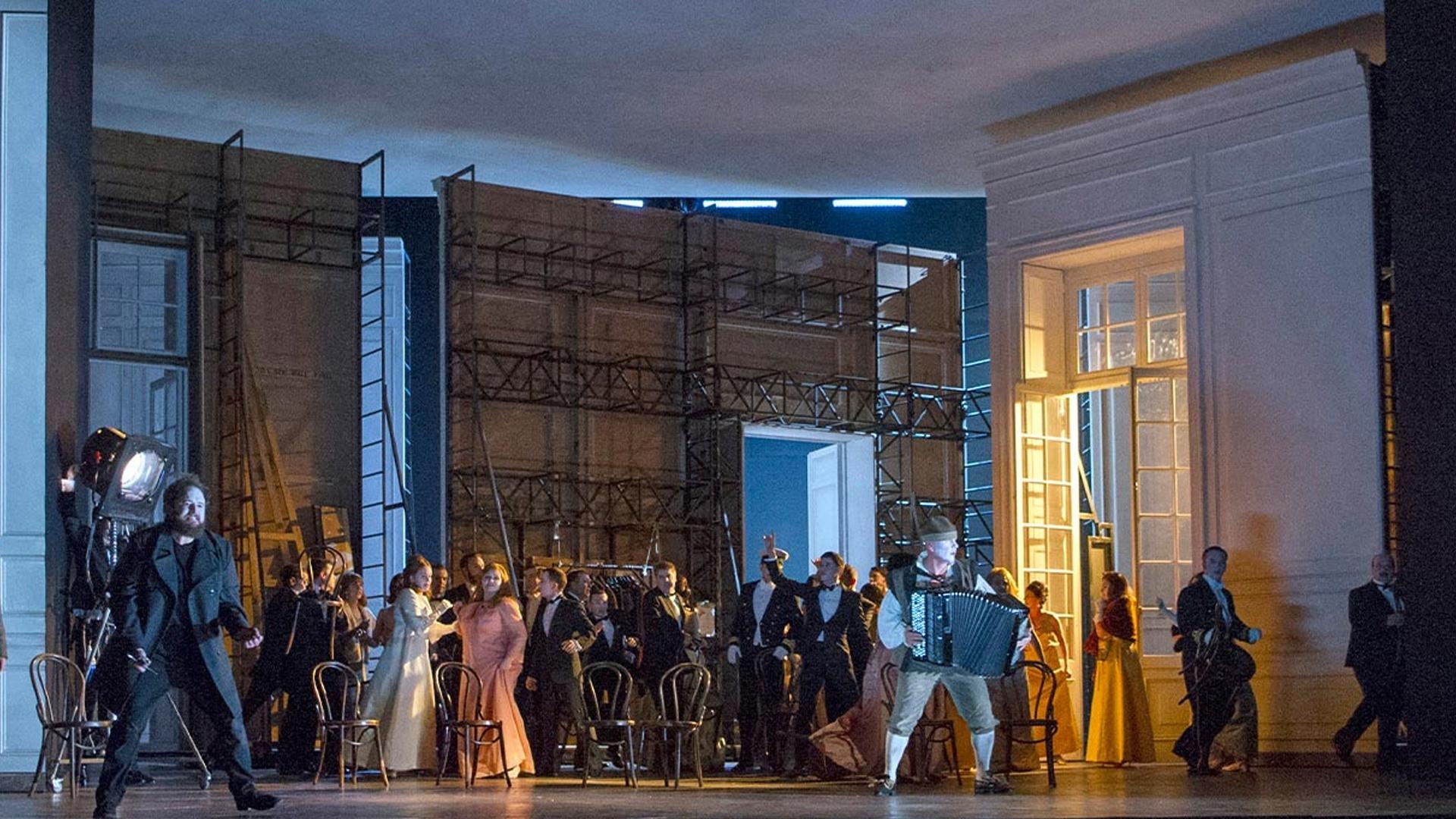 When Australian composer Brett Dean's Hamlet had its world premiere at the Glyndebourne Festival in 2017, The Guardian declared, "New opera doesn't often get to sound this good … Shakespeare offers a gauntlet to composers that shouldn't always be picked up, but Dean's Hamlet rises to the challenge." Now, this riveting contemporary masterpiece arrives at the Met, with Neil Armfield, who directed the work's premiere, bringing his acclaimed staging to New York. Many of the original cast members have followed, including tenor Allan Clayton in the title role. Nicholas Carter makes his Met debut conducting a remarkable ensemble, which also features soprano Brenda Rae as Ophelia, mezzo-soprano Sarah Connolly as Gertrude, baritone Rod Gilfry as Claudius, and legendary bass John Tomlinson as the ghost of Hamlet's father.
COMPOSER: Brett Dean
LIBRETTO: Matthew Jocelyn
VENUE: The Metropolitan Opera House, Lincoln Center for the Performing Arts NYC
PRESENTING COMPANY: The Metropolitan Opera
CAST:
Allan Clayton: Hamlet
Brenda Rae: Ophelia
Rod Gilfry: Claudius
Sarah Connolly: Gertrude
William Burden: Polonius
Jacques Imbrailo: Horatio
John Tomlinson: Ghost
David Butt Philip: Laertes
Aryeh Nussbaum Cohen: Rosencrantz
Christopher Lowrey: Guildenstern
CONDUCTOR: Nicholas Carter