Community Engagement Toolkit
The community engagement toolkit can be used by public television stations or interested organizations to broaden the reach of the television program Understanding the Opioid Epidemic. Use the toolkit as a guide to hold public or targeted screenings and discussions, educate young people, or share resources on social media regarding this program and initiative around the opioid epidemic.
In the toolkit: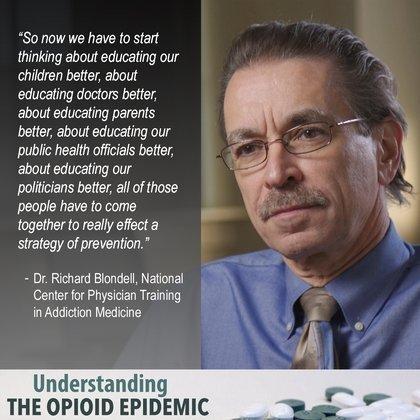 Understanding the Opioid Epidemic is a production of WNED PBS
With funding provided by BlueCross BlueShield Association and the Brain Research Foundation.
THE INFORMATION AND CONTENT PROVIDED OR ACCESSED THROUGH THIS WEBSITE ARE NOT INTENDED OR IMPLIED TO BE A SUBSTITUTES FRO PROFESSIONAL MEDIAL ADVICE, DIAGNOSIS OR TREATMENT. INDIVIDUALS SEEKING MEDICAL ADVICE OR TREATMENT SHOULD SEEK THE ADVICE OF A PHYSICIAN OR OTHER QUALIFIED HEALTH CARE PROVIDER.
WNED does not recommend or endorse any specific opinions or information that may be mentioned of referenced on this website.