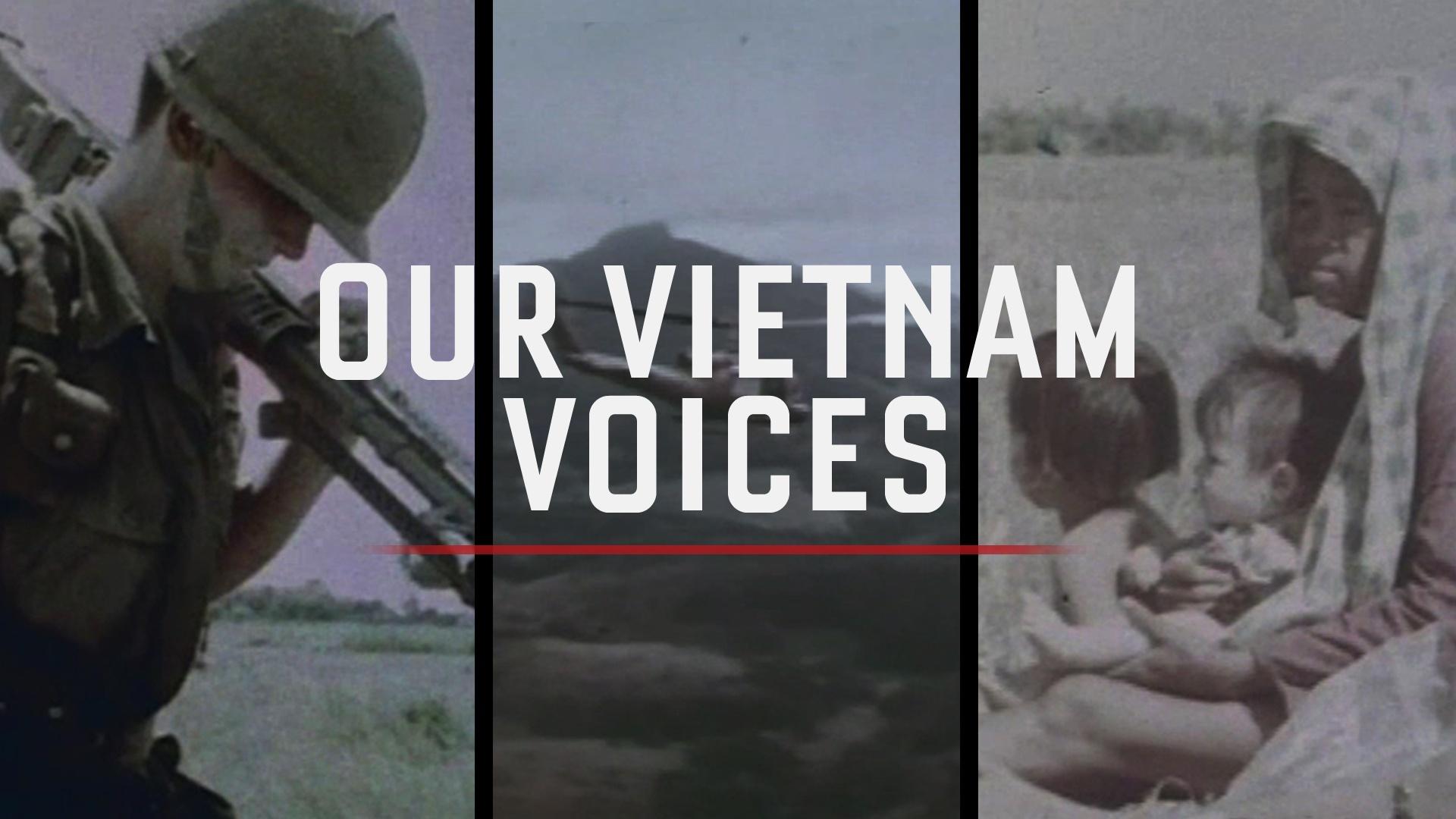 In the decades since the end of the Vietnam War, the conflict continues to be discussed and debated as to its impact then and now. In order to showcase stories in Western New York and Southern Ontario, Buffalo Toronto Public Media brings you "Our Vietnam Voices" - a digital-first series showcasing Vietnam veterans and others affected by the war in our region. Watch the series below.

We also encourage you to share your own story here or using the hashtag #VietnamStoriesPBS.

UB Studies the Effects of War
As more Vietnam veterans enter retirement, many struggle with physical and mental health issues as a result of their war experience. A student at the University at Buffalo has studied 117 Vietnam veterans and reports back to the local Vietnam Veterans of America chapter about post-traumatic stress disorder and post-traumatic growth.
Veterans Treatment Court
This story shares the success of the Veterans Treatment Court program, which is an alternative to incarceration for veterans who find themselves in the criminal justice system. This program, created in Buffalo, NY, is now modeled across the country and attributes volunteer veteran mentors like local Vietnam veteran Dr. Patrick Welch, as a key part of its success. For Patrick, it's his way of giving back to his fellow veterans and honoring those who gave their lives in the Vietnam War.
The Trân Family
Thousands of Vietnamese refugees resettled in the United States as a result of the war. This story follows the courageous journey of the Trân family who fled Vietnam in 1980, and how they've built a successful life in Buffalo, NY.
A Canadian's Story
The role of Canada was one of support and peacekeeping rather than joining American forces in the fight against the North Vietnamese. However, some Canadians did want to fight – even if it wasn't in a Canadian uniform. Nearly 30,000 American men crossed the border into Canada to avoid the draft. Roughly the same number of Canadians crossed into the United States and signed up to serve. This story features the Vietnam experience of Dominic Bilotta, a Canadian citizen who proudly fought as a U.S. Marine during the war.
Vietnam Veterans of America - Chapter 77
The local Western New York chapter of Vietnam Veterans of America is recognized as the 6th largest in the nation with nearly 650 members. Their work includes helping veterans from all wars, increasing the awareness of veteran issues and giving back to the community. This story follows Chapter 77 as they live out their mission to ensure that one generation of veterans never abandons another.

Our Vietnam Voices
UB Studies the Effects of War
4:18
Published:
A graduate student looks at the effects of the Vietnam War on those who served in-country.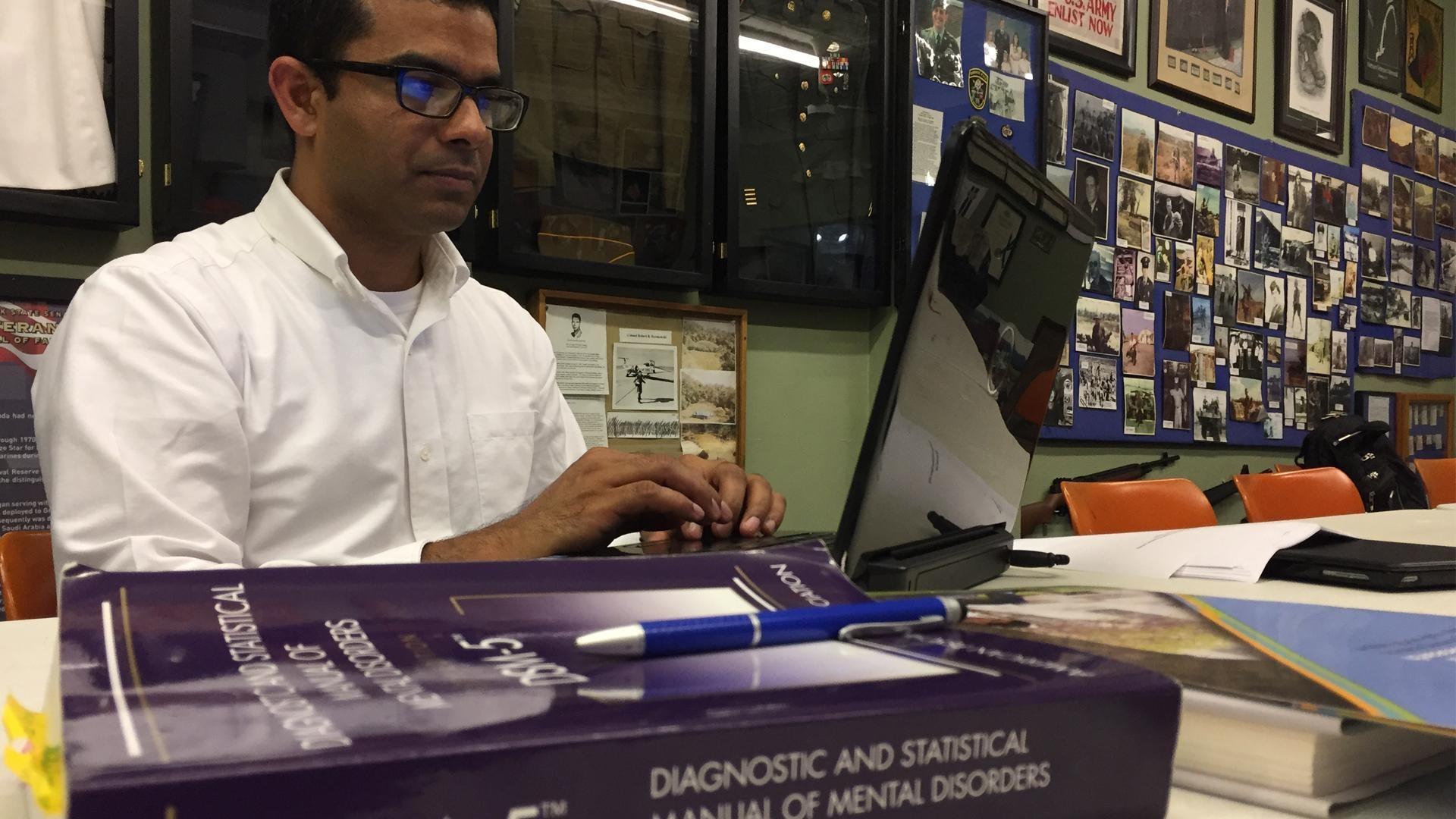 Our Vietnam Voices
UB Studies the Effects of War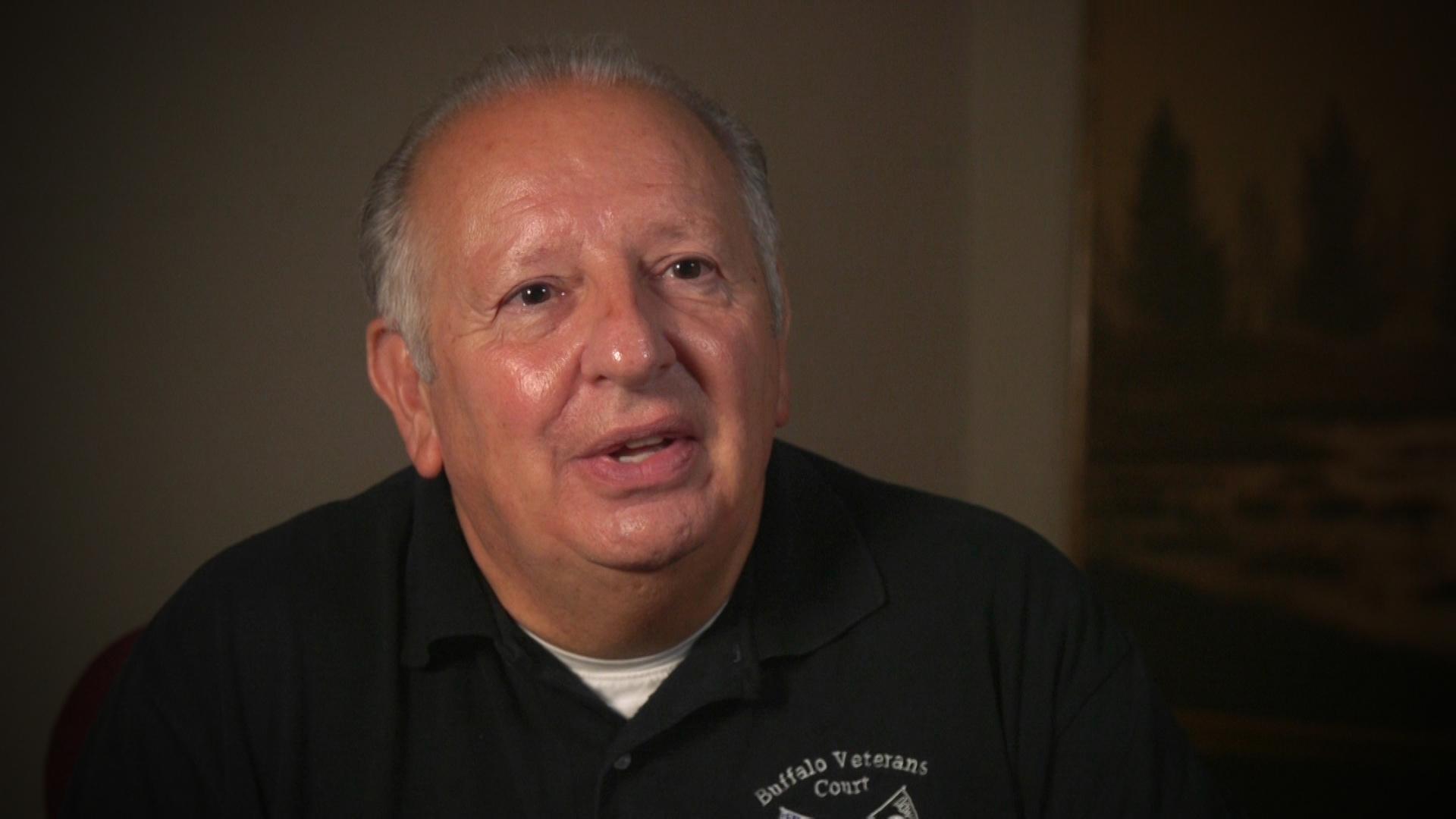 Our Vietnam Voices
Veterans Treatment Court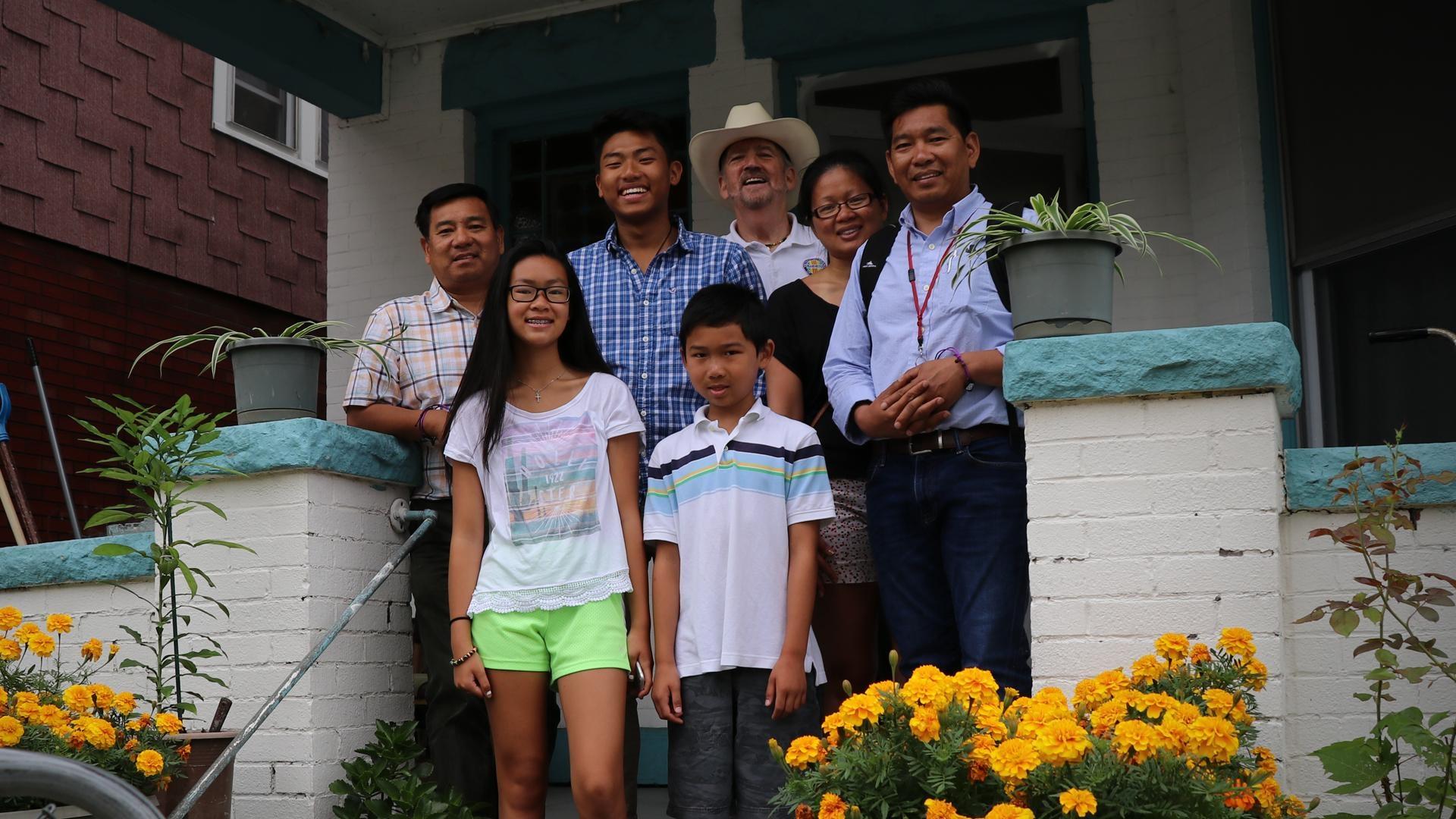 Our Vietnam Voices
The Tran Family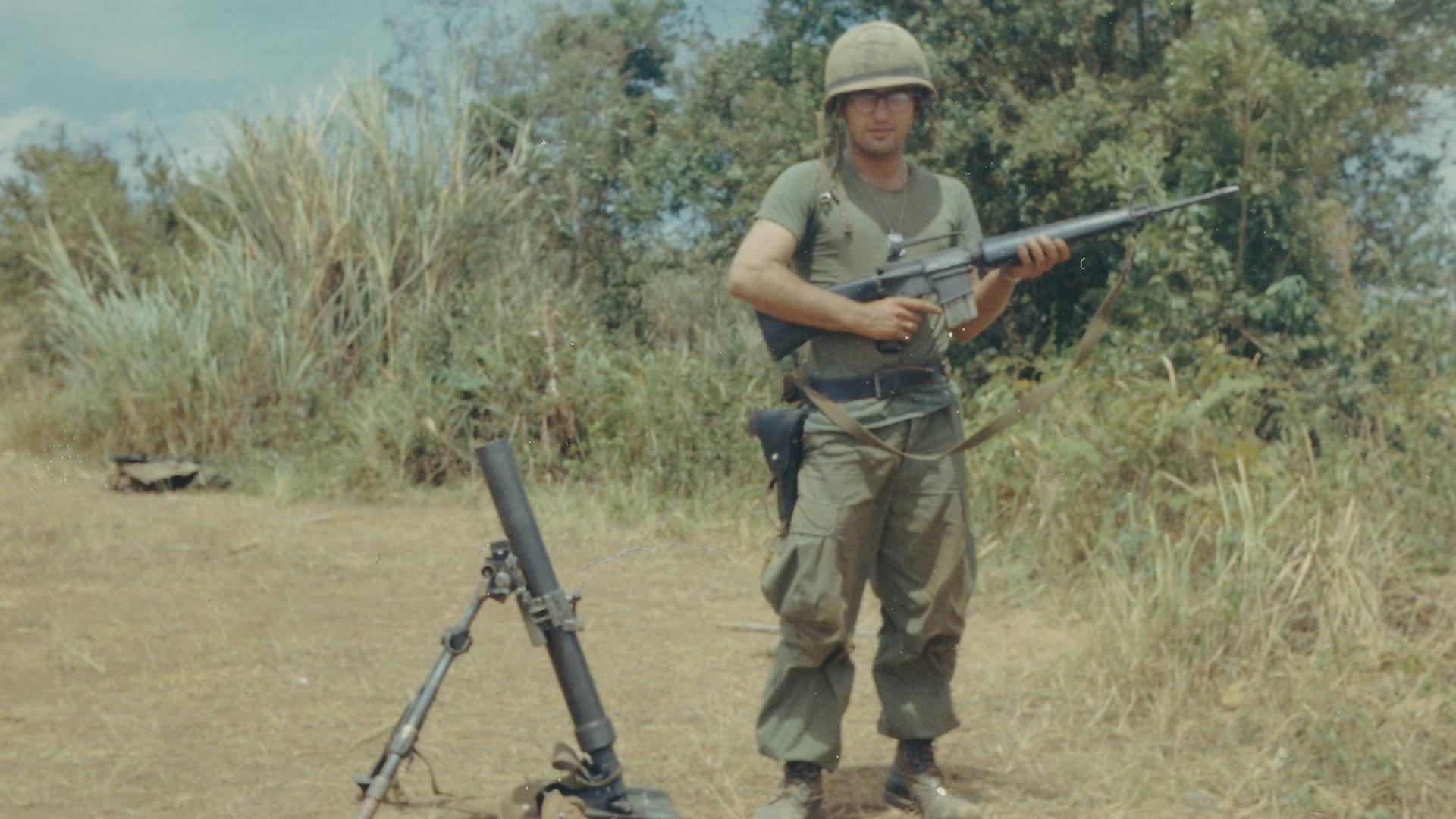 Our Vietnam Voices
A Canadian's Story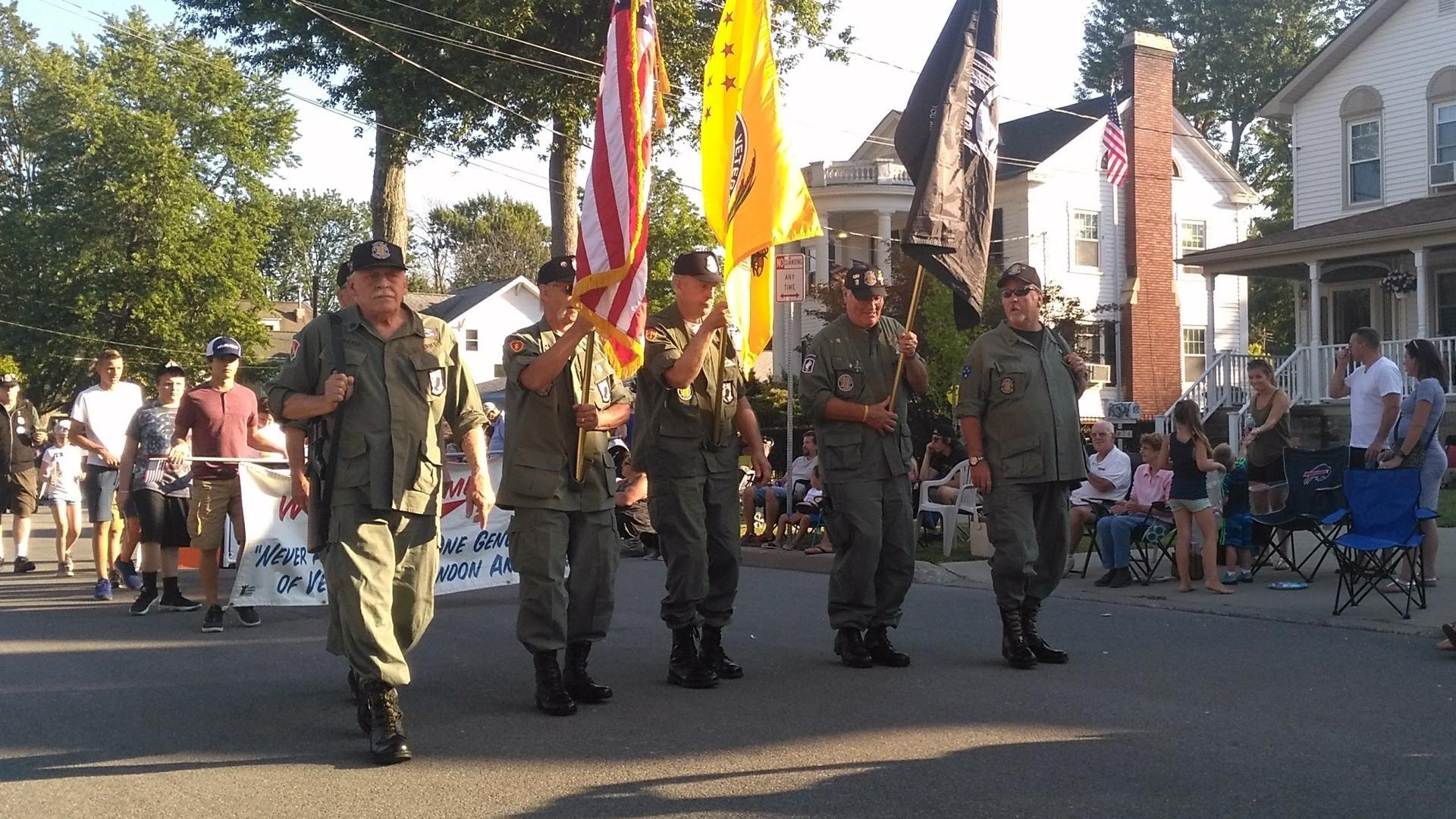 Our Vietnam Voices
Vietnam Veterans of America - Chapter 77

Our Vietnam Voices | Photo Gallery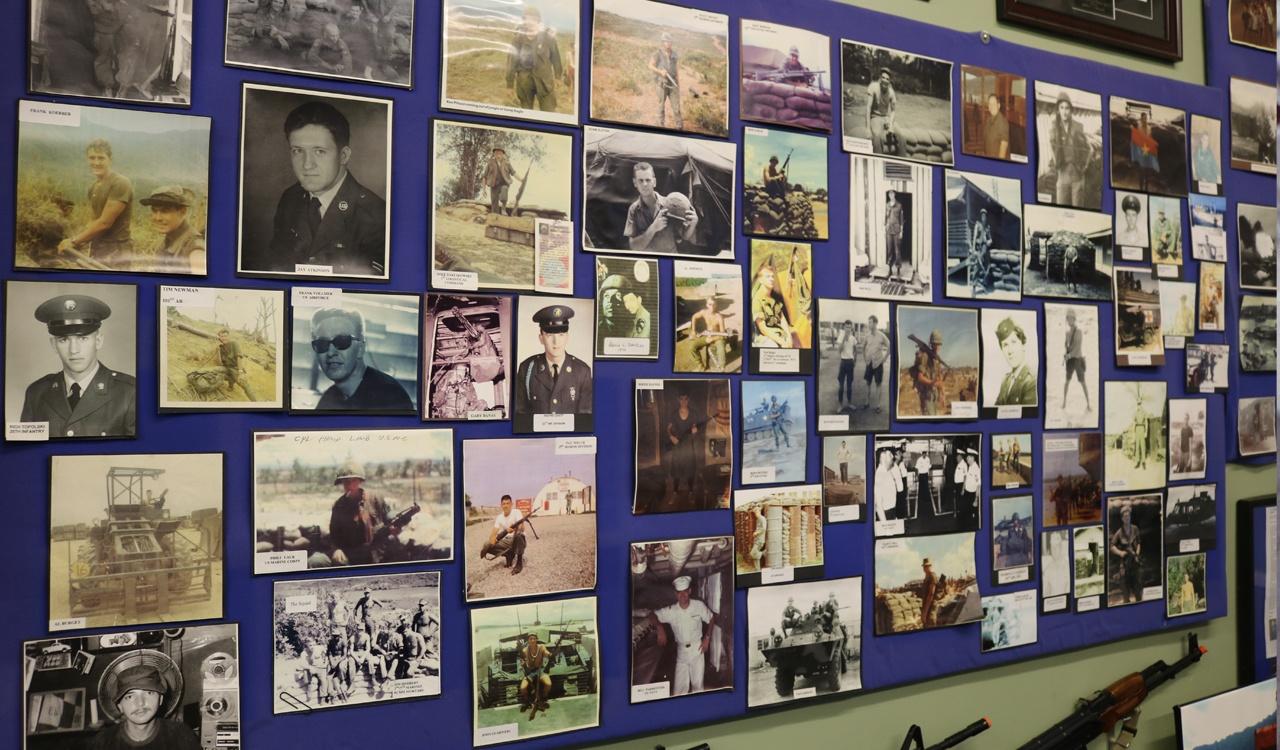 Chapter 77 of the Vietnam Veterans of America is located in Tonawanda, New York. Their meeting space is filled with memorabilia from the Vietnam and other wars.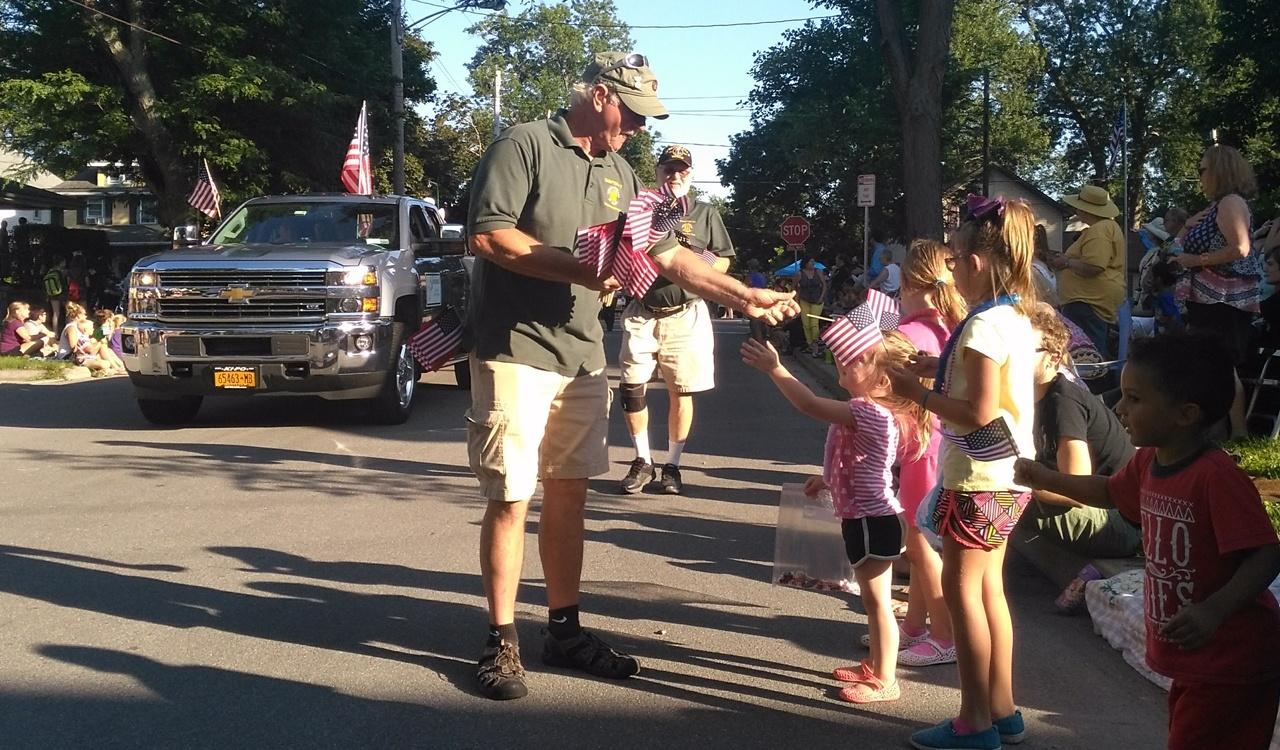 Vietnam veterans from Western New York's Chapter 77 march in Tonawanda's Canalfest parade.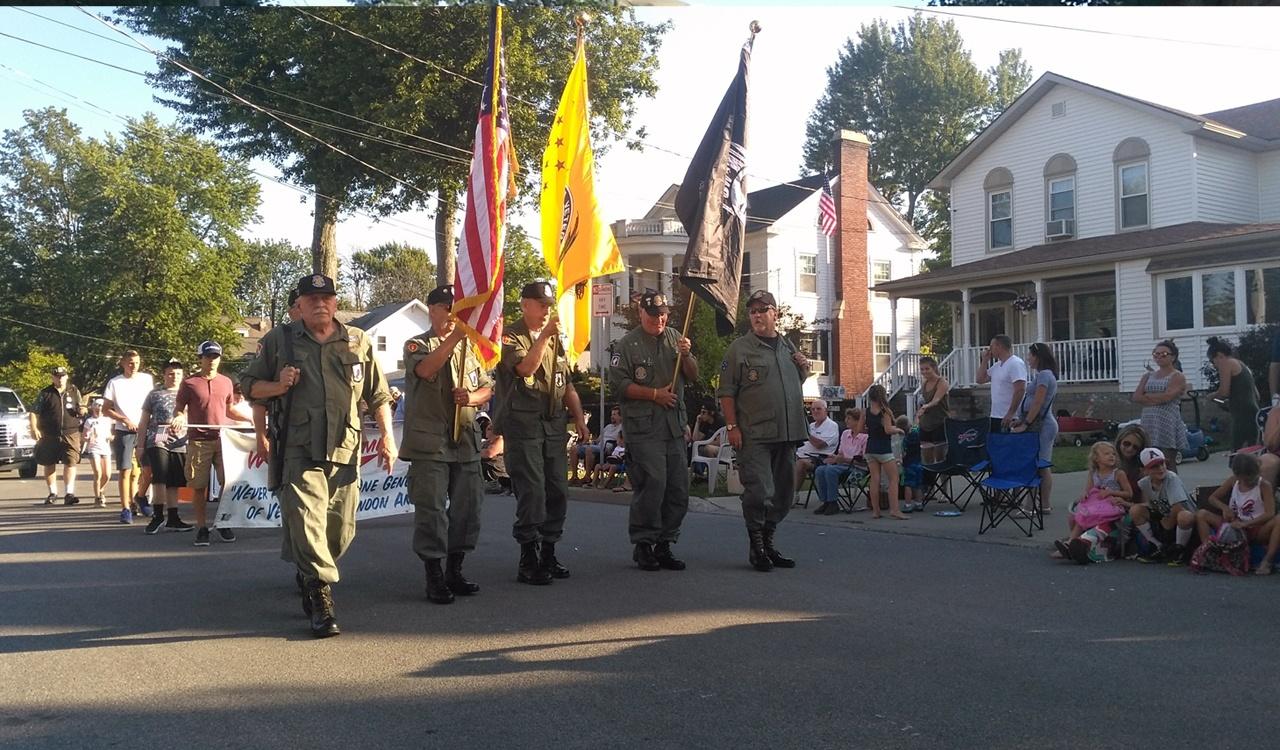 Chapter 77 marches in color guard formation throughout the entire parade Canalfest parade in Tonawanda, NY.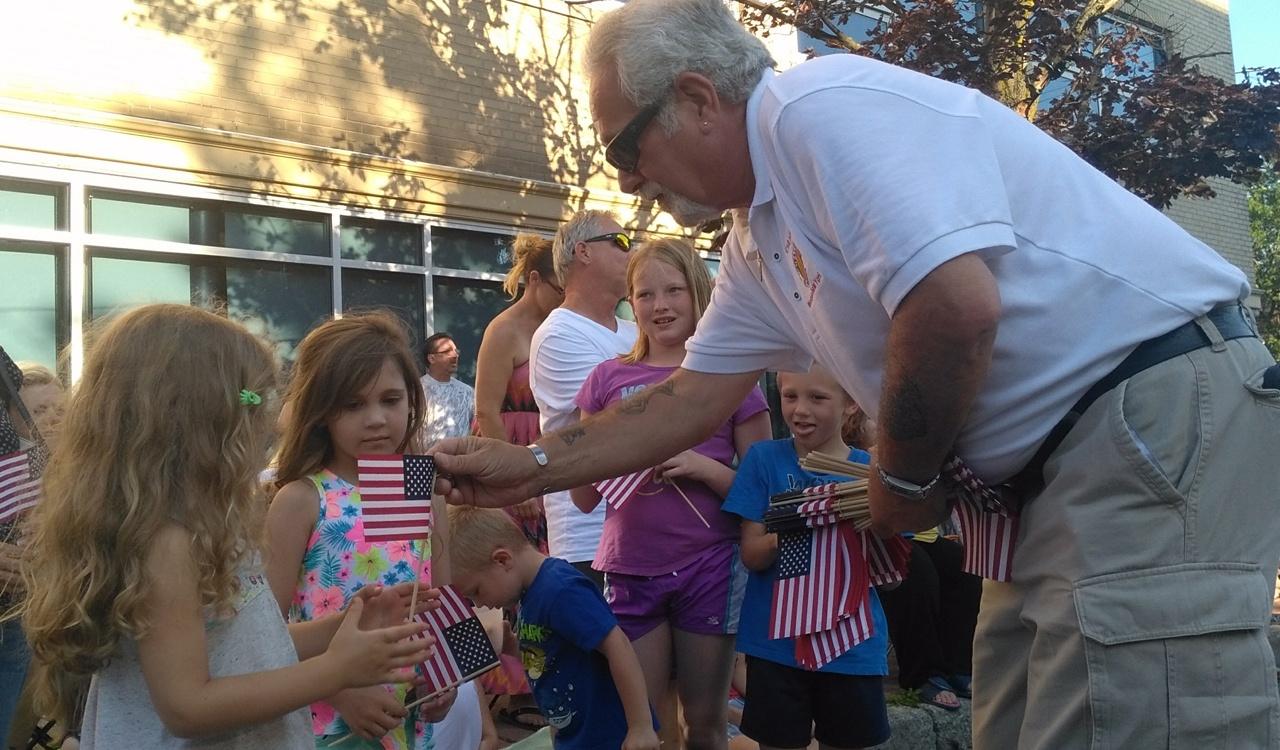 The young parade goers were especially excited to receive an American flag from Chapter 77 Vietnam veterans who passed them out along the route in Tonawanda, New York.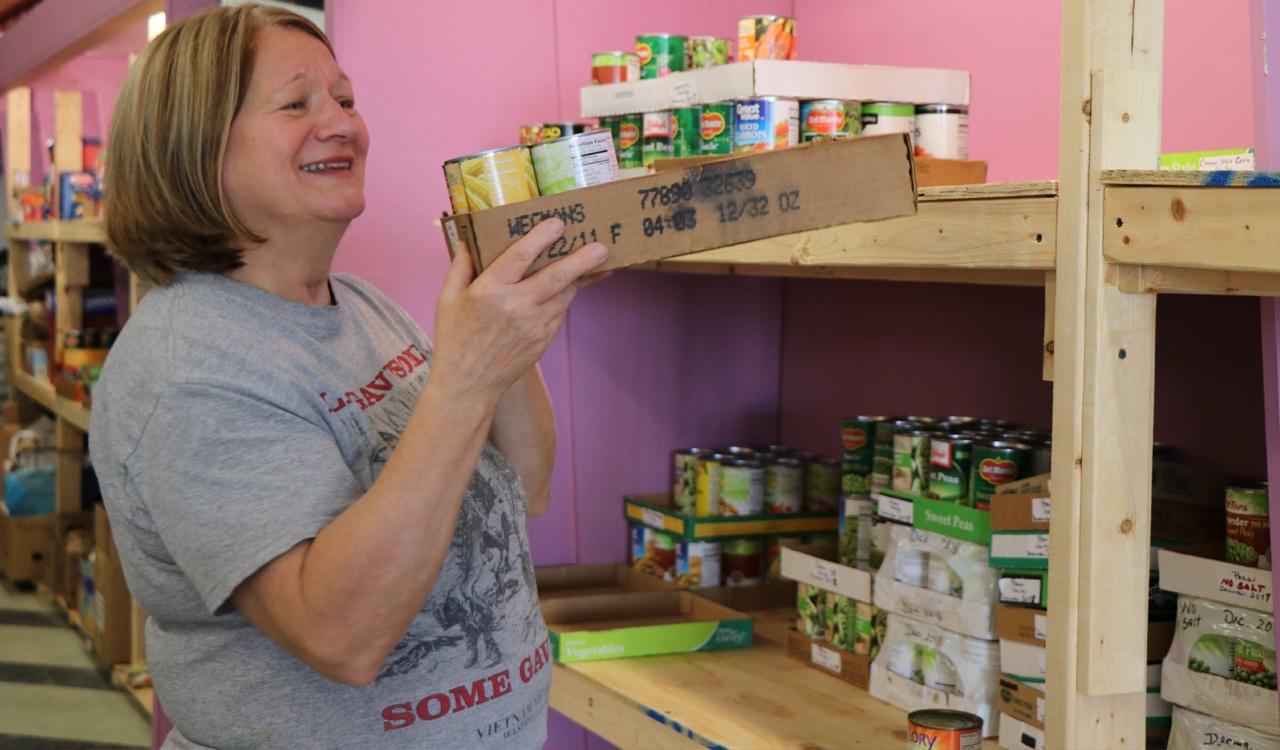 Linda Sopic, a Vietnam Veterans of America Associate member in honor of her late husband, volunteers at the Paul Rudnicki Food Pantry which serves needy veterans.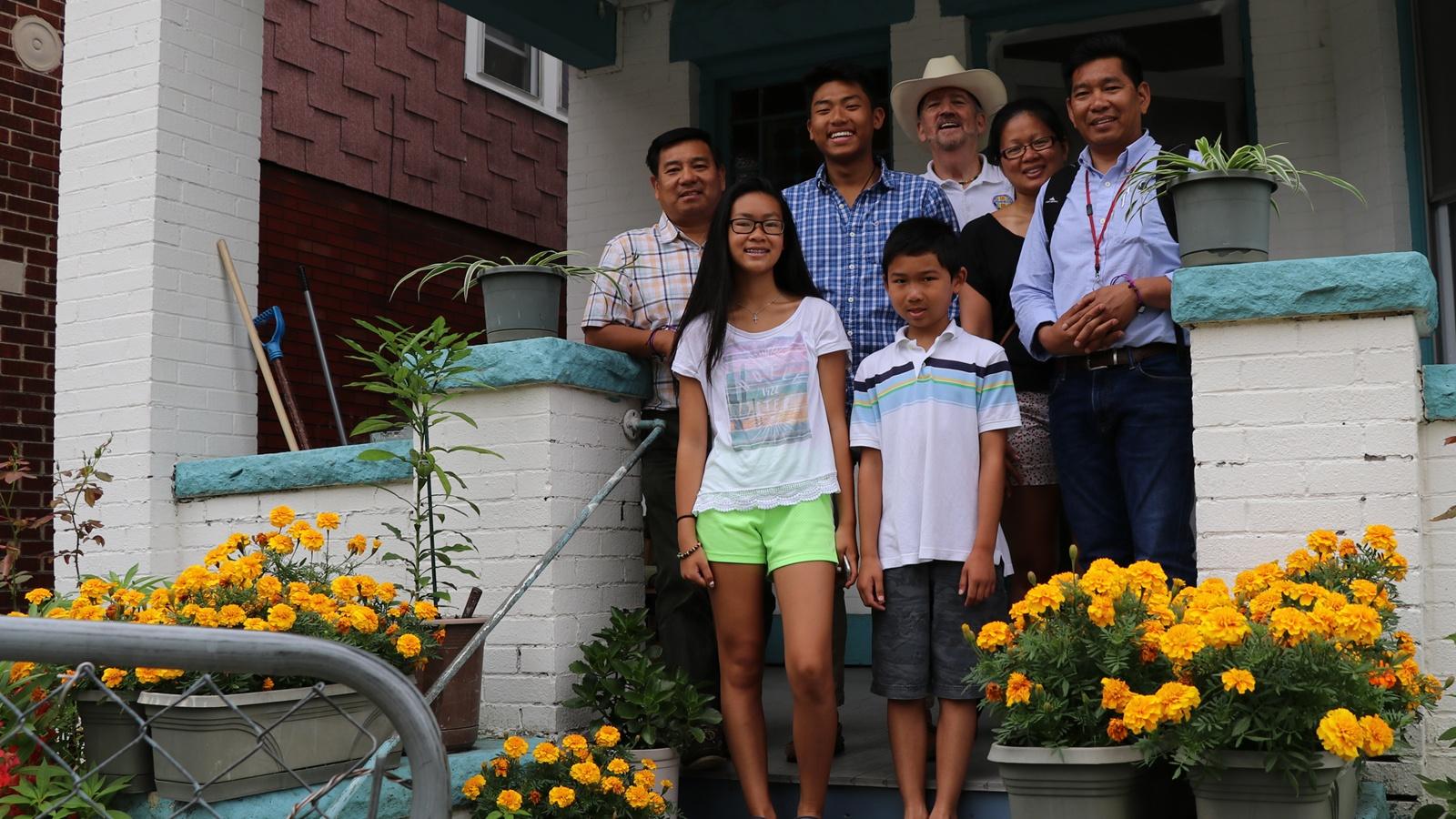 Brothers Minh and Tom Trân, their family, and Vietnam veteran Norm Murray. The Trân family escaped communist Vietnam in the late 1970's after the war.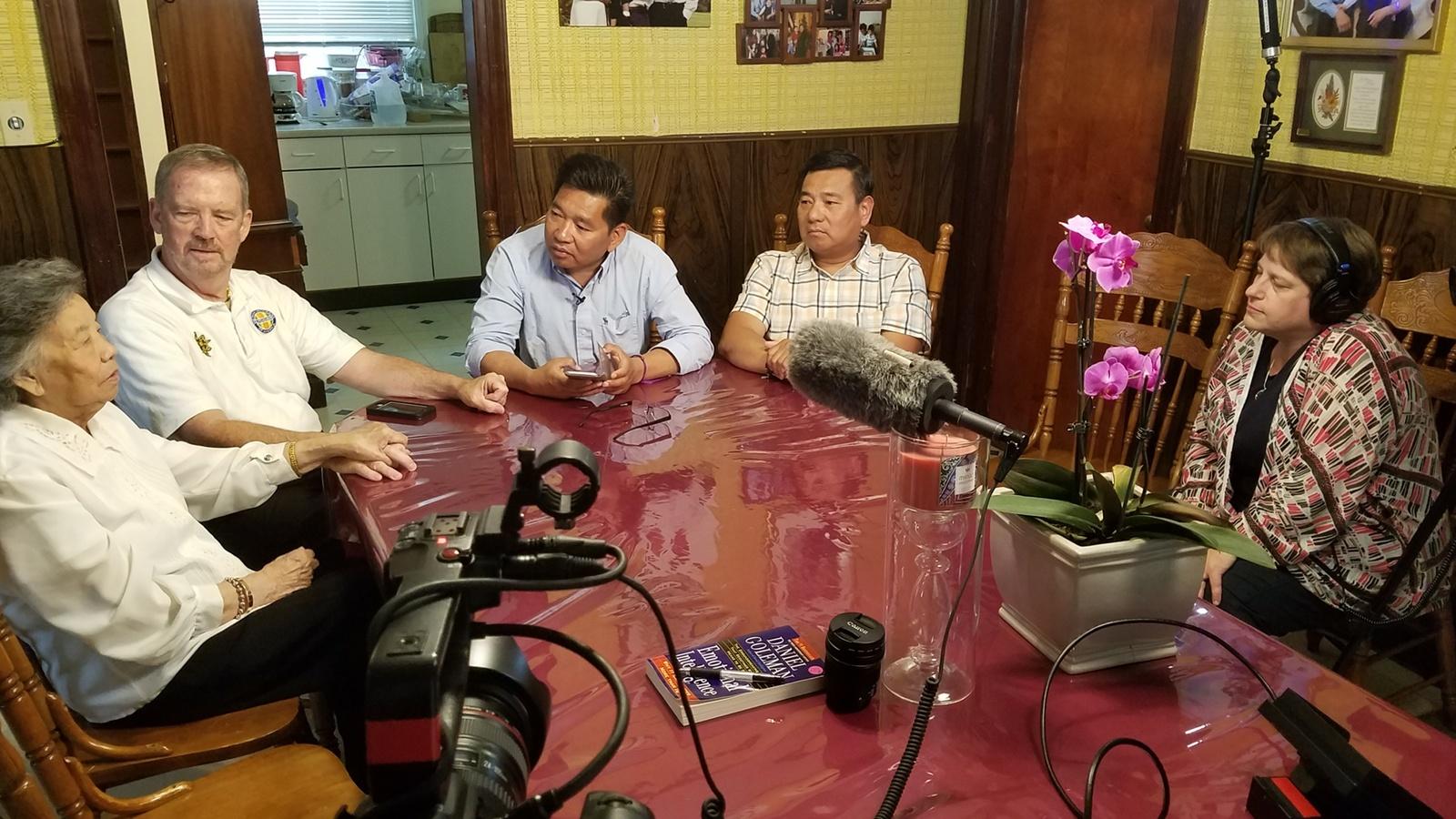 WNED's Senior Producer, Lynne Bader captures footage of Minh Trân and his family as they talk about their first days in America after escaping from Vietnam in the late 1970's.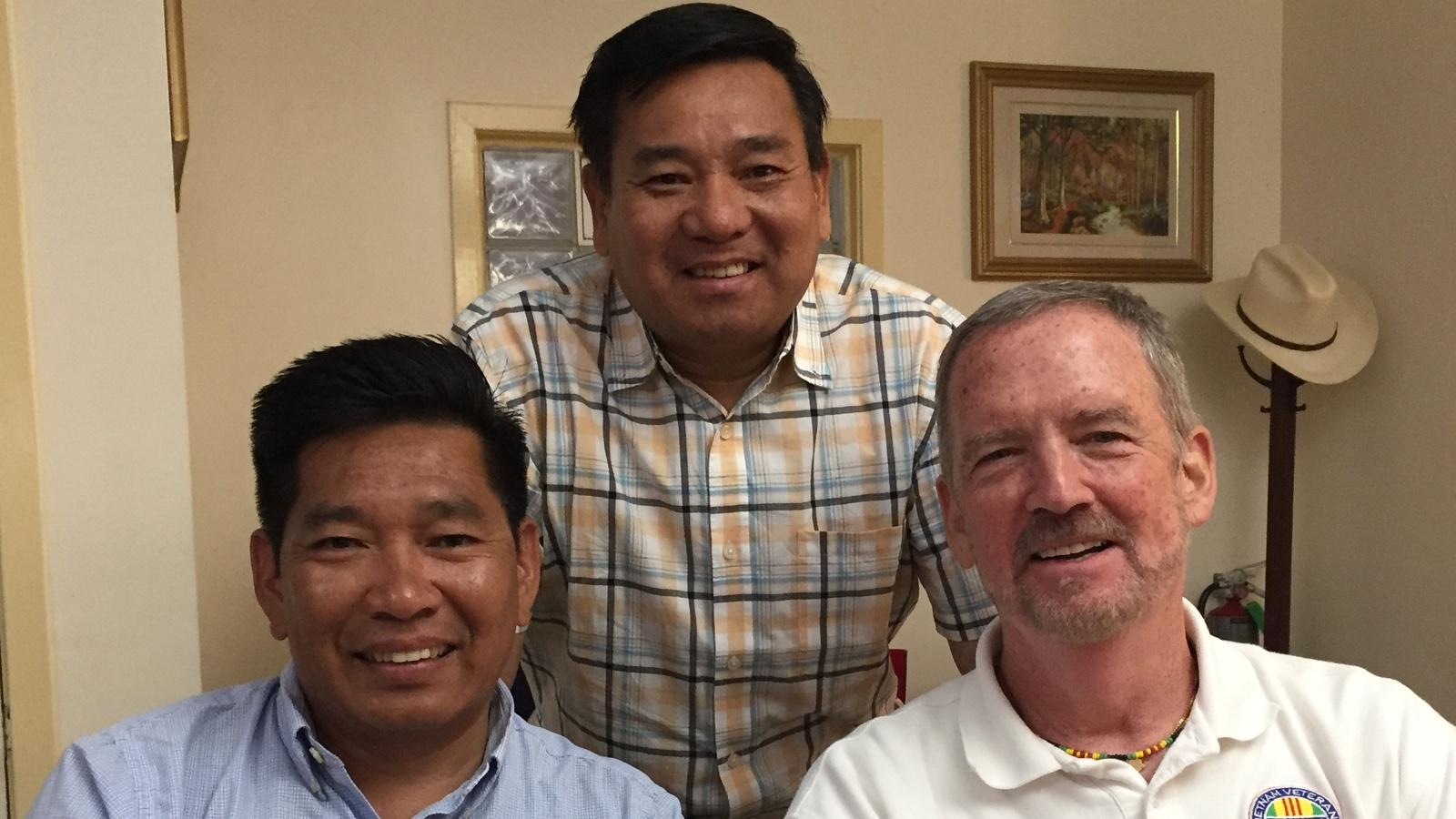 Vietnam veteran Norm Murray has remained a close friend of the Trân family since he helped them resettle in Buffalo, NY in 1980.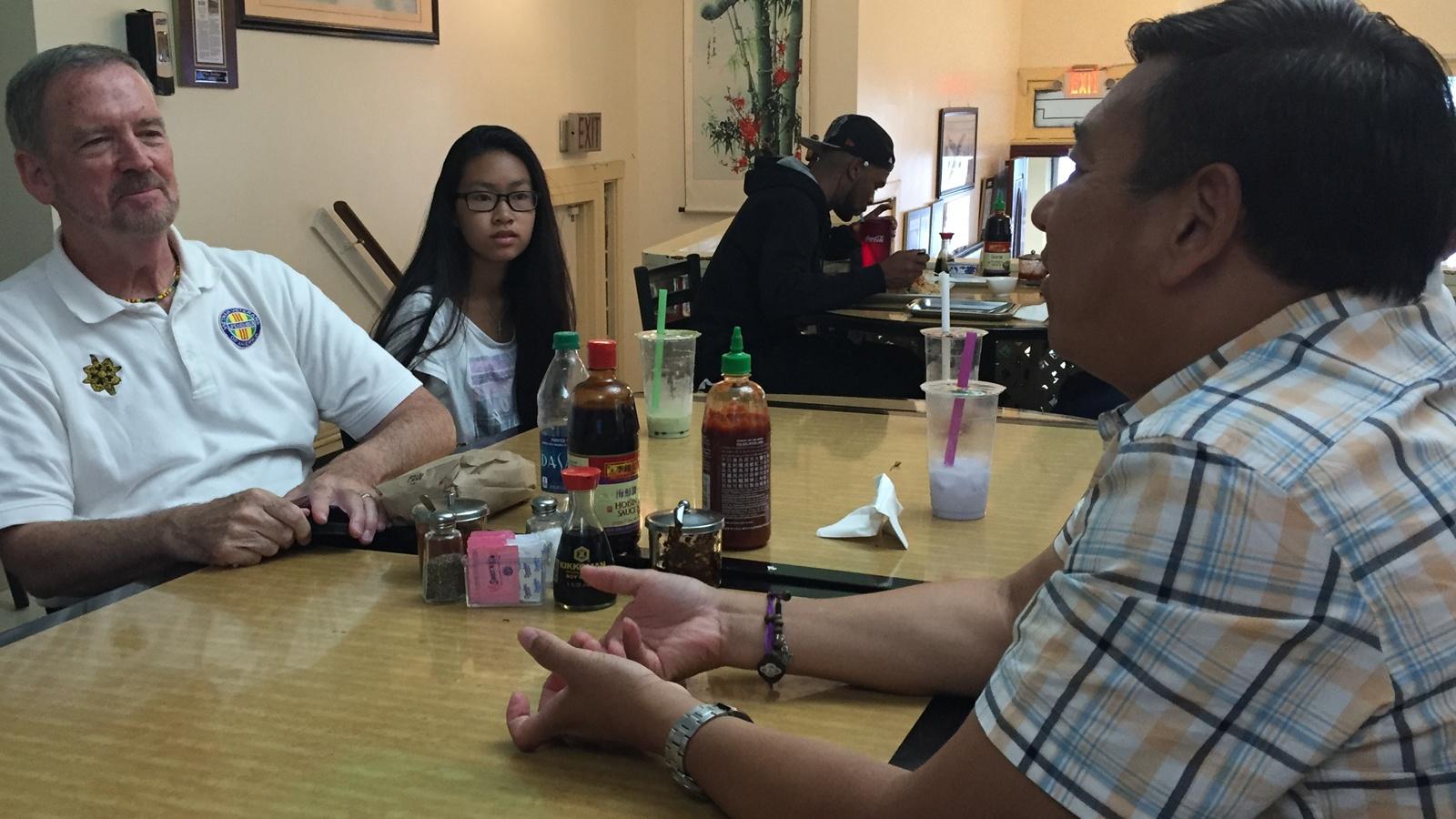 Norm Murray and Minh Trân meet for lunch at Pho Dollar on West Ferry St. on Buffalo's west side. Minh and his family own this and several other businesses throughout Buffalo.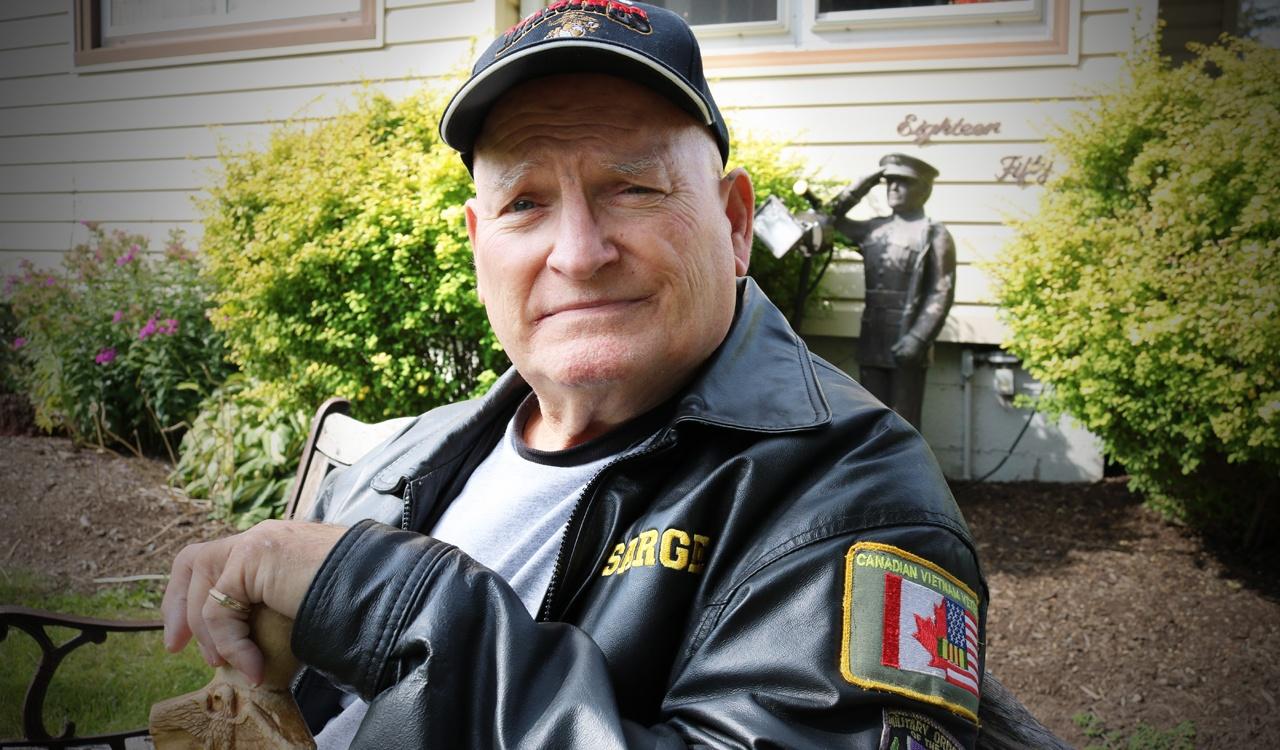 Sgt. Dominic Bilotta from Niagara Falls, Ontario served in Vietnam in 1966 and 67 as a U. S. Marine. He proudly displays patches that identify him as a Canadian Vietnam veteran.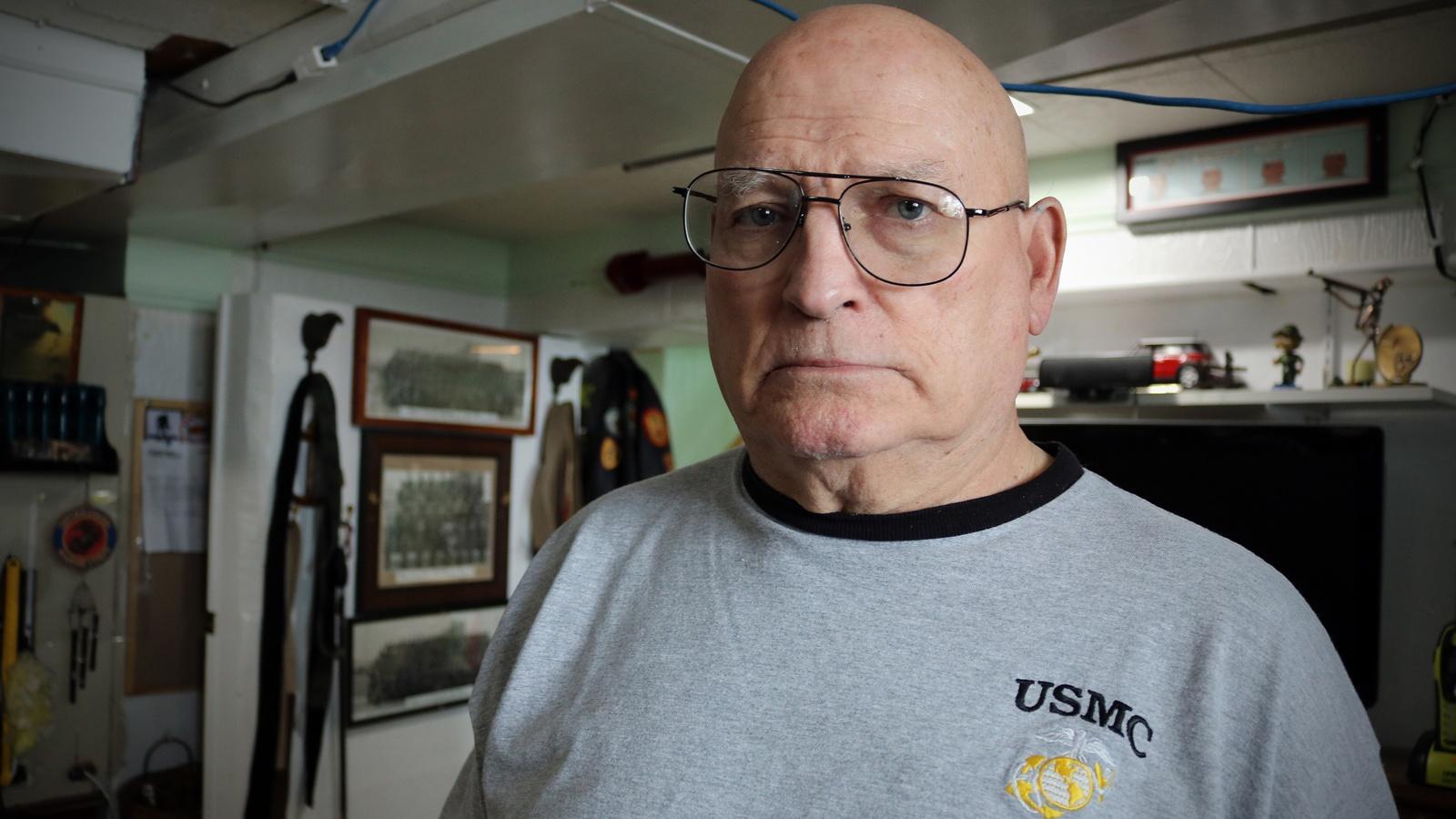 Sgt. Dominic Bilotta is one of nearly 30,000 Canadian citizens who crossed the border to serve in the U.S. military. He's pictured with memorabilia in his "Military Museum."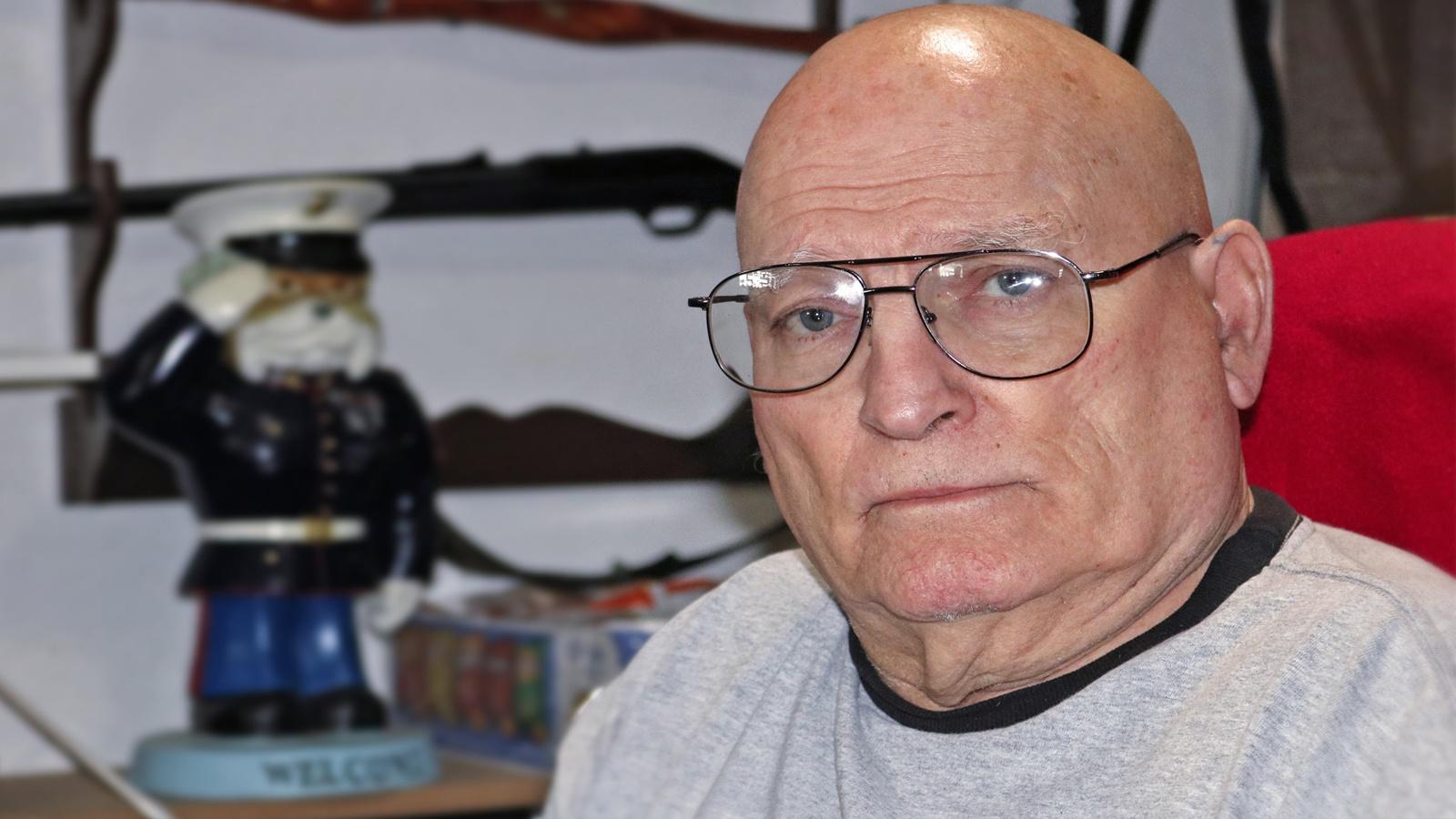 Dominic suffered several wounds at the hands of the North Vietnamese and is the recipient of two Purple Hearts.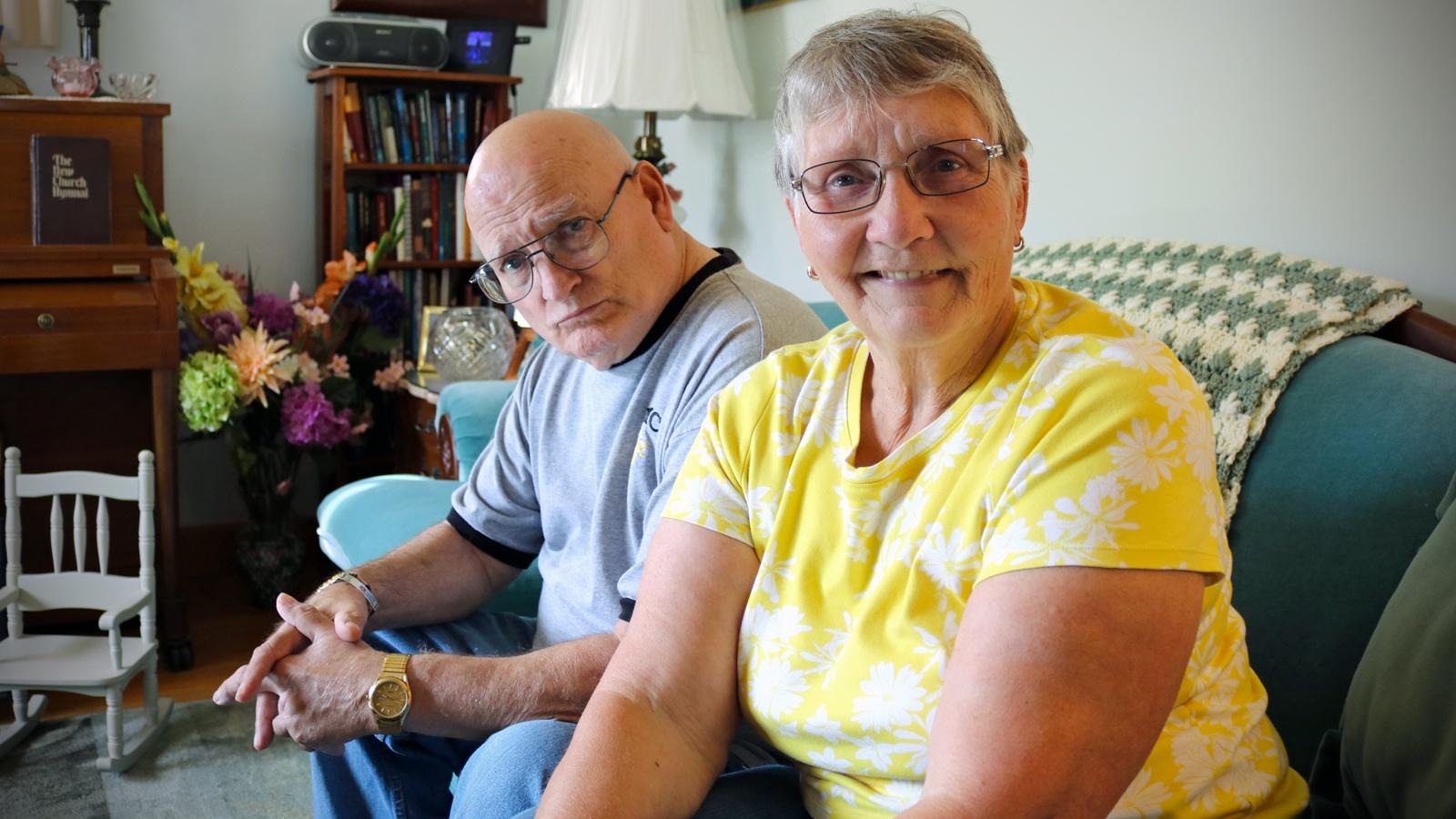 Marilyn Bilotta had a crush on Dominic since she was 12. After the war, she made sure he wasn't going to get away again. They were married and now live in NF, NY.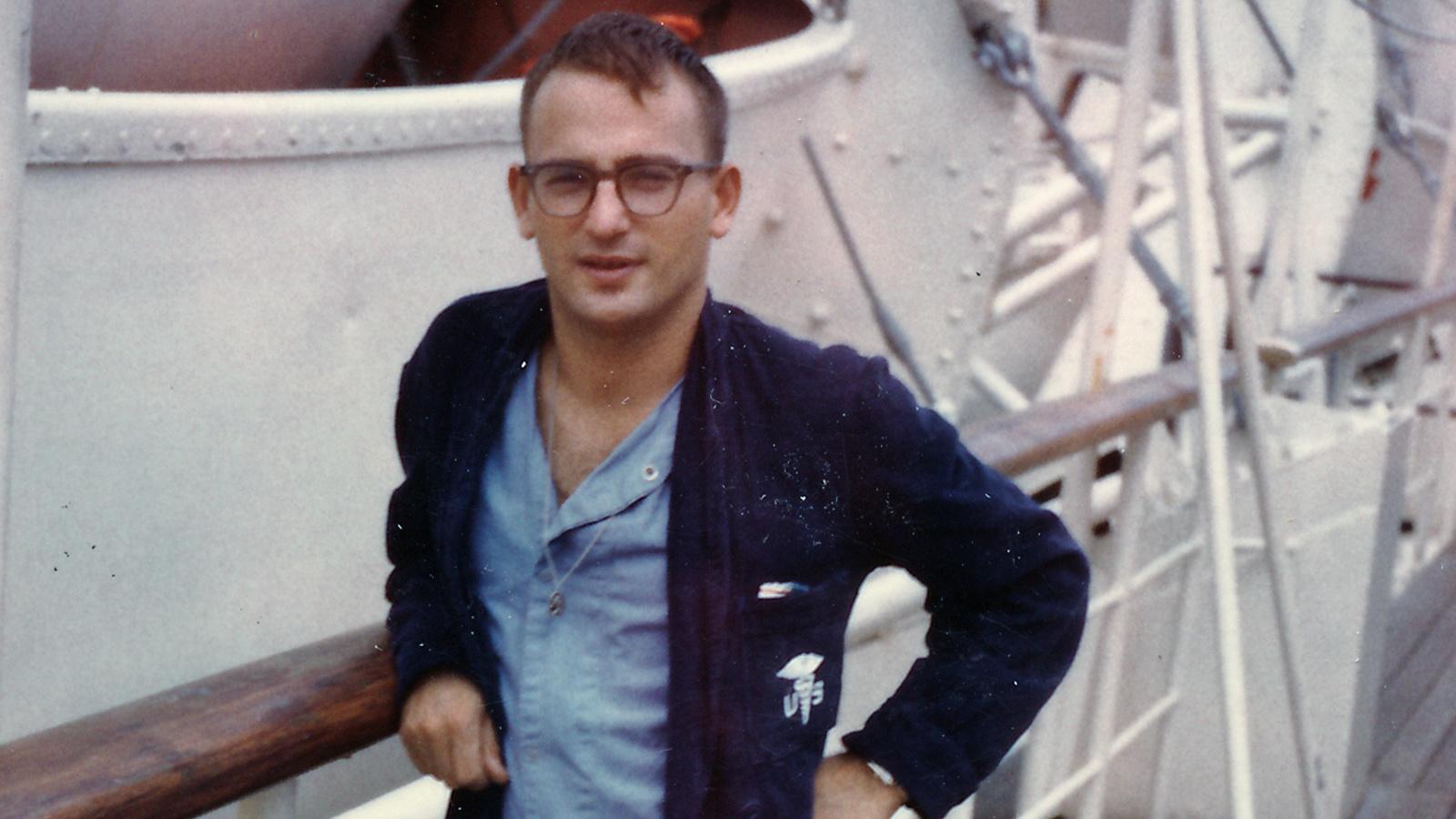 Dominic was wounded several times while serving in Vietnam. This picture was captured on board a hospital ship as he healed before returning to combat.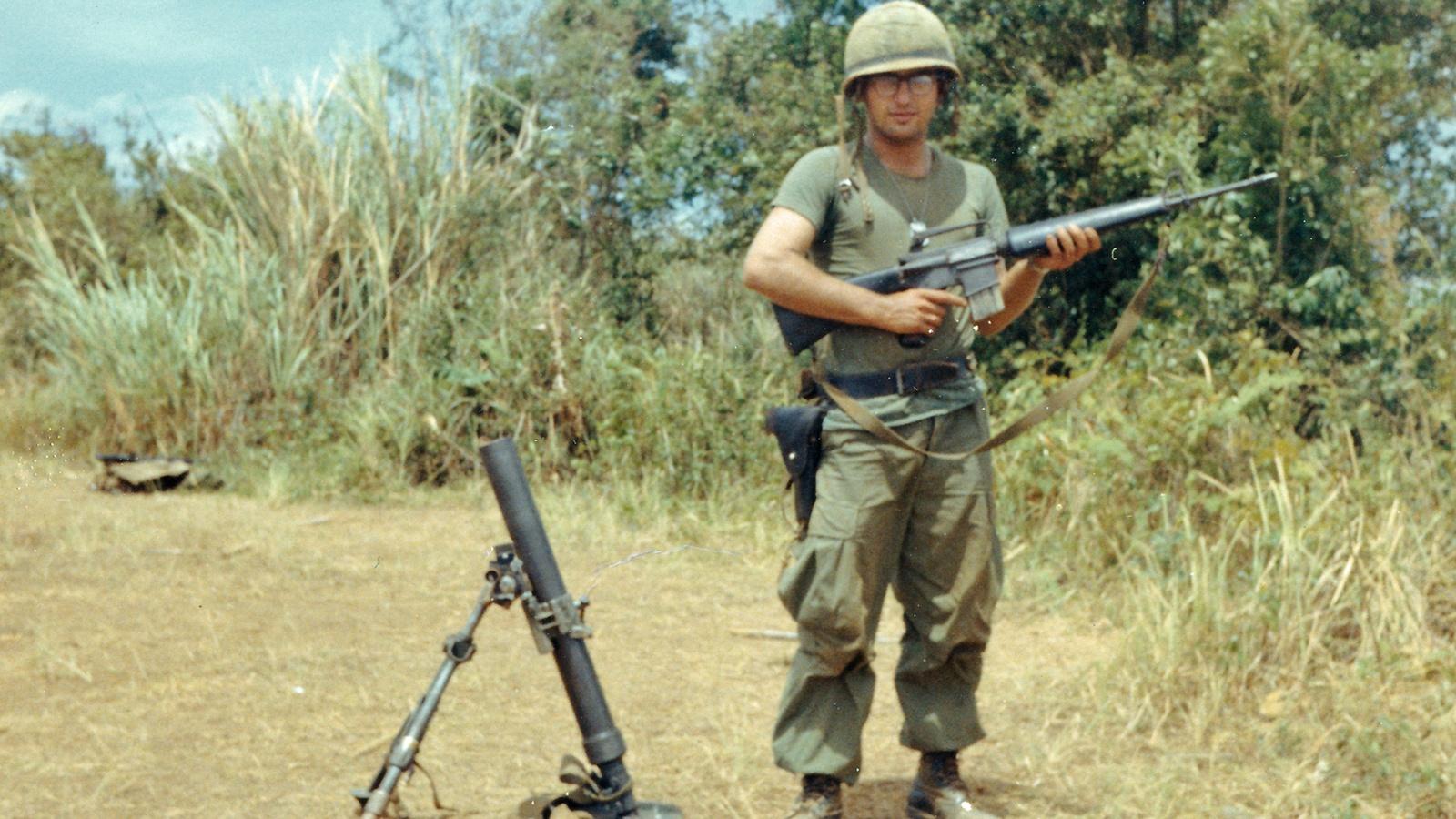 Sgt. Dominic Bilotta, at the young age of 20, was in charge of an entire section that handled 60mm mortars, rocket launchers and machine guns.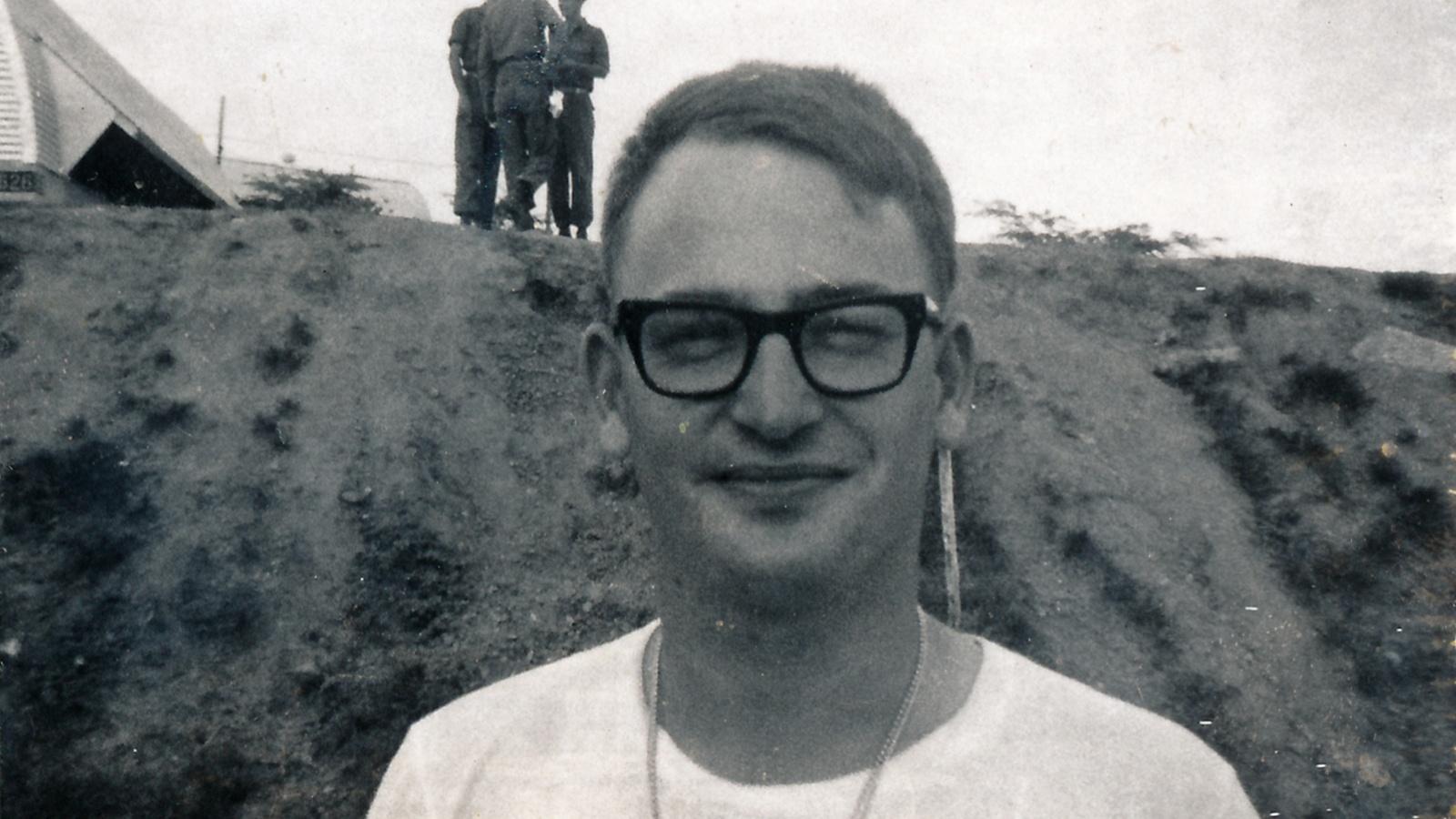 Sgt. Dominic Bilotta was stationed in several places across South Vietnam, but spent much of his time near the DMZ. Here, he stops for a moment to pose for a picture to send home.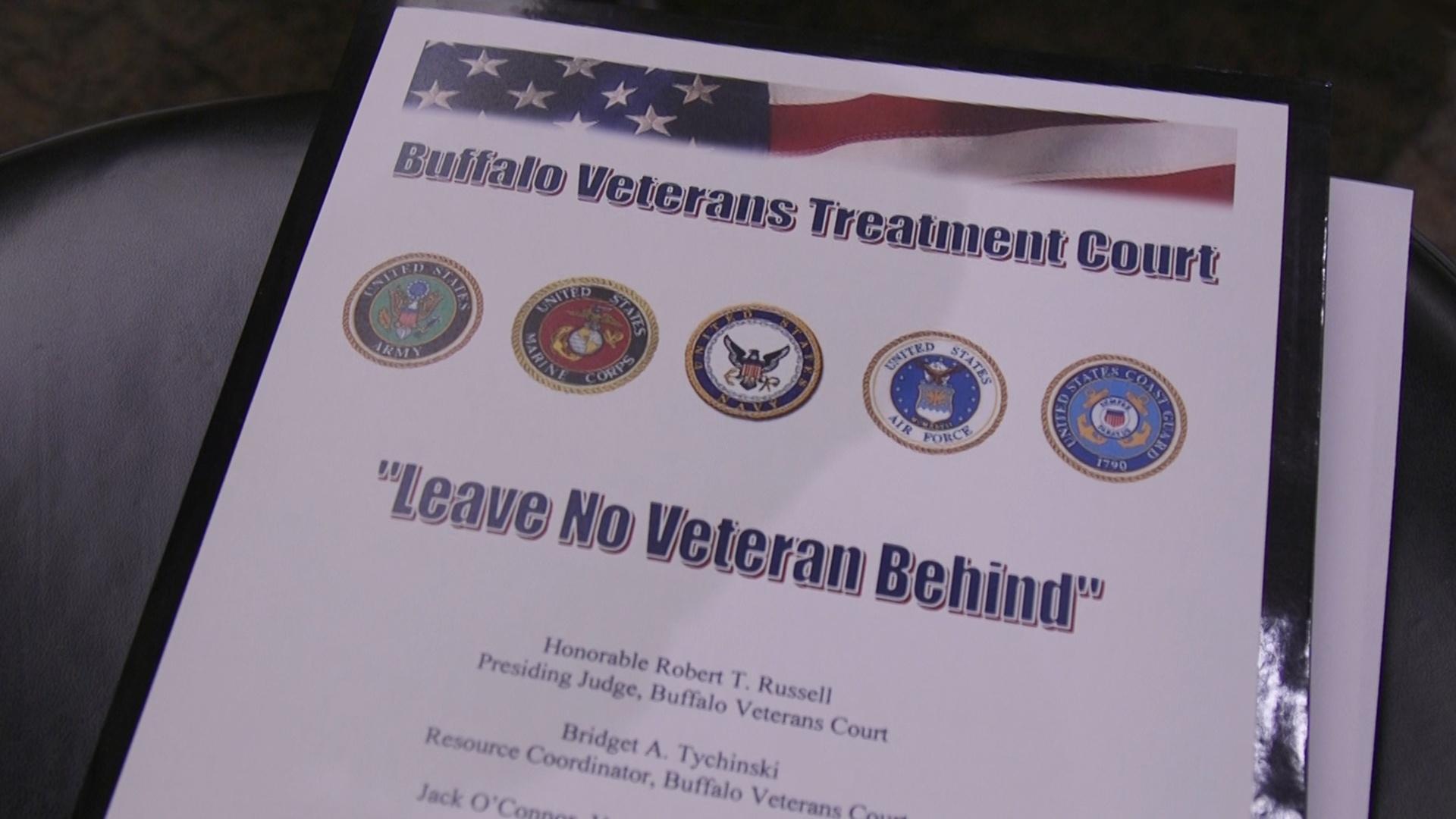 The Buffalo Veterans Treatment Court is a hybrid drug and mental health court that serves veterans struggling with addiction and/or mental illness.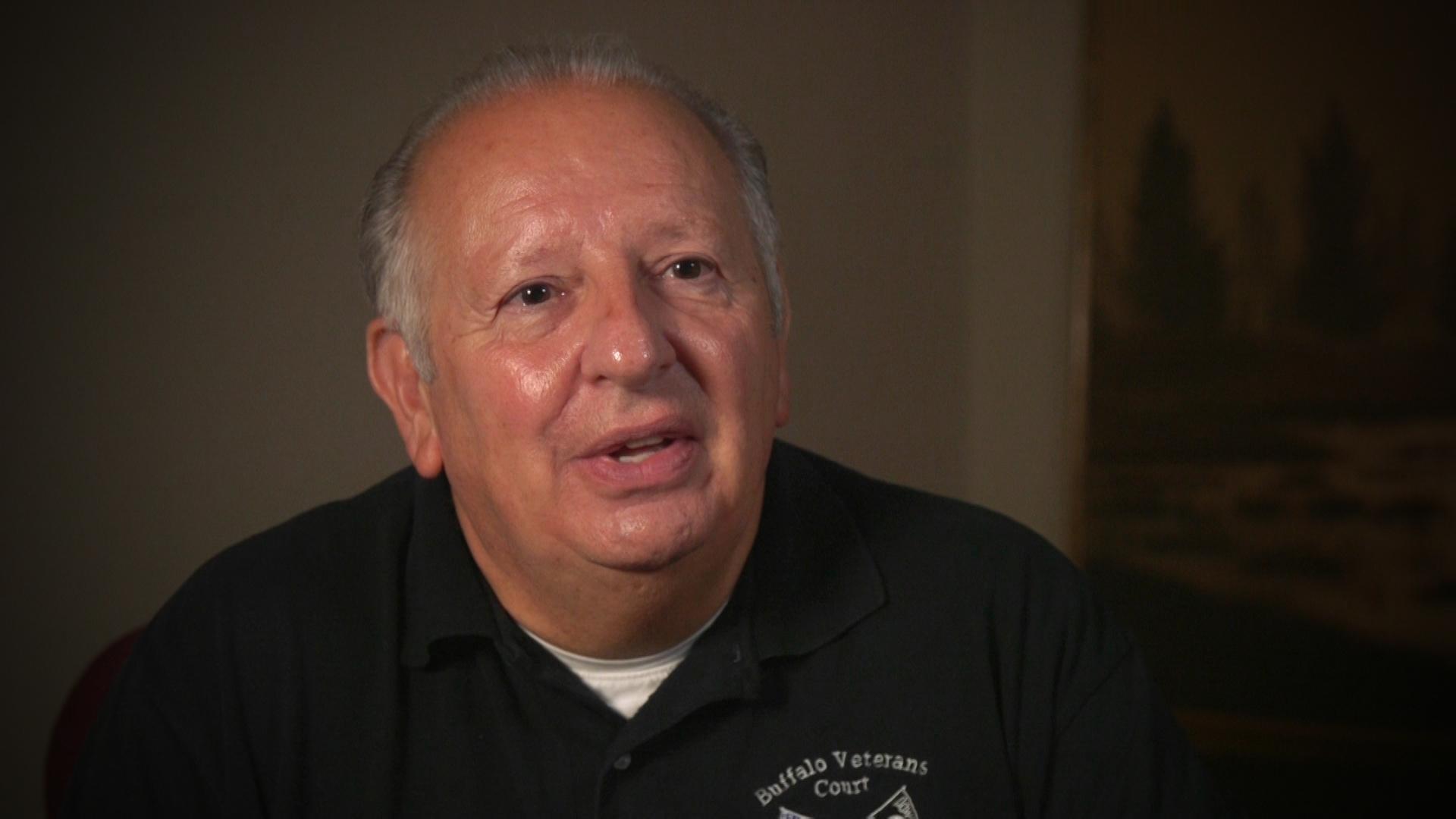 Dr. Patrick Welch, a combat wounded disabled Marine Corps Vietnam veteran, continues his commitment to "never abandon another" by serving as a lead mentor in the Treatment Court.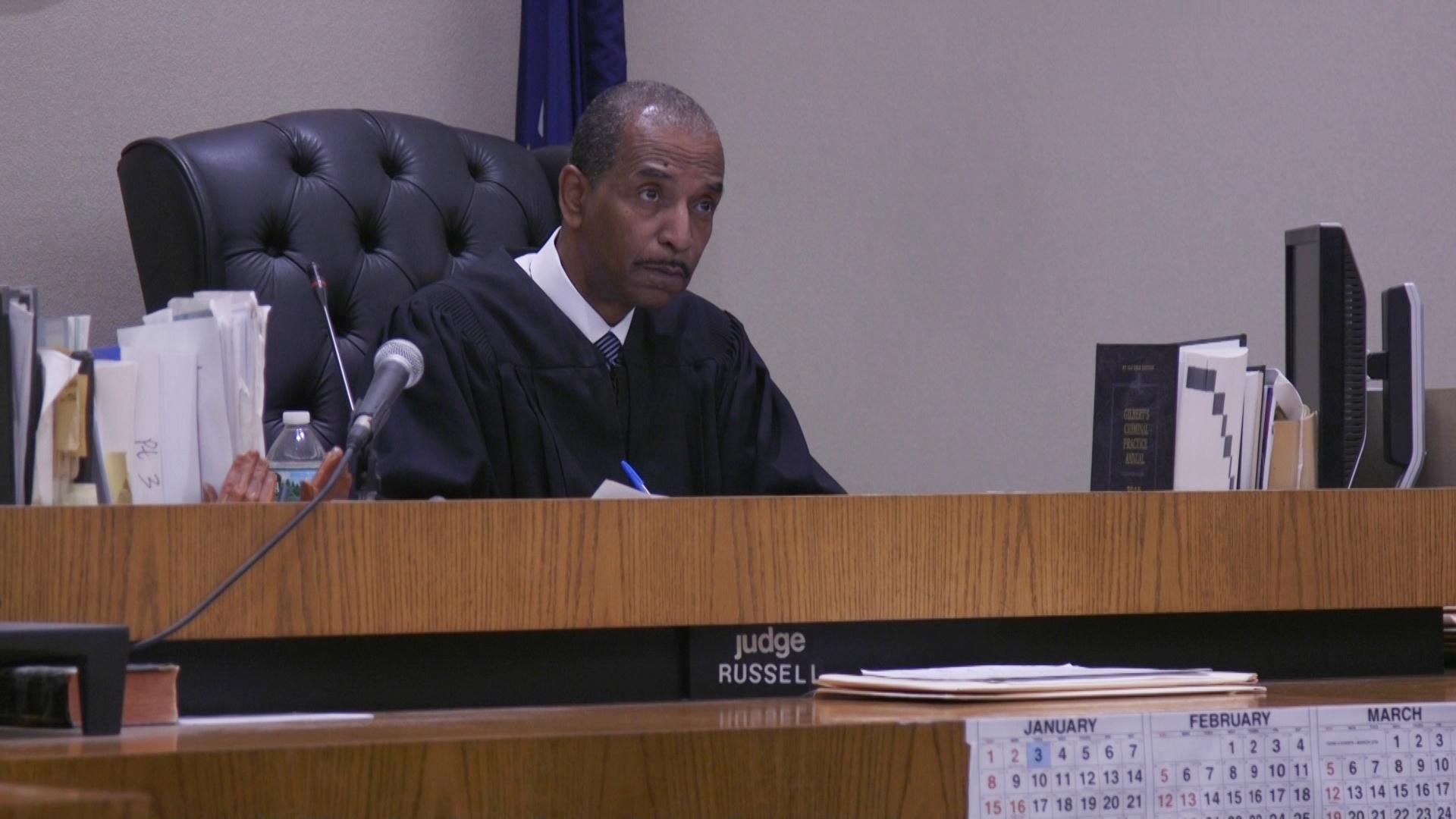 The Honorable Robert T. Russell, Jr. presides over the first Veterans Treatment Court in the country. Today, there are nearly 350 courts modeled after a collaborative approach.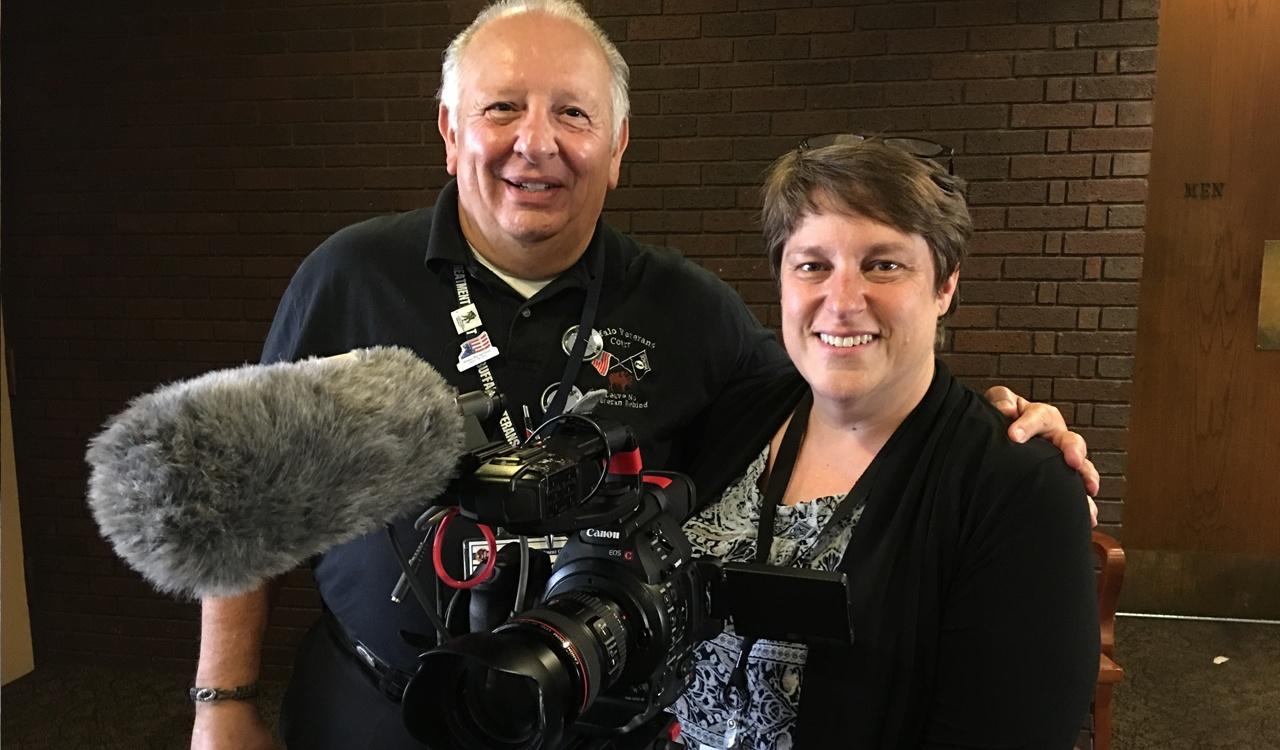 Dr. Patrick Welch with WNED-TV Senior Producer, Lynne Bader. Dr. Welch is a Vietnam veteran and the first mentor in this groundbreaking court started in Buffalo, NY in 2008.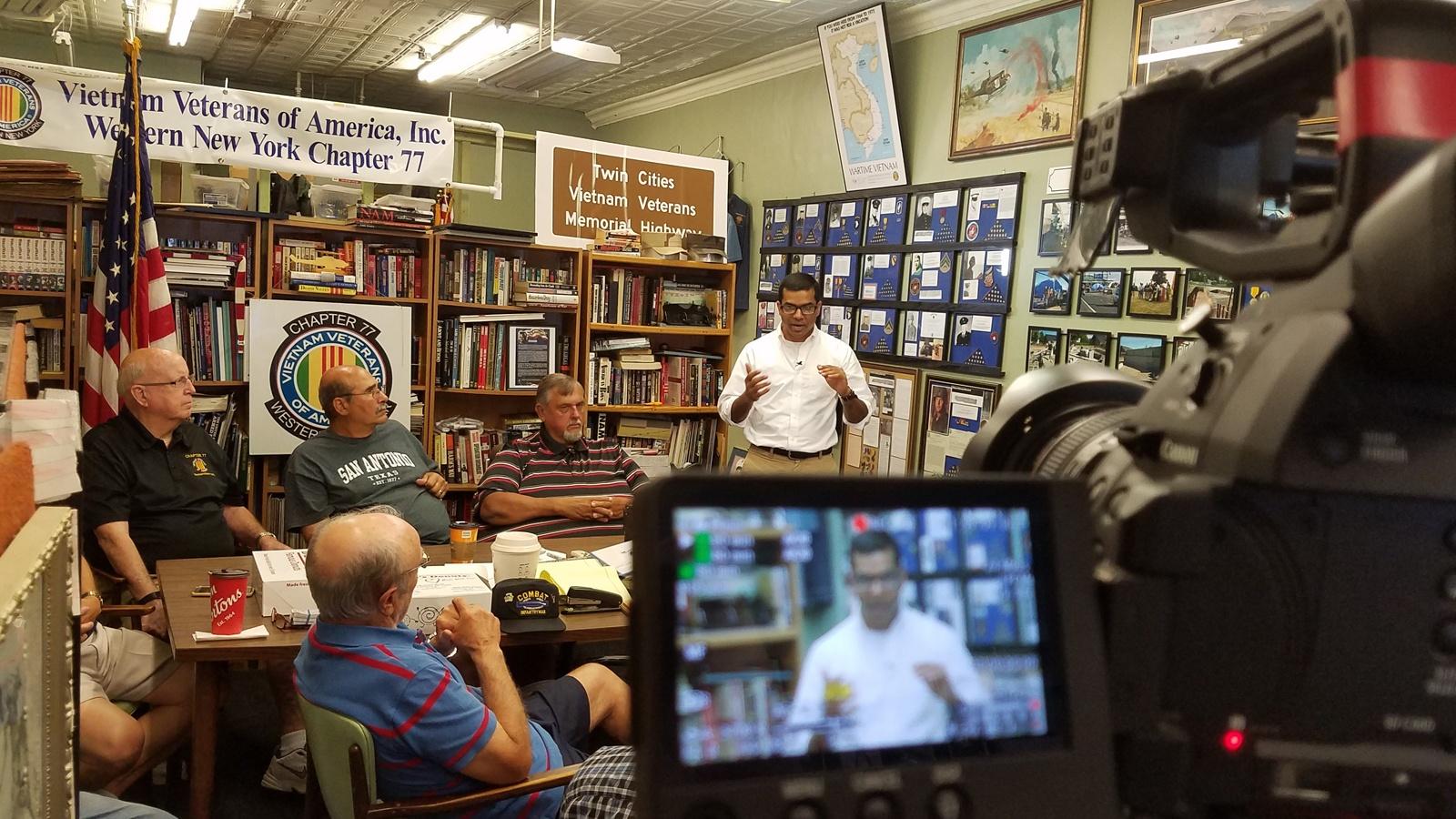 UB graduate student Thomas Chacko interviewed 117 veterans with "boots on the ground" in Vietnam as part of a research study to complete his Masters in Psychology.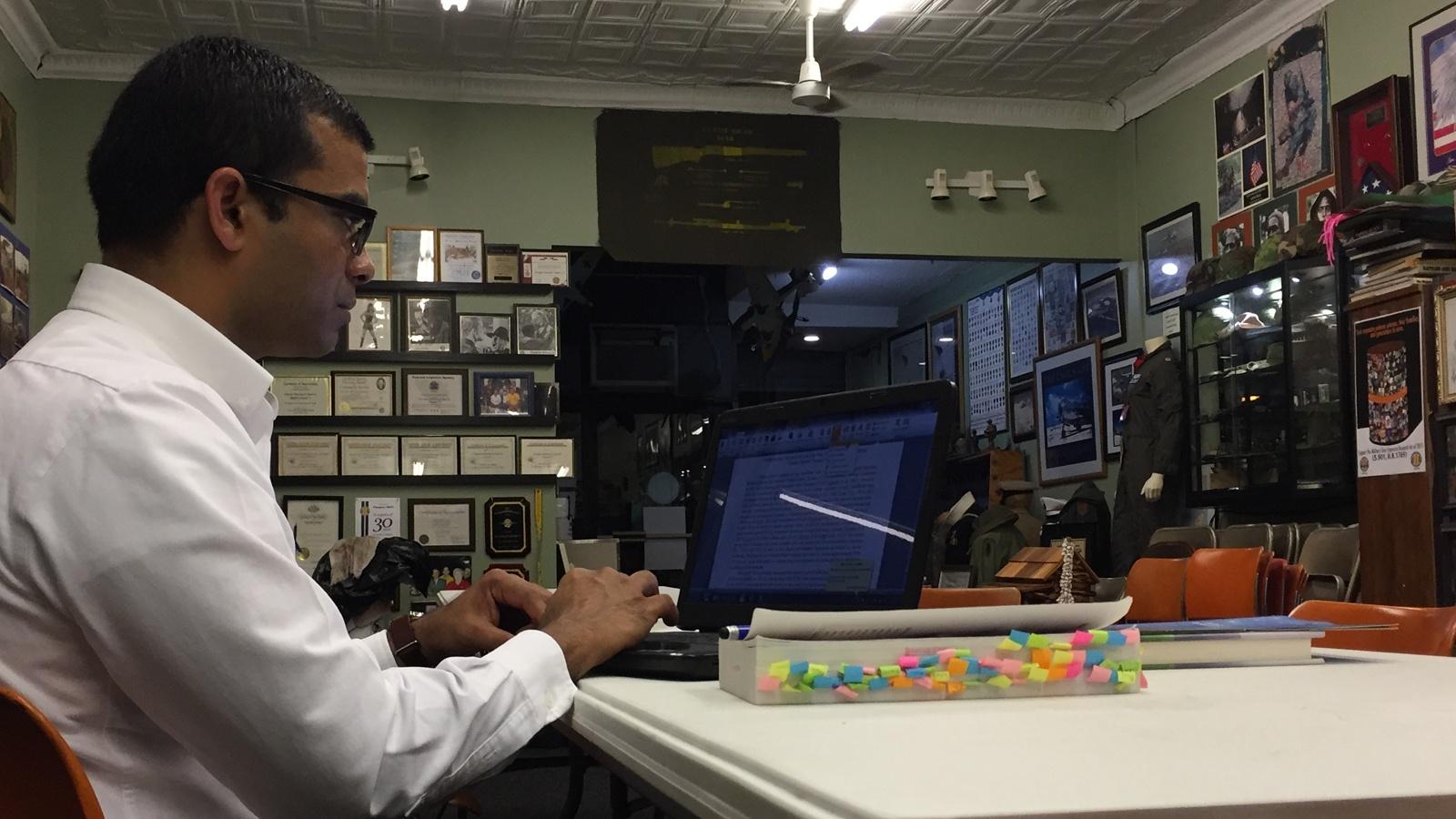 Thomas Chacko reviews data he has collected for more than two years on Vietnam veterans as he prepares a presentation for the local VVA chapter in Western NY.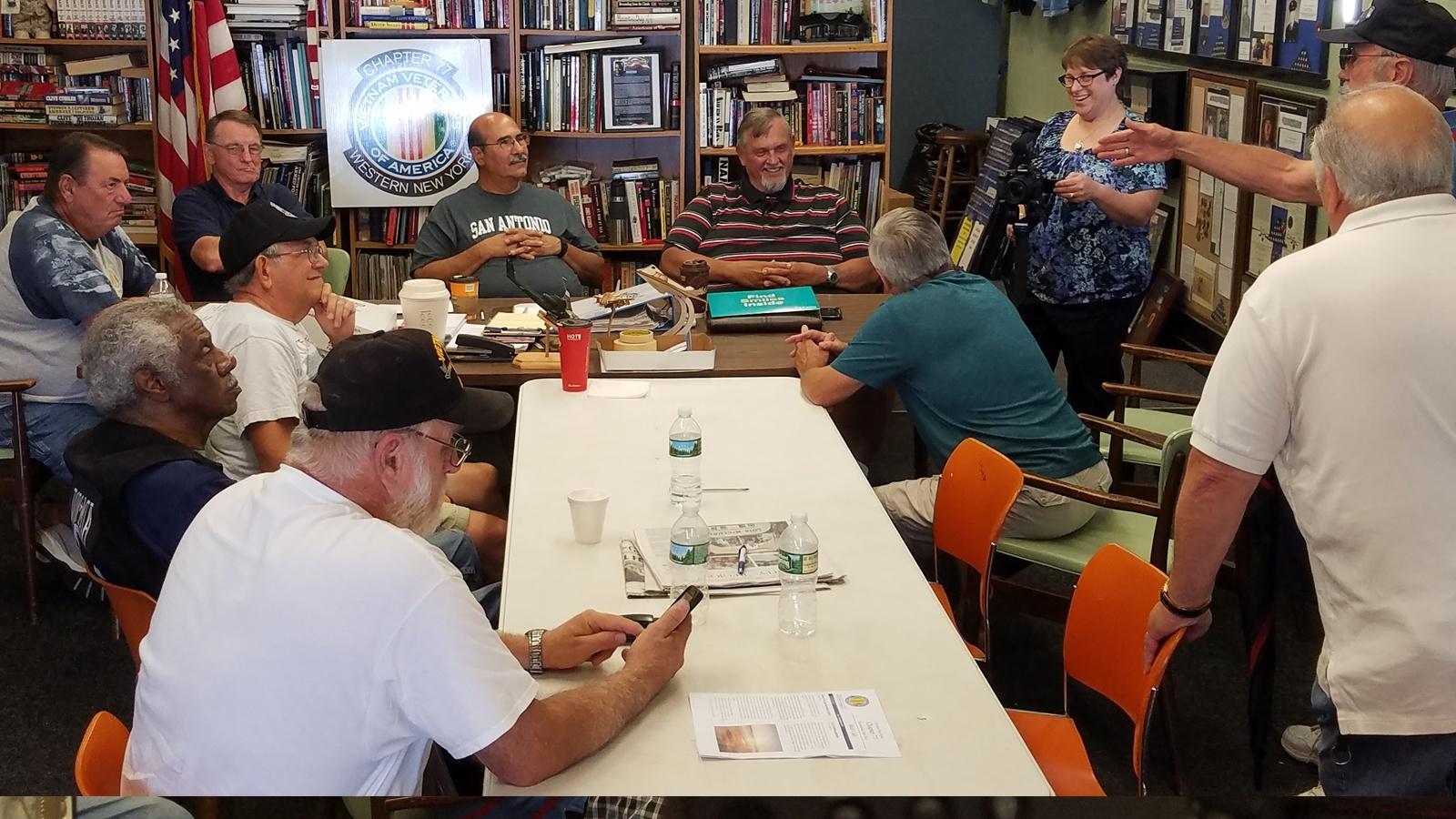 The local Vietnam Veterans of America Chapter 77 has given WNED | WBFO open access to their group in an effort to help tell the stories of vets and others affected by the war.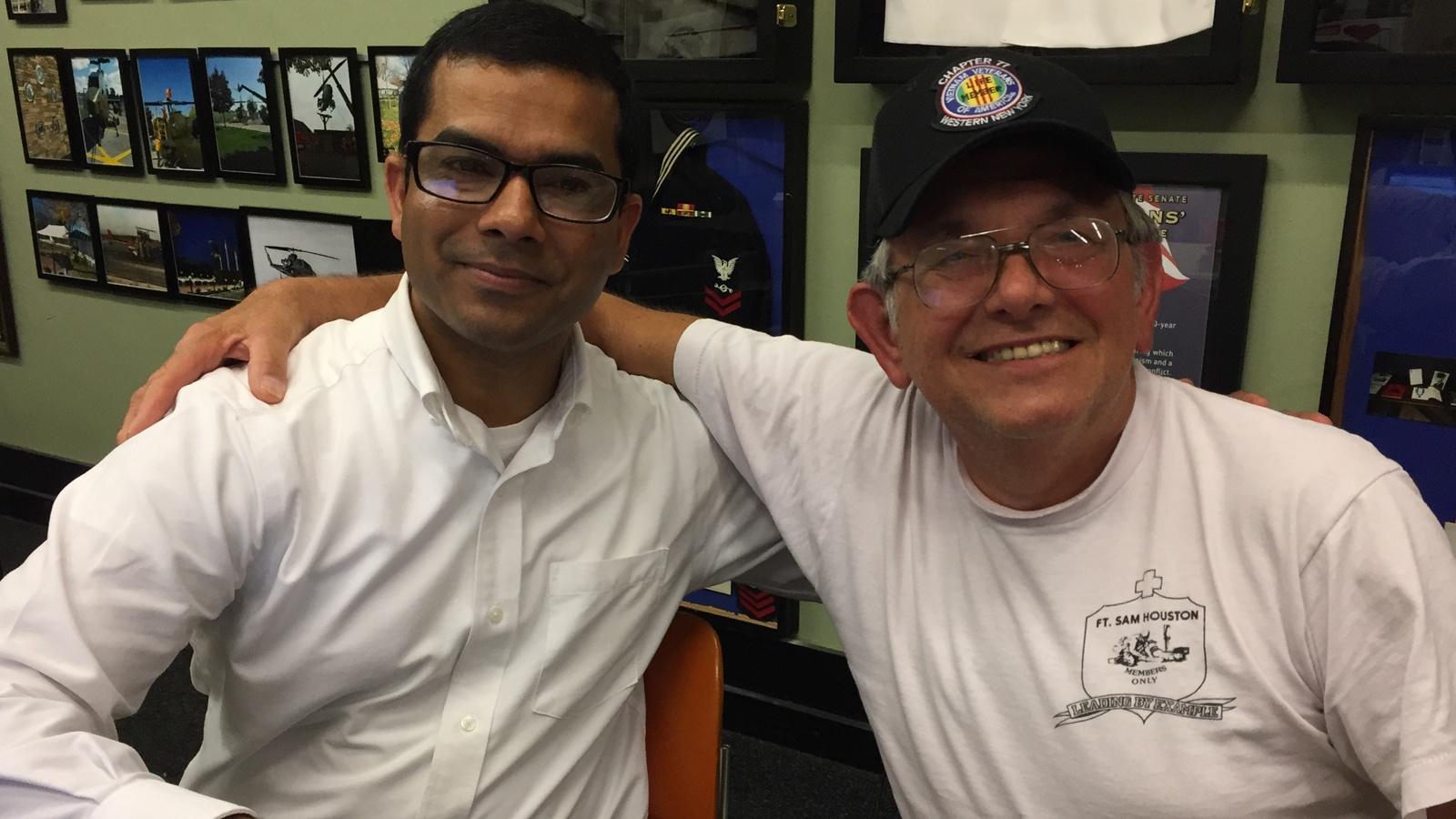 Thomas Chacko and Vietnam Veteran Joe Pasek pause for a photo op at the local VVA chapter headquarters.

PBS and
Buffalo Toronto Public Media

invite you to participate in a national conversation about what happened during the Vietnam War, what went wrong and what lessons are to be learned.

Our Vietnam Voices | Listen to the WBFO stories
Our Vietnam Voices | WBFO
While recording the oral histories of local Vietnam War veterans, a University at Buffalo researcher found that post-traumatic growth can exist at the same time as PTSD.
Our Vietnam Voices | WBFO
WBFO's Avery Schneider takes a look at a program in the WNY court system that thanks to the influence of Vietnam veterans helps others who served put their live on a better path.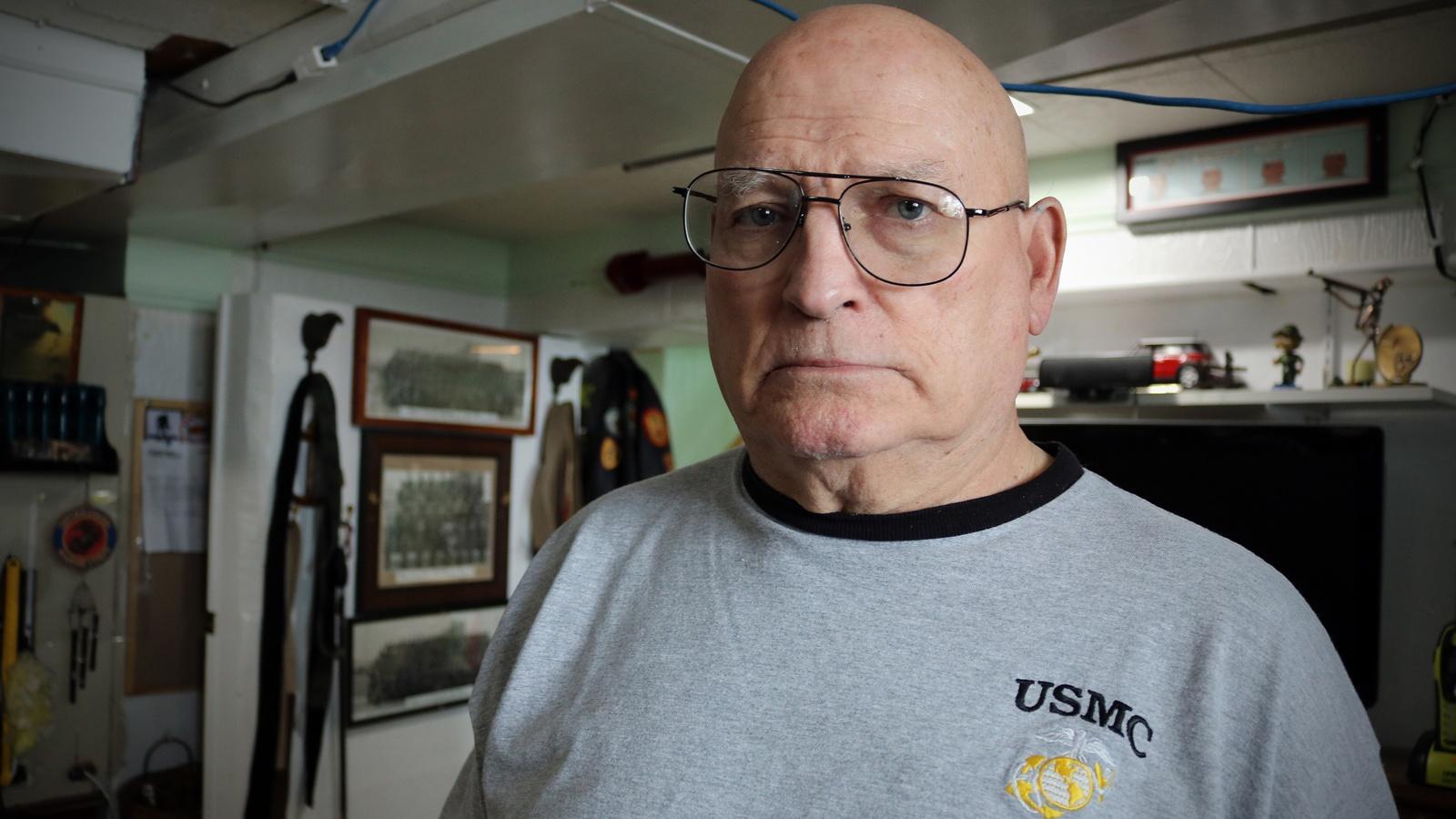 Our Vietnam Voices | WBFO
While thousands of men left the U.S. for Canada to avoid military service during the Vietnam War, many Canadian men came to America to do just the opposite.

Veterans One-Stop Center- Veterans One-stop Center of WNY, Inc. is Western New York's premier veterans service and advocacy collaborative offering U.S. Veterans and their families the convenience of a "one-stop", barrier-free location in which to access a holistic range of social and health services…in the comfort of a "home base" environment that is always welcoming, affirming and responsive to their needs. http://vocwny.org/

Veteran Treatment Courts- Justice For Vets is dedicated to transforming the way the justice system identifies, assesses and treats our veterans, leading the national effort to put a veterans treatment court in reach of every veteran in need. They are committed to ensuring that no veteran is left behind by providing training and technical assistance to help communities bring together local, state, and federal resources to directly serve veterans involved in the justice system due to mental health disorders, trauma, and substance use. http://justiceforvets.org/

Local Erie County Veterans Treatment Court- The Buffalo Veterans Treatment Court is a hybrid drug and mental health court that serves veterans who are struggling with addiction and / or mental illness by diverting them from the traditional criminal justice system into a specialized veterans court.
http://www2.erie.gov/veterans/index.php?q=buffalo-veterans-treatment-court

America Legion- The American Legion was chartered and incorporated by Congress in 1919 as a patriotic veterans organization devoted to mutual helpfulness. It is the nation's largest wartime veterans service organization, committed to mentoring youth and sponsorship of wholesome programs in our communities, advocating patriotism and honor, promoting strong national security, and continued devotion to our fellow servicemembers and veterans. https://www.legion.org/

American Veterans-AMVETS, which is also known as American Veterans, is the largest and oldest veterans service organization that is open to and fights for all veterans and their families. s one of America's leading veterans service organizations with more than 250,000 members, AMVETS has a proud history of assisting veterans and sponsoring numerous programs that serve our country and its citizens.
http://amvets.org/

Disabled American Veterans- DAV is a nonprofit charity that provides a lifetime of support for veterans of all generations and their families, helping more than 1 million veterans in positive, life-changing ways each year. https://www.dav.org/

Military Order of the Purple Heart- The organization now known as the "Military Order of the Purple Heart," was formed in 1932 for the protection and mutual interest of all who have received the decoration. Composed exclusively of Purple Heart recipients, it is the only veterans service organization comprised strictly of "combat" veterans. http://www.purpleheart.org/

N.Y. State Division of Veterans Affairs- The DVA advocates on behalf of New York's Veterans and their families, as individuals and as a group, to ensure they receive benefits granted by law for service in the United States Armed Forces. The Division provides free benefits advising. Experienced and dedicated advisors — each a Veteran — work in a network of field offices across the state and offer Veterans and their families with professional help to resolve social, medical, and economic matters. http://www.veterans.ny.gov/

Paralyzed Veterans of America- Since 1946, Paralyzed Veterans of America has been on a mission to change lives and build brighter futures for our seriously injured heroes. They are dedicated to serving veterans—and to medical research, advocacy and civil rights for all people with disabilities. http://www.pva.org/

Veterans of Foreign Wars- The VFW is a nonprofit veterans service organization composed of eligible veterans and military service members from the active, Guard and Reserve forces. The VFW and its Auxiliaries are dedicated to veterans service, legislative advocacy, and military and community service programs. https://www.vfw.org/

Vietnam Veterans of America– VVA's goals are to promote and support the full range of issues important to Vietnam veterans, to create a new identity for this generation of veterans, and to change public perception of Vietnam veterans.
National website
Vietnam Veterans of America – Chapter 77 (WNY)
Vietnam Veterans of America – Chapter 20 (Rochester)

Veterans Outreach Center- Veterans Outreach Center is a 501(c)-3 non-profit providing supportive services to veterans in Rochester, Buffalo and the 14 surrounding counties. They provide comprehensive resources to current and former members of the U.S. Armed Forces and their families through direct service, community collaboration, and advocacy.
http://www.veteransoutreachcenter.org/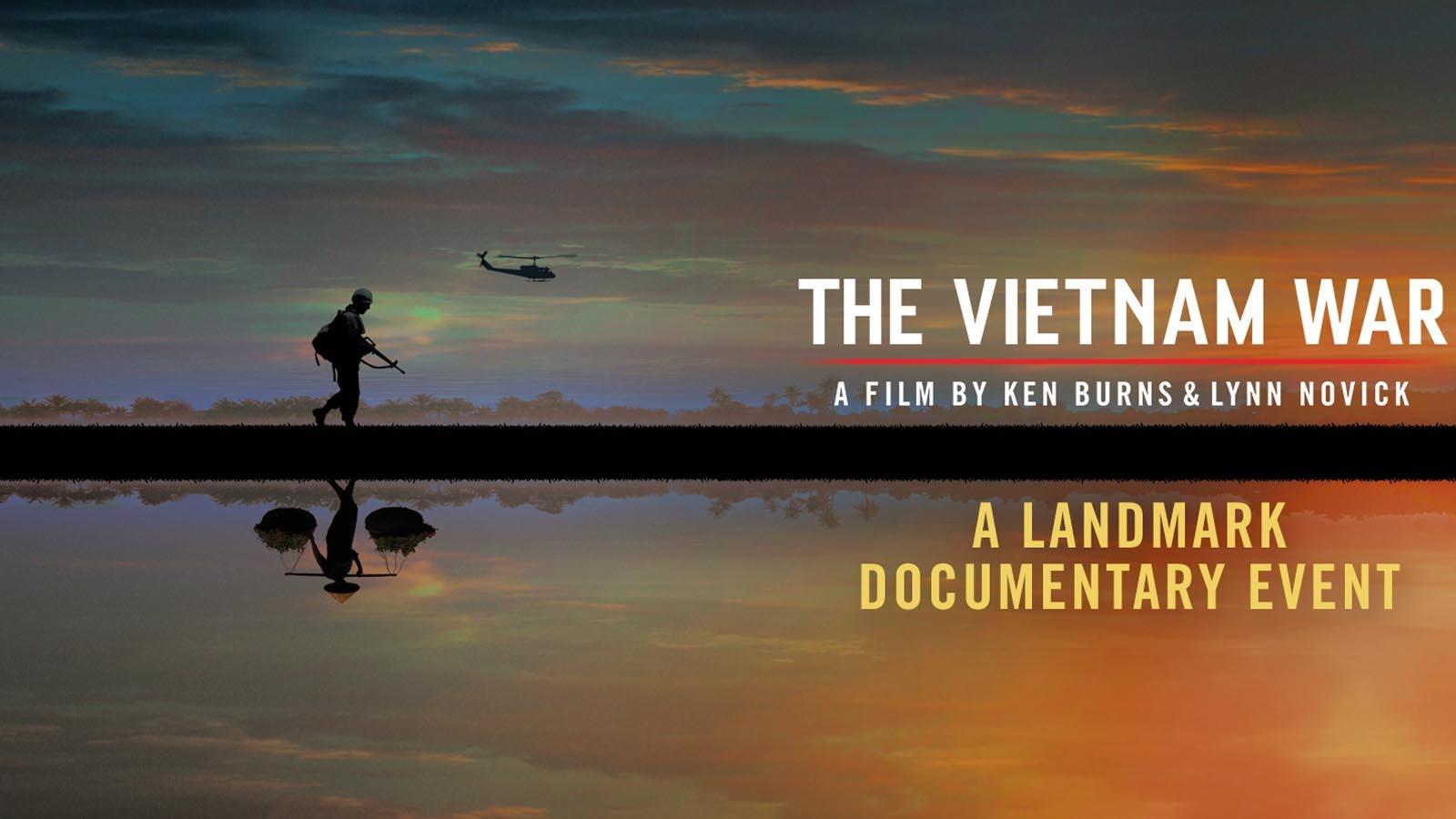 THE VIETNAM WAR, a new 10-part, 18-hour documentary film series directed by Ken Burns and Lynn Novick.
---
PBS Learning Media

Teaching the Vietnam War-This collection of videos and lesson plans can help students explore the social and political dynamics of the Vietnam War. Students will examine why, how, and by whom the Vietnam War was fought, how it affected U.S. citizens at home, and how factors shifted over the course of the war. Students will identify the Vietnam War's legacy and lasting toll on veterans.


Last Days in Vietnam: Refugees-Learn about the unsanctioned U.S. naval escort of thousands of refugees on South Vietnamese ships from Con Son Island to the Philippines in this video and classroom resources adapted from American Experience: Last Days in Vietnam.

American Experience: Last Days in Vietnam- Gain insights into the American evacuation of Saigon and the Vietnamese refugee experience through some moving personal accounts of bravery and perseverance in this collection of media resources from American Experience. The collection features classroom resources from the Academy Award®-nominated film, Last Days in Vietnam, and from the First Days Story Project, a collaboration with the oral history project StoryCorps. The resources present the perspectives of people who were there, and describe the moral dilemmas they faced as communist-aligned forces closed in on Saigon. They also capture the lengths to which refugees went to escape, and reveal what new life in a new land held for them.