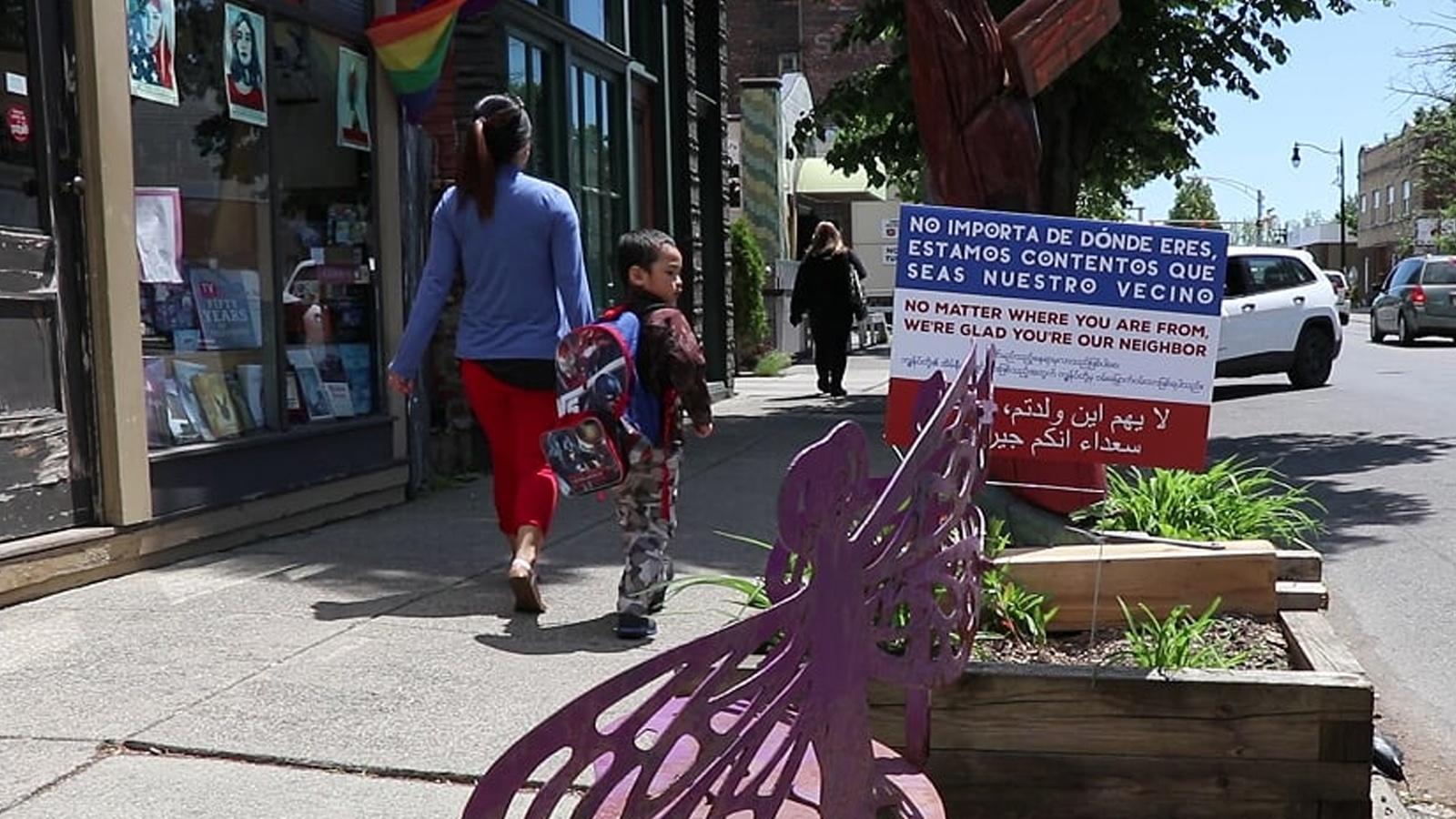 As Western New York welcomes refugee and immigrant families to our community from across the world, it's essential to develop a better understanding of our shared opportunities and challenges. With immigration often being at the forefront of our national conversation, it is vital to give a voice to this important topic and how it has been a part of our community since its' founding. Refugees are changing the face of our community and are key part of why Buffalo's population is growing again after a 60 year decline. To share this story, Buffalo Toronto Public Media is producing an in-depth digital engagement initiative to inform and raise awareness of this topic for our entire community.

Our goal through this multi-faceted project is to move the community discussion forward. We will ensure the project explores the larger impact on the community and how the national discussion is a part of our local story. This initiative will also address the myths and misperceptions that exist and work to build a greater understanding and how neighborhoods continue to change and evolve.

Making Buffalo Home is a two-year long initiative that will include a new, interactive website, online video profiles, community video stories, Facebook Live events, television programs, community conversation events, Facebook Live events, social media content, highlights of food traditions and WBFO radio reports. The initiative will explore the larger impact on the community and how the national discussion on immigration is a part of our local story. It will also address the myths and misperceptions that exist and work to build a greater understanding of how neighborhoods continue to change and evolve.

The project will have several primary components that will all connect to the project goals including diversity and inclusion, first person accounts, the overall immigrant experience and exploring community issues.

Making Buffalo Home is funded by Rich Products Corporation and Rich Family Foundation.

What is a Refugee?
Globally by the end of 2017 there were around 68.5 million people who were displaced from their homes and communities. This includes: 25.4 million refugees in the world—the highest ever seen; 40 million internally displaced people; and 3.1 million asylum-seekers. It is a global challenge that touches all of us. After fleeing their homeland, they each must rebuild their lives, often lacking proof of identity, marriage, or birth certificates for themselves and their children. Once formally designated by the UN as a refugee, they spend years, even decades, waiting in refugee camps until they can finally be resettled to a country, like the United States, and a community, like Buffalo.

The journey of resettlement is long with only about 1 million refugees being identified each year as candidates for potential resettlement to countries around the world. Of this group less than 20% are actually resettled to a new country each year. The process is guided by the United Nations High Commissioner for Refugees. The US has consistently been the world leader in resettling refugees with 94,837 being resettled in 2016. However with new policies in place in 2017 the US accepted 29,022 refugees, the lowest number since 2002.

Prior to resettlement, all refugees undergo a series of interviews with the US State Department, US Citizenship & Immigration Services and the Department of Homeland Security. All refugees are medically screened by a health care professional before coming into the country. It's a process that can take up to 24 months. Upon arriving in the US, refugees are granted permanent residency within a year and then can apply for citizenship in five years.

Project Goals:
The primary goal of this project is to increase the community awareness and understanding of new and unfamiliar refugee and immigrant cultures coming to Buffalo. We'll accomplish this by producing content that will provide the background and context as to what it means to be a refugee and the experience of calling a new country home. We'll explore this through a variety of different perspectives and experiences.
Highlight that the immigrant experience is not new and has been a part of our Western New York community since the 1800's with families coming from countries such as Italy, Ireland and Poland. We'll bring these experiences together of both new and past immigrants and work to understand what we each have in common.
Share first person stories of Buffalo's diverse immigrant and refugee communities. We'll engage the community to record and share their own stories of living in the community.
Promote discussion about the role of immigration in our community and encourage each of us to become more engaged in the conversation. The project web site will provide the opportunity for anyone to share their unique and personal immigrant story.
Address issues in the community raised by increasing immigrant populations; issues created by cultural differences, misunderstandings and even fear.
Celebrate the diversity created by immigrant populations – past and present – including such everyday things as traditions, food and celebrations.

Background:
Buffalo's West Side is experiencing a time of dramatic change with well over 16,000 refugees resettling here since 2003. They are coming from a range of countries including Somalia, Burma, Turkey, Bhutan, Russia, Serbia, Sudan, Congo and Iraq. They come from a variety of backgrounds, and have a range of needs when they arrive. Some arrive fluent in English, with experience living in urban settings and needing only initial support in areas such as employment and registering for school. Others arrive from more rural settings, without any knowledge of English or apartment living. They bring their language, heritage and customs to neighborhoods while having an impact in those communities, places of worship, businesses and schools. Today there are over 84 languages now spoken in the Buffalo Public Schools. They are rebuilding neighborhoods that had largely been forgotten in recent decades. This project will explore the rich diversity of people now calling Buffalo home.

We will also work to include these stories of new arrivals to Buffalo with the larger and historical immigrant experience. Buffalo and all of Western New was built through immigration. We can look back to people from countries such as Poland, Ireland, Italy and Germany and see how this has and continues to define our community.

We know that statistics do not share the full story of immigration, people do. This community initiative will allow a wider audience to meet these members of our community through their own words, images, experiences and stories. As our new neighbors settle in Buffalo their experiences and contributions change our communities but they also are challenged by isolation and barriers unknown to many of us.

Key content areas include:
Arts and Culture
Food
Business and Economy
Religion
Education
Health and Wellness
Community Building
---
Making Buffalo Home is a two-year, in-depth Buffalo Toronto Public Media engagement initiative to inform and raise awareness of immigration for our entire community. The project aims to help the region develop a better understanding of the shared opportunities and challenges we face together as long-time residents and new immigrants and refugees.

Making Buffalo Home is funded by Rich Products Corporation and Rich Family Foundation.