We know cultures from around the world use food as a way to connect themselves with family and community. In Buffalo, our rich history of immigration from Poland, Italy, Germany, and Ireland have brought recipes and traditions that we still hold dear today. And with recent immigrants from India and African countries, the Middle East and Asia, we have new flavors to enjoy. Flavors From Home steps into the kitchens and restaurants of immigrants in Western New York to learn a little more about the cultural food traditions of people from around the world who are now Making Buffalo Home.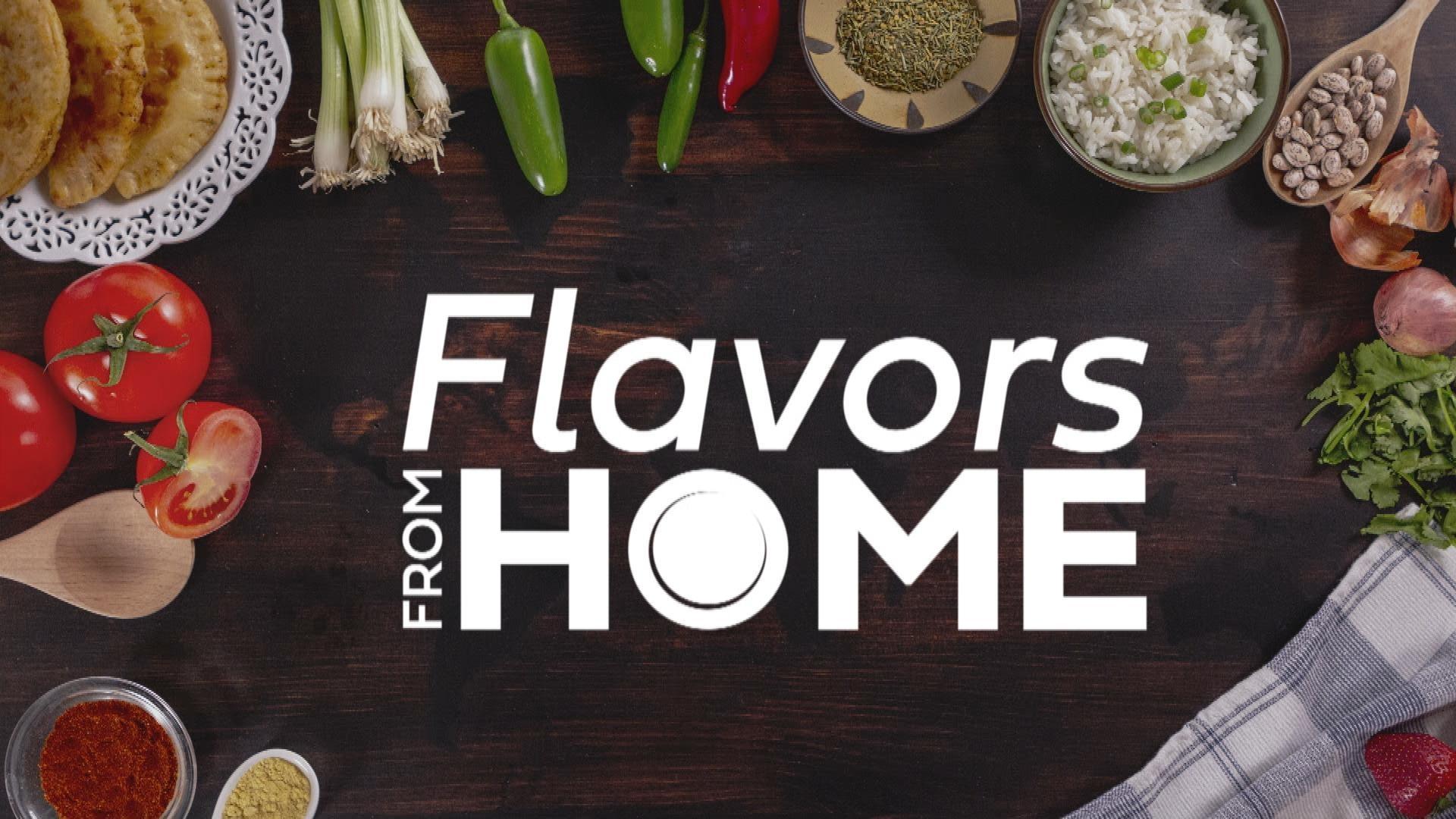 Bulgogi from Korea | with Judi Mokhiber
Making Buffalo Home
Flavors From Home | Bulgogi From Korea
4:00
Published:
Meet Judi Mokhiber from Korea, who runs an international food truck in Buffalo, N.Y.
Bulgogi from Korea
In this episode of Flavors From Home, Ms. Judi makes traditional Korean Bulgogi with Kimchi Fried Rice and Sautéed Vegetables.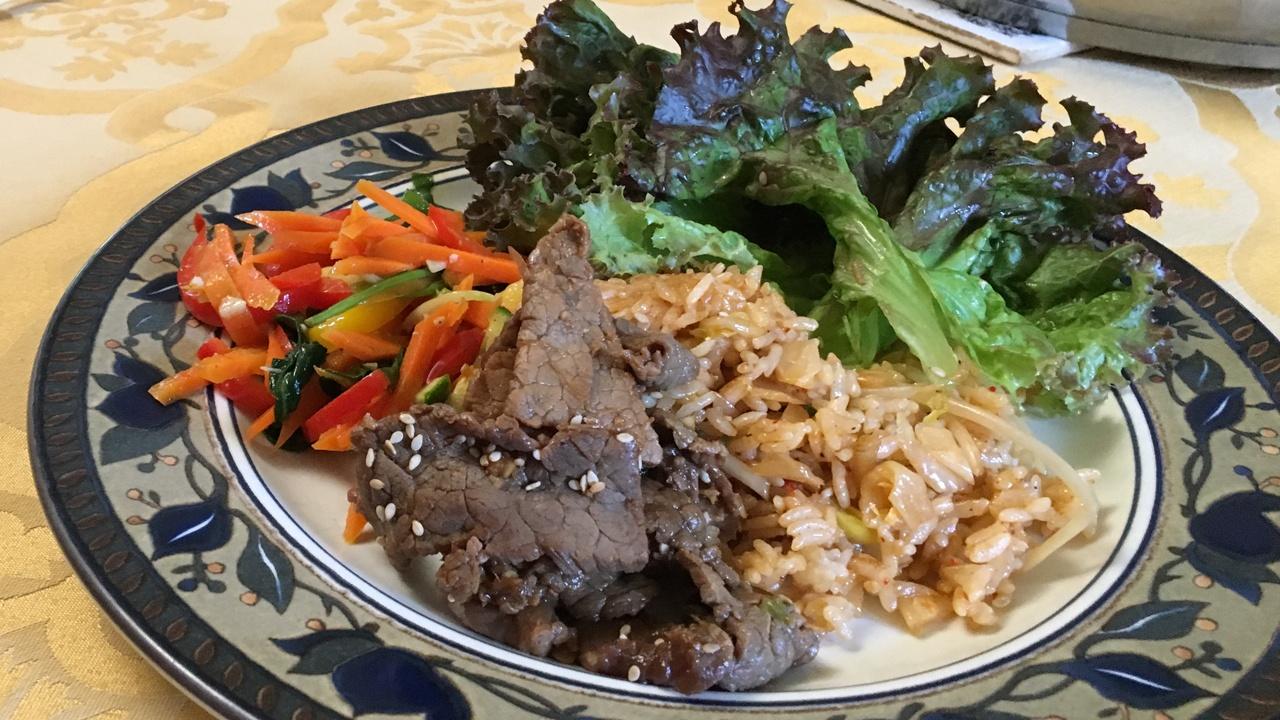 Judi Mokhiber knows little about her humble beginnings. She clings to the haunting memory of losing track of her mother at a busy market, only to be collected by the police in the hopes of being reunited.
"The next thing I remember was that I ended up in an orphanage, a state run orphanage, which was to me, nothing like I'd ever seen before," Judi recalls. "The kids had no hair; their heads were shaven. They did not look that healthy. I was actually quite afraid of being there."
Judi has no idea why, but eventually some nuns from St. Paul's Orphanage in Korea came to get her and raised her along with about 100 other children. She remembers that during those years at St. Paul's, Judi developed a daily routine of spending time in the kitchen. Whenever the cook was preparing meals for the children and the staff, there was a good chance you could find Judi standing by her side. She loved the colors and the bold flavors found in traditional Korean cuisine.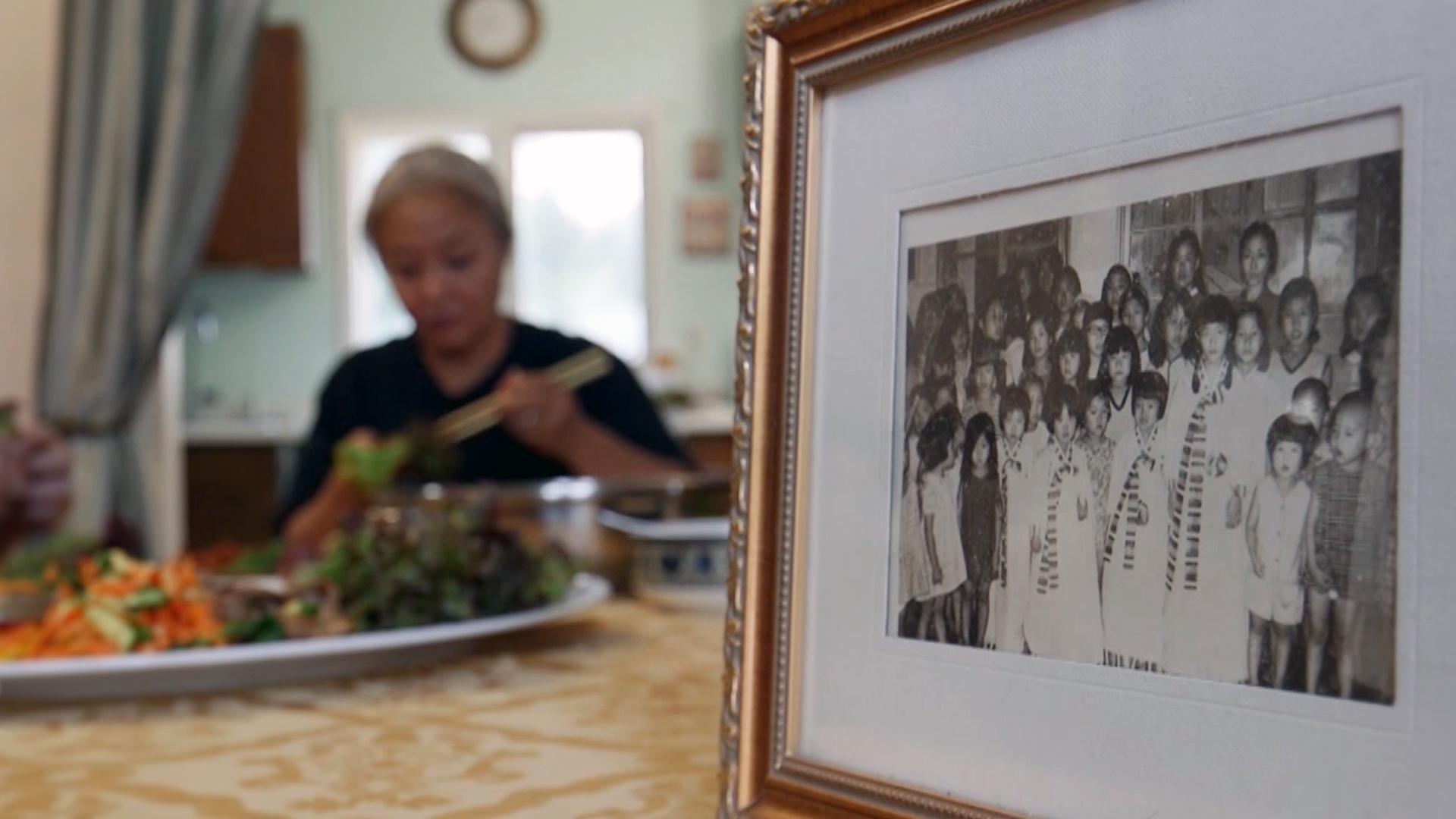 An orphan's dream is to be adopted and to have a family that loves and cares for them. In 1972 that dream came true. Judi received word that an older couple from America would soon arrive and take her back with them. She never imagined this would be her fate. Excited and scared, Judi came to America as a ten-year old child and began a new journey in Chicago, Illinois – learning English and slowly bonding with her parents.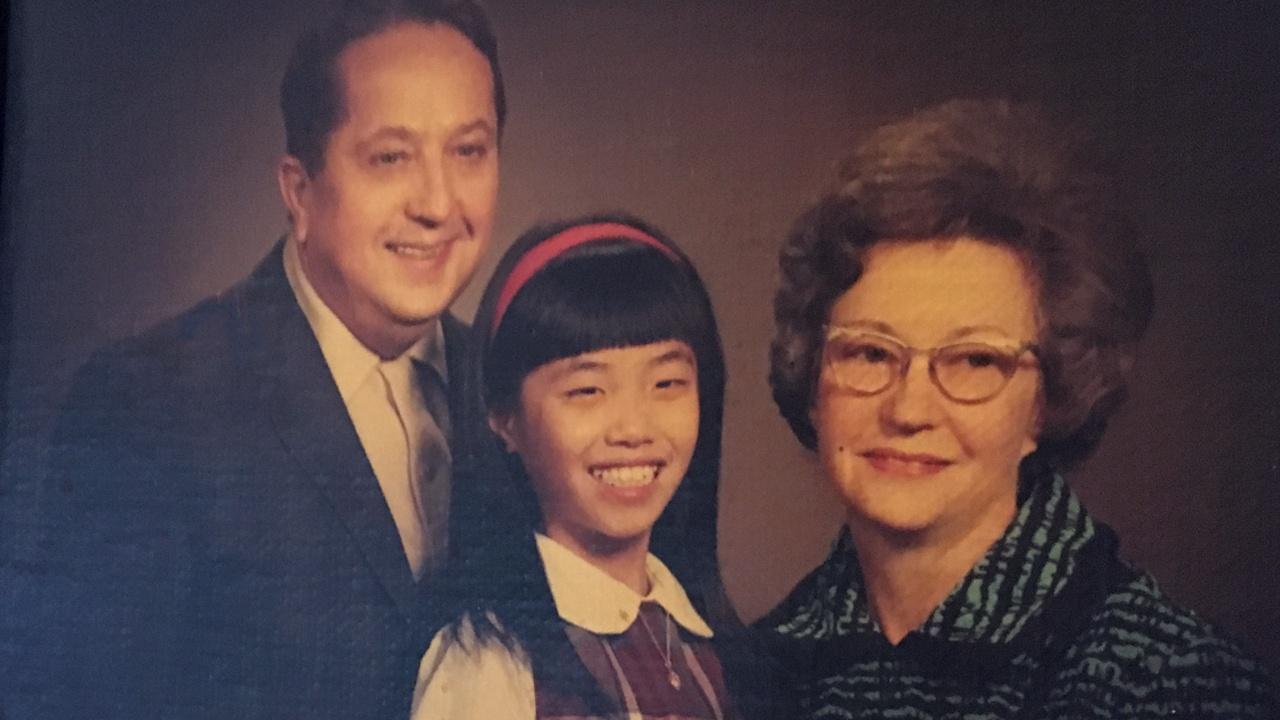 She remembers her parents taking her to the Lion's Club annual picnic.
"Basically the Lion's Club helped adopted children, like myself, learn about their heritage and food," Judi said. "They would make bulgogi, chap chae; they would have kimchi there. They would have shows, traditional Korean dance, and games that we would play. And my parents would take me there as much as they could because I thoroughly missed Korean food. First time my mom had kimchi, her Irish throat turned bright red. Oh my God, I felt so bad for her because she does not eat spicy food. But thank God she survived."
Judi is now married to her husband, who's family is from Niagara Falls, NY. He "wooed" her to Buffalo by introducing her to the historic Broadway Market, which reminded her father and Chicago's Polish neighborhood. That's all it took to convince her to give Buffalo a try.
Her cooking skills here have developed over the years, first as a caterer and now to her multi-cultural food truck called International Cravings. Her truck offers food from all the cultures of her family including traditional Korean, Lebanese, Polish and Italian cuisine. You can find Judi at many food truck hot spots including Food Truck Tuesdays @ Larkin, several festivals throughout the summer, Artpark and Buffalo Bills games.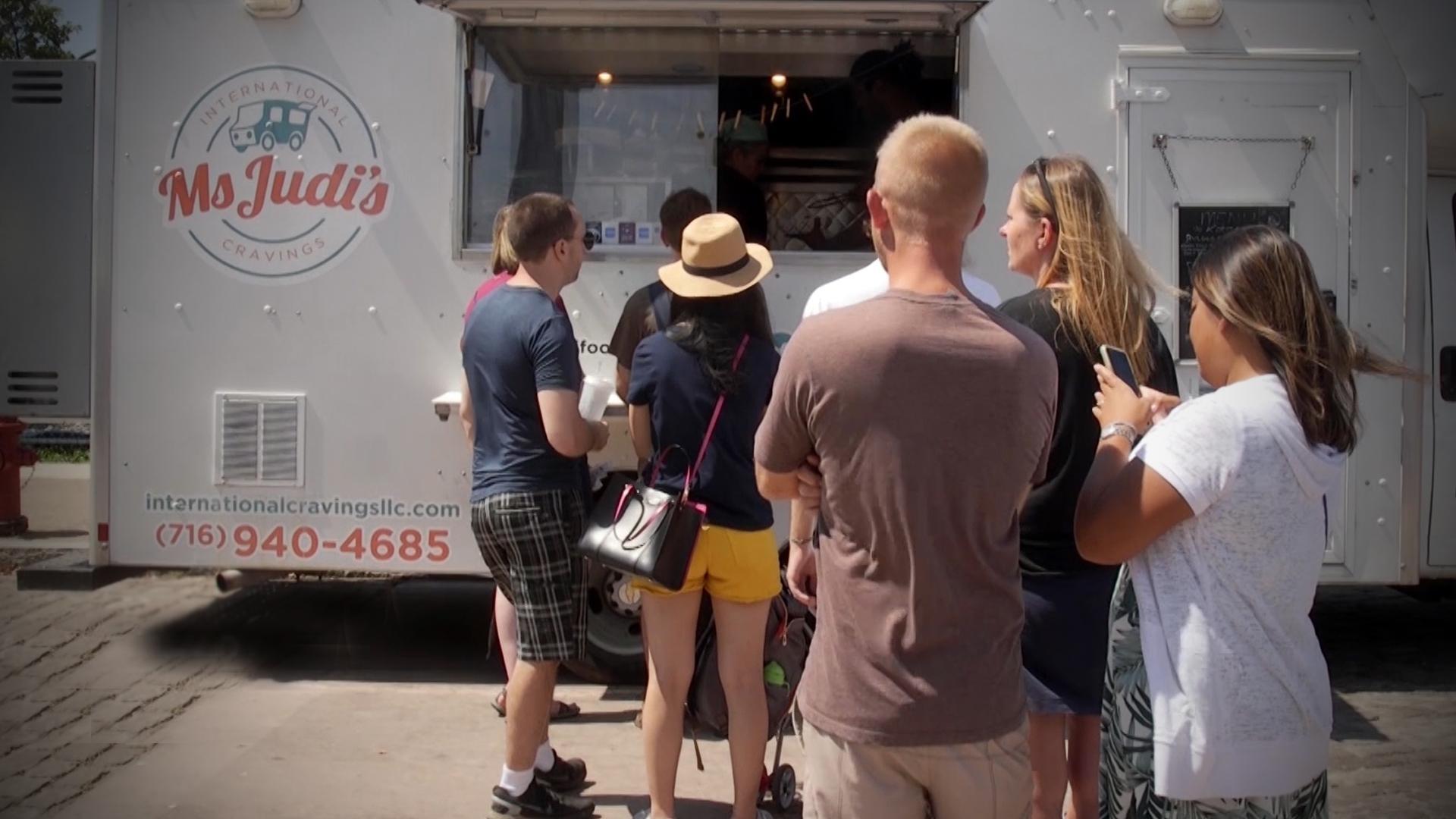 It brings Judi great joy to share the culture and traditions of her Korean background to hungry Western New Yorkers. This is one way she is making Buffalo home.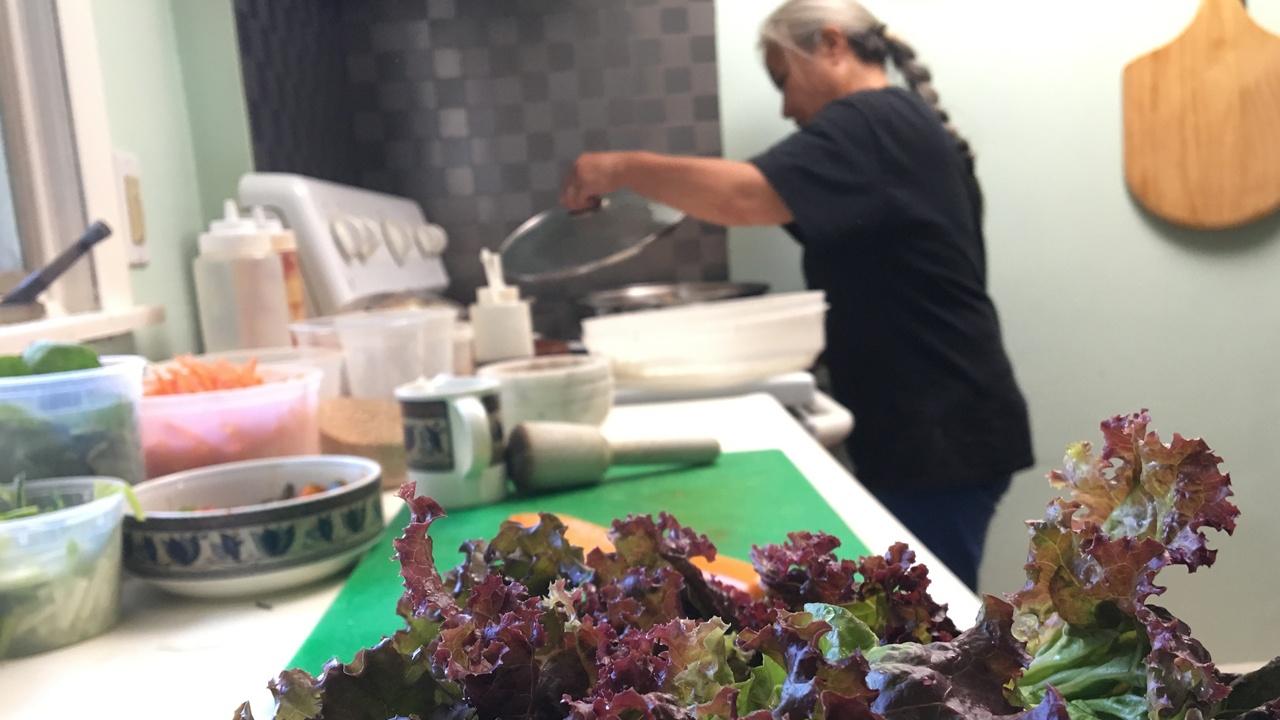 Jollof Rice From Nigeria | Mariam Adekoya and her Mom, Risikat
Making Buffalo Home
Flavors From Home | Jollof Rice
3:45
Published:
The story of a mother and daughter who prepare traditional Nigerian Jollof Rice together.
Jollof Rice From Nigeria
When Mariam was just a teenager, she was brought to the United States by her father who was searching for better opportunities in education for his young daughter. While she was afforded these in America, the transition was difficult. Mariam was overwhelmed with the new culture, the language, the climate, and her surroundings. She missed home and she missed the rest of her family and her friends.

It's been a decade since Miriam arrived. She's embraced life in America and Buffalo, NY, and has a successful career in insurance. She's never forgotten her West African roots and the importance of honoring her culture. It was a dream to be reunited with the rest of her family, and give them the same opportunities she received. After a long process, Mariam was able to bring her mother and sisters here to Buffalo. Reuniting with them has been an incredible experience. Mariam says, "My mother is amazing. She can do anything she puts her mind to. It is so good to have her here and we are blessed."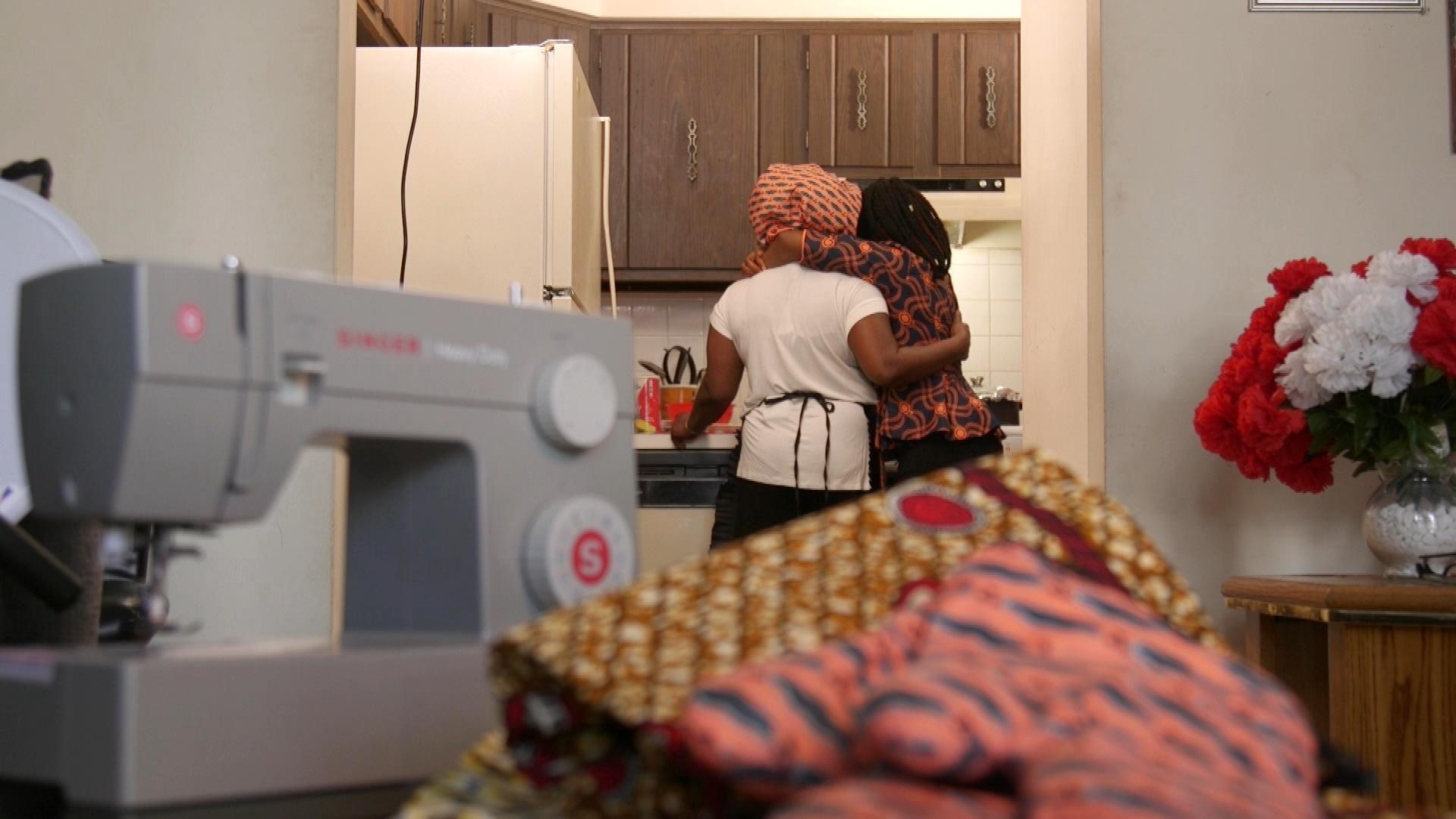 Mariam's Mom, Risikat, is thriving here in Buffalo. She goes to school and works, while also managing her own sewing business. All of the clothing featured in this episode was created by Risikat. She loves Buffalo and looks forward to contributing more to the community she now calls home.

Sharing time in the kitchen and learning how to cook traditional Nigerian food is something Mariam enjoys the most. In this episode of Flavors From Home, Miram and her mother make traditional Nigerian Jollof Rice.

Jollof Rice is a traditional and very popular dish served in the regions of Western Africa including Nigeria, Ghana, Senegal, Sierra Leone, Gambia, Togo, Liberia, Nigerm Mali, the Ivory Coast and Cameroon. Spiced and stewed in a flavorful tomato broth, jollof rice can be consumed everyday, but often is saved for celebrations like weddings, graduations, and birthdays. The classic version is cooked with long-grain rice and seasoned with a mix of spices depending on the region you are from. In West Africa, people take a lot of pride in claiming their own version of the dish. Around the world, it might be considered a side dish, but in Nigeria, it's properly prepared with some sort of meat, and is a special main dish.


Mariam has tried making Jollof Rice over the years, but she says her mom's just has that special touch and flavor that she can't seem to replicate. She says, "I think it's the touch of a mother's love."
Recipe | Nigerian Jollof Rice
Ingredients:

2 tomatoes, chopped
1 can tomato purée
1 red bell pepper
1 red habanero, rodeo or scotch bonnet pepper
1 medium onion, roughly chopped
¼ cup peanut or vegetable oil
3 tablespoon butter
4 cups chicken or beef broth
4 cups uncooked, long-grain rice
1 tablespoon fresh ginger or 2 cloves of garlic (optional)
2 tablespoon curry powder
1 tsp thyme
2 cubes of Maggi seasoning
Salt to taste
2 lbs. chicken or beef cut of your choice, chopped into 2-inch chunks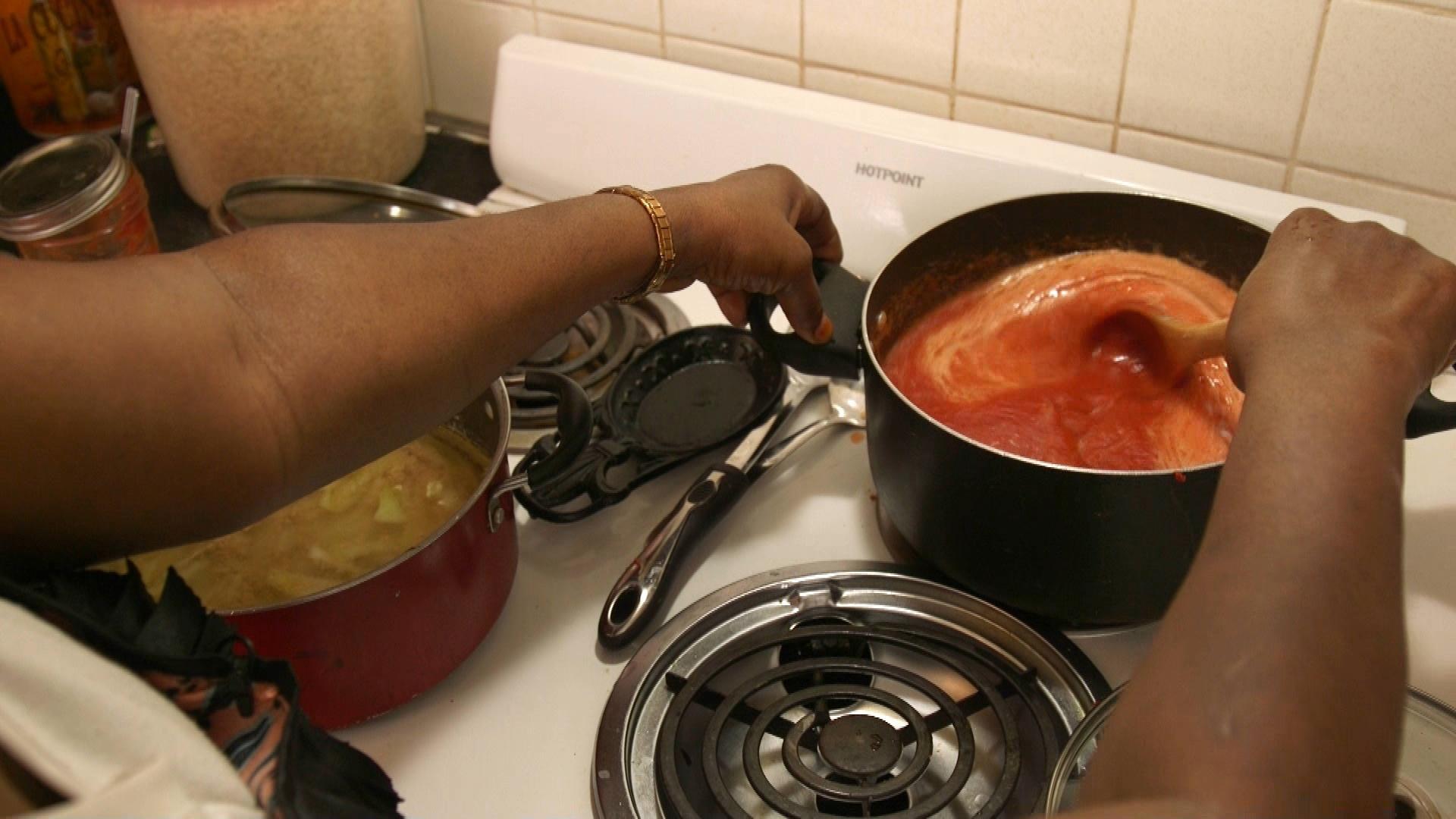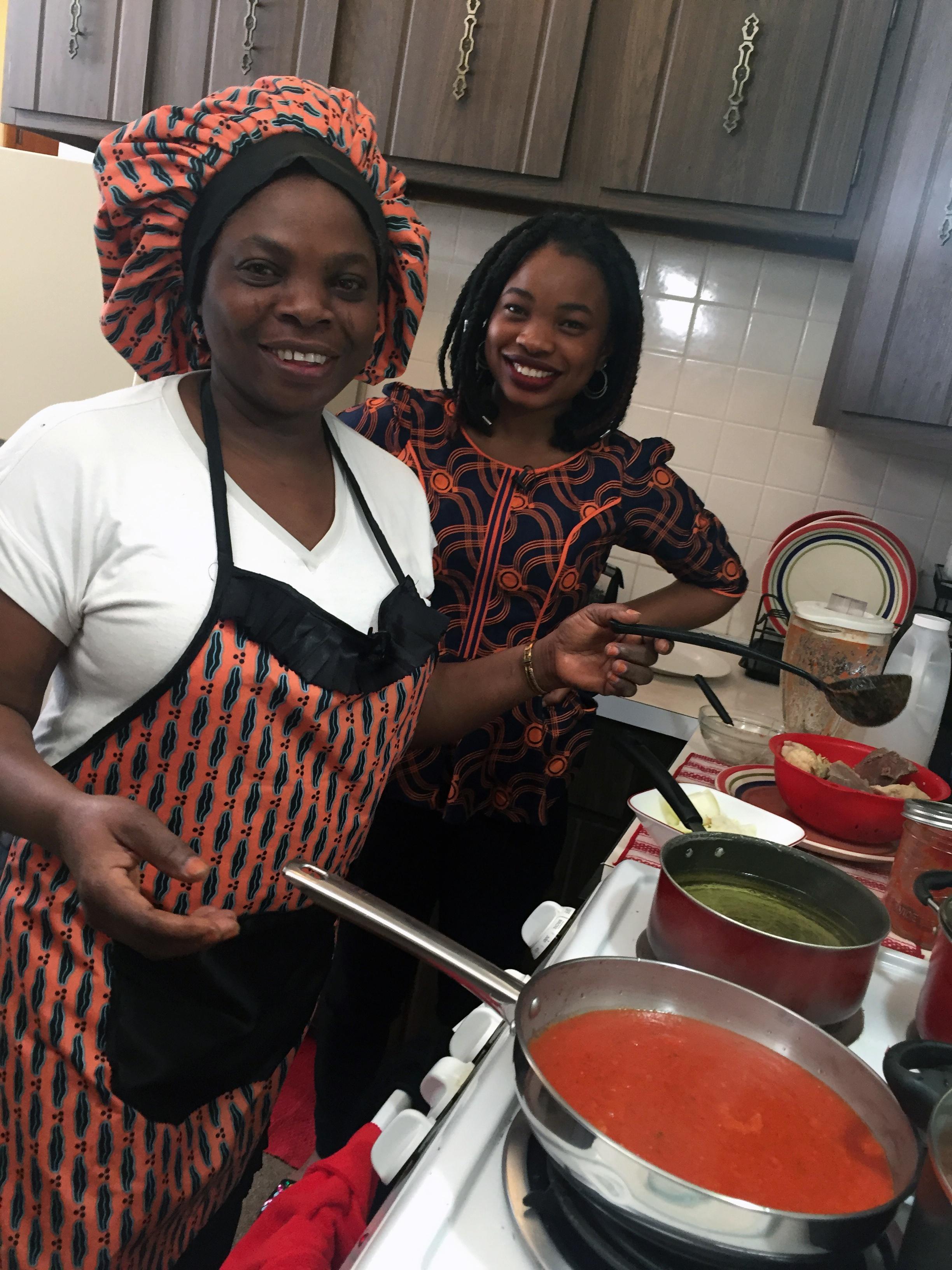 Process
In a blender, combine the tomatoes, tomato puree, bell pepper and habanero pepper. Blend until smooth.
Heat the oil over medium heat in a sauce pot
Roughly chop the onions, and add them to the oil. Saute until translucent.
Add the blended tomato & pepper mixture.
Reserve 1 cup of the mixture.
Add stock and seasonings, and heat on medium for 20 minutes, stirring occasionally.
Rinse the rice to remove the starch and add the rice to the tomato mixture. Cover tightly. Let the rice steam in the tomato mixture on a low flame until done (about 20 minutes). Check for doneness – add more time if necessary, but don't overcook the rice or it will become too sticky.
Deep fry the beef or chicken in a pot of oil, and add to a pot with the reserved liquid.

Serve the rice and top with the beef or chicken.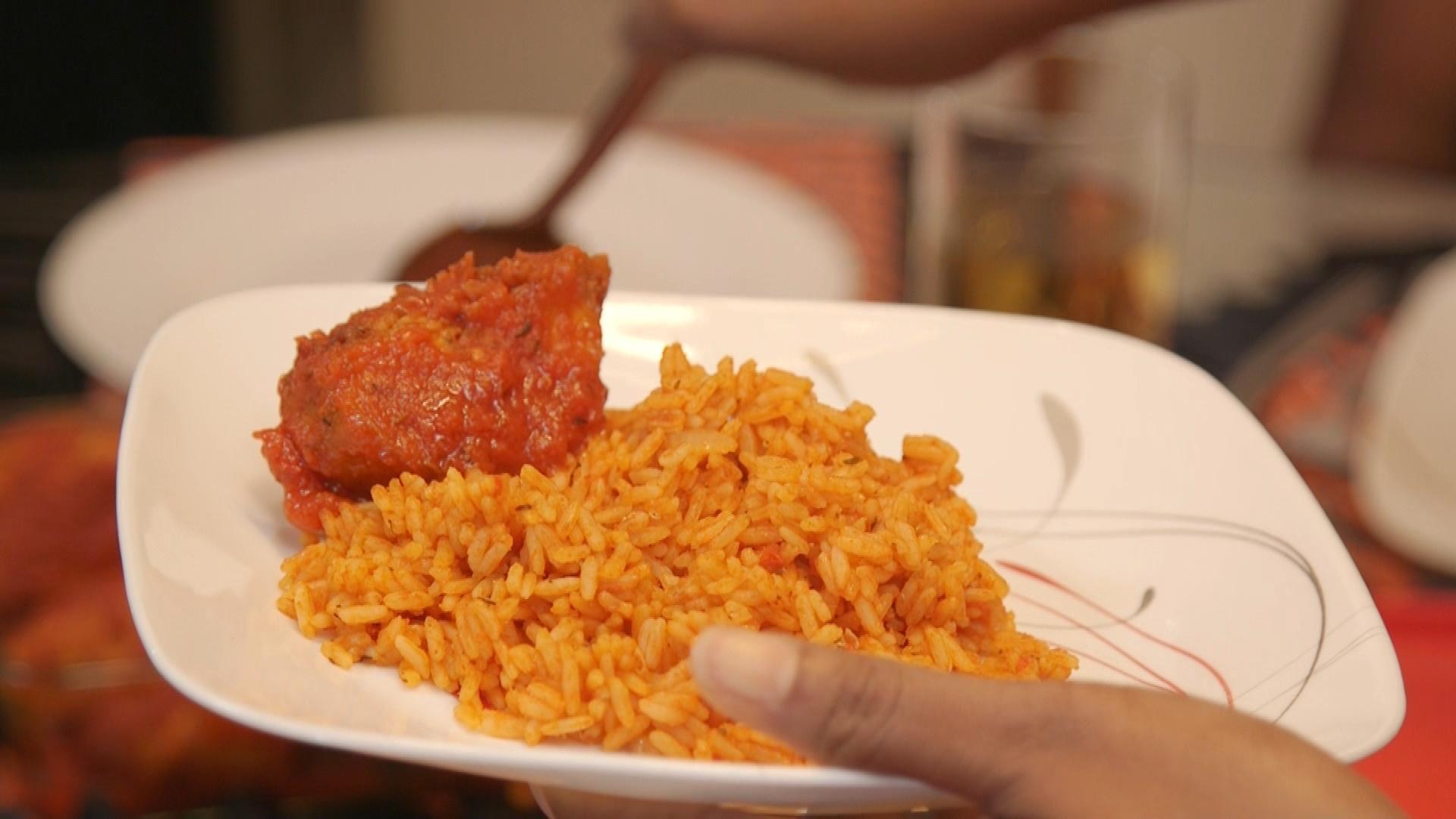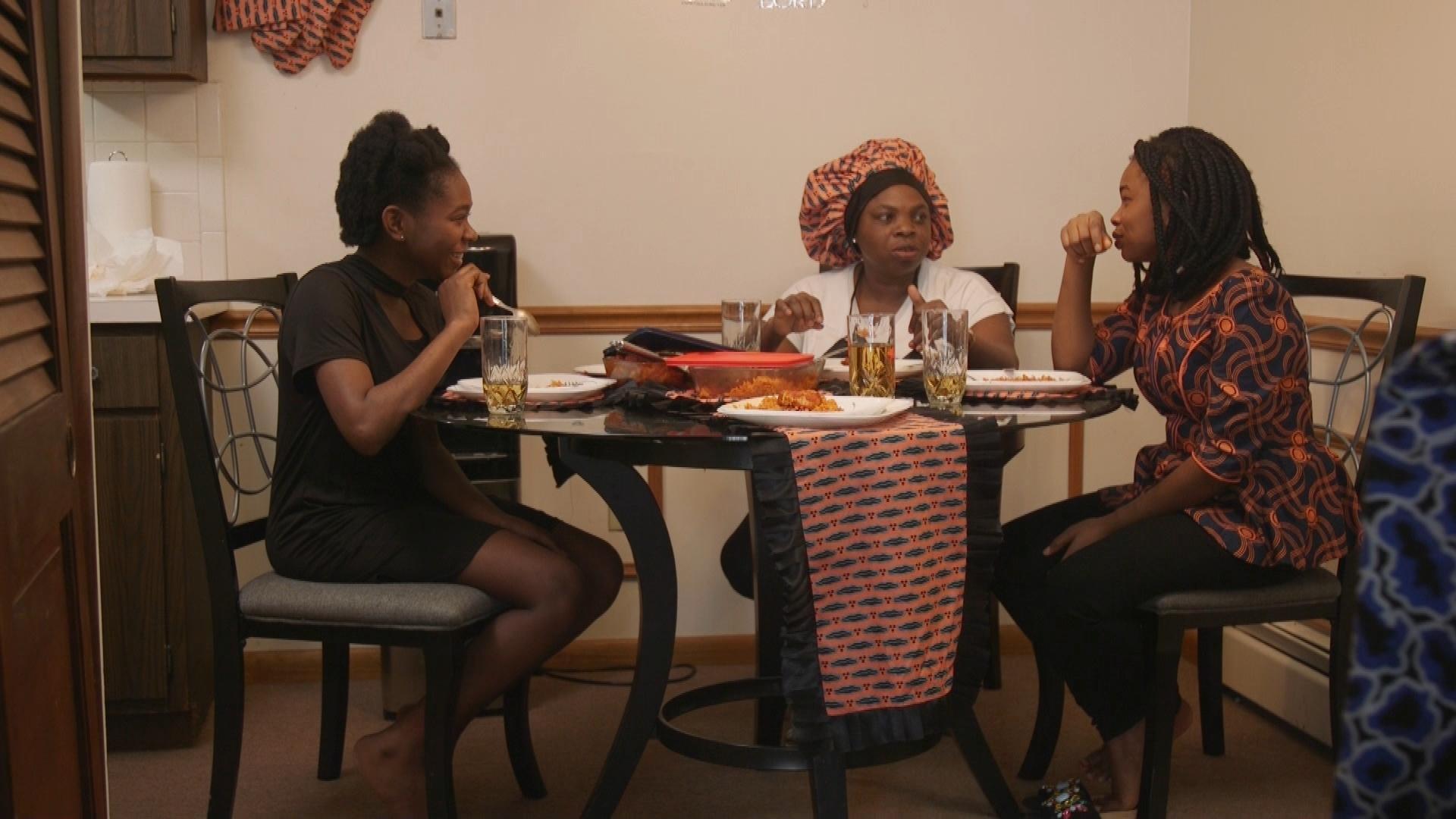 Sausage (Kiełbasa) From Poland | Annie Graver and Family
Making Buffalo Home
Flavors From Home | Kiełbasa From Poland
8:13
Published:
The story of a Polish-American family smoking traditional Kiełbasa (sausage) at Easter.
Kiełbasa from Poland
In Poland, kiełbasa is a generic term for any kind of sausage. Asking for kiełbasa in a store in Poland is the same as asking for cheese at the cheese counter of a large supermarket here. What in North America is known as Polish sausage, or Polska Kiełbasa, is usually a ring of smoked sausage made of pork meat and fat, sometimes mixed with beef, spiced with salt, pepper, garlic, and at times, marjoram, with other additives.

Kiełbasa-making is said to have appeared in Poland in the 15th century. At first, the sausage was made of different meats. Today, the most popular kiełbasa is made of pork. Before refrigeration, meat was preserved in a number of ways, among them, by smoking over a fire. What we know as Polish sausage is also served not smoked, but cooked, baked, or grilled. In the U.S. it is called "fresh sausage", as opposed to "smoked sausage".




The overwhelming majority of Polish people are Christian, specifically Roman Catholic. Christians believe that God sent a son named Jesus, to earth to be sacrificed for the salvation of mankind. Soon after his death, the son came back to life. It is this coming to life that is celebrated on Easter Sunday. Roman Catholics, and members of Eastern churches, fast for a period of 40 days leading up to Easter. In earlier times, fasting guidelines for Catholics greatly restricted the consumption of meat until Easter Sunday.
On the day before Easter Sunday, Poles take to church a basket of foods to be blessed by a priest. These foods will "break the fast" the following day. In the basket are sausage, and ham, symbolizing the sacrifice of God's son; a lamb sculpted out of butter, or sugar, with a red victory banner symbolizing the victory of life over death; eggs symbolizing new life; and other specially-prepared symbolic foods.




A number of Polish-Americans make sausage at home for Easter, up to six generations after their ancestors arrived with the tradition from Poland. In Annie Graver's family, it's noted that her father's side made their sausage with marjoram, while her mother's family did not. Annie's maternal grandfather, Henry Brzyski, began making kiełbasa for Christmas and Easter, building his own smoker. Henry was born in the U.S. to immigrant parents. After Henry died, his sons and daughter (Annie's mom Catherine) took over the preparation. Henry's children involved their children, Annie and her cousins, Annie's dad, and her husband Charlie. Their daughters are now the fourth generation of kiełbasa makers in America.



The extended family gets together to prepare kiełbasa every year. They do it in a hands-on manner by chopping the wood, tending the fire, and constantly checking the sausage. Annie believes in "starting them young" so that meaning-filled traditions become normal to her kids. Her daughters are involved in cutting the casings, mixing the meat, and sharing it with their next-door neighbors. On Easter Sunday, Annie's family comes home from church and shares the fruits of their labors in celebration.

---
Making Buffalo Home is a two-year, in-depth Buffalo Toronto Public Media engagement initiative to inform and raise awareness of immigration for our entire community. The project aims to help the region develop a better understanding of the shared opportunities and challenges we face together as long-time residents and new immigrants and refugees.

Making Buffalo Home is funded by Rich Products Corporation and Rich Family Foundation.