Making Buffalo Home is collecting stories of people in our community who have come to America and set roots in Western New York—whether your great grandfather was the first to arrive 100 years ago, or you just began the Buffalo chapter of your story 100 days ago. We want to hear your story too!
We invite you to share a personal photograph or video and write a short narrative to add to our Making Buffalo Home mosaic.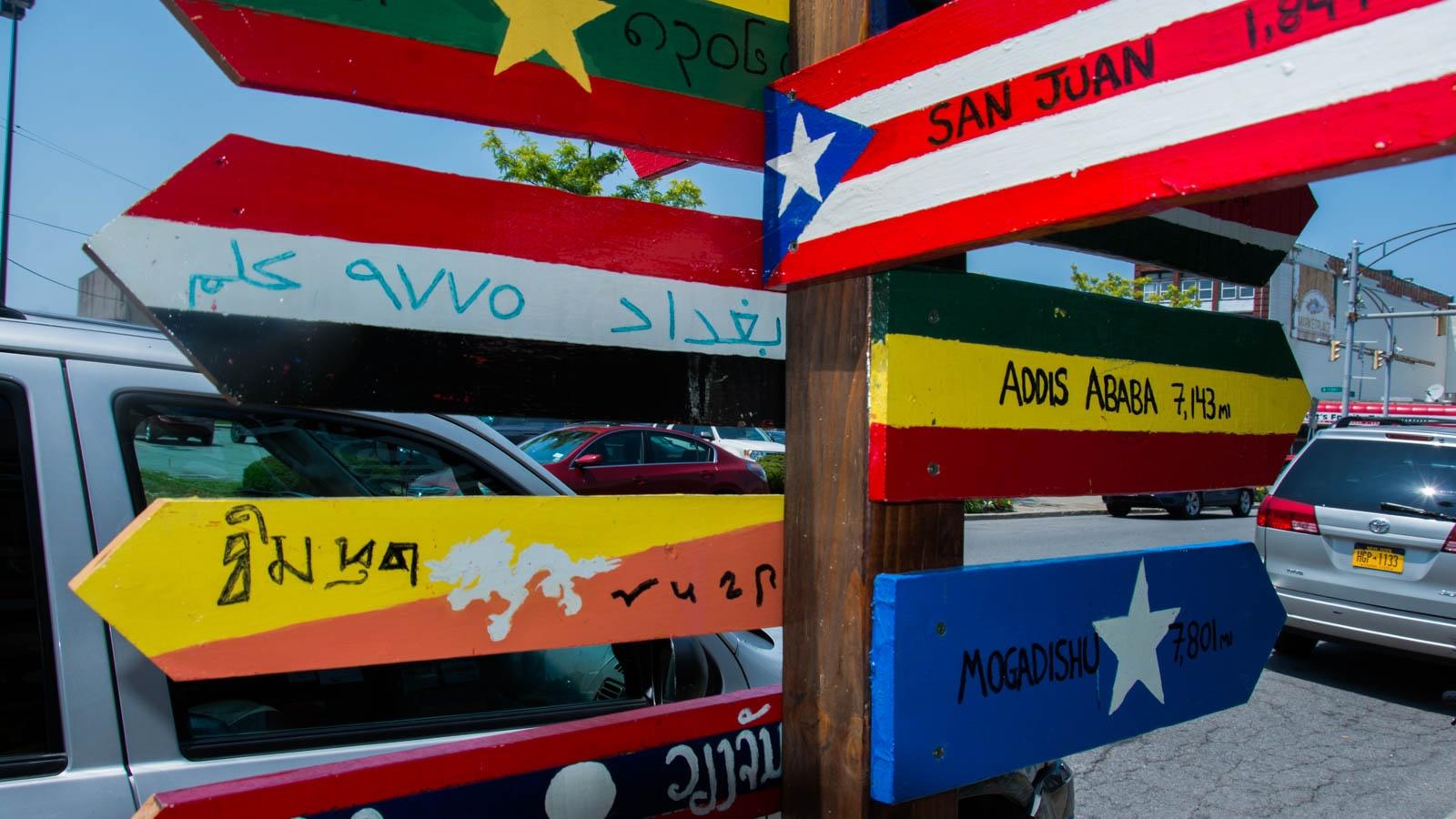 Share Your Story
Use the link below to access the form to submit your story.
Email makingbuffalohome@wned.org. Include a brief narrative about your or your ancestors' journey to America and making Buffalo home. You can also attach a photo that we will include on our website. Be sure to include your name, country of origin and city of town where you currently live. Please limit your story to 300 words.

Your content may be featured on wned.org and on WNED | WBFO social media. WNED | WBFO will review all submissions prior to appearing on the website. Content deemed inappropriate will be rejected and will not appear on the website
.
---
Explore Our Making Buffalo Home Story Mosaic
See what other people are sharing: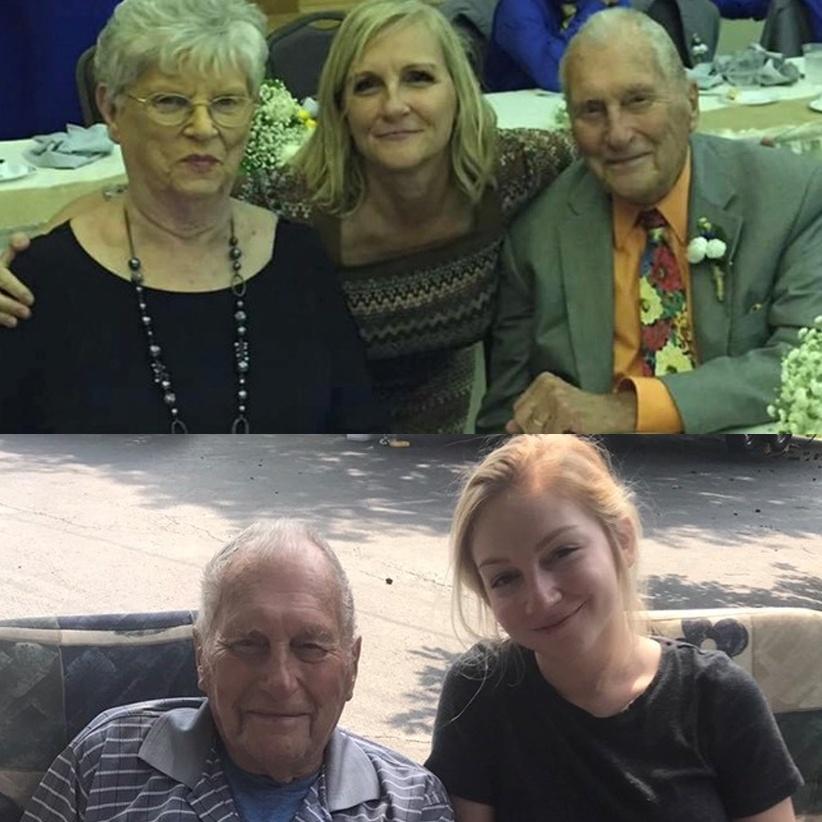 The Jolls family were one of the earlier families to immigrate and make a home in WNY. Captain Thomas Jolls immigrated to the US in 1682 on a ship called The Richard, which was delivering the proclamation of King James II to the colonies (They were unfortunately Loyalists, haha)

A descendant of his was Dr Willard Burton Jolls who was one of the first practicing, and well loved, doctor in Orchard Park. He was also a dentist, chemist, and photographer. His house still stands in OP today and serves as the Orchard Park historical museum.

His great nephew Tom Jolls (aka Commander Tom) would go on to be one of Buffalo's longest running tv personalities, starting with a beloved children's show Rocketship 7 where he played the role of Commander Tom, and ending with a 34 year career as the station's evening weather man. Tom Jolls is a major figure in Buffalo's history and brought a lot of happiness to many school aged children and their families with visits and phone calls and letters—And importantly delivered weather updates in a city where the weather can be pretty wild.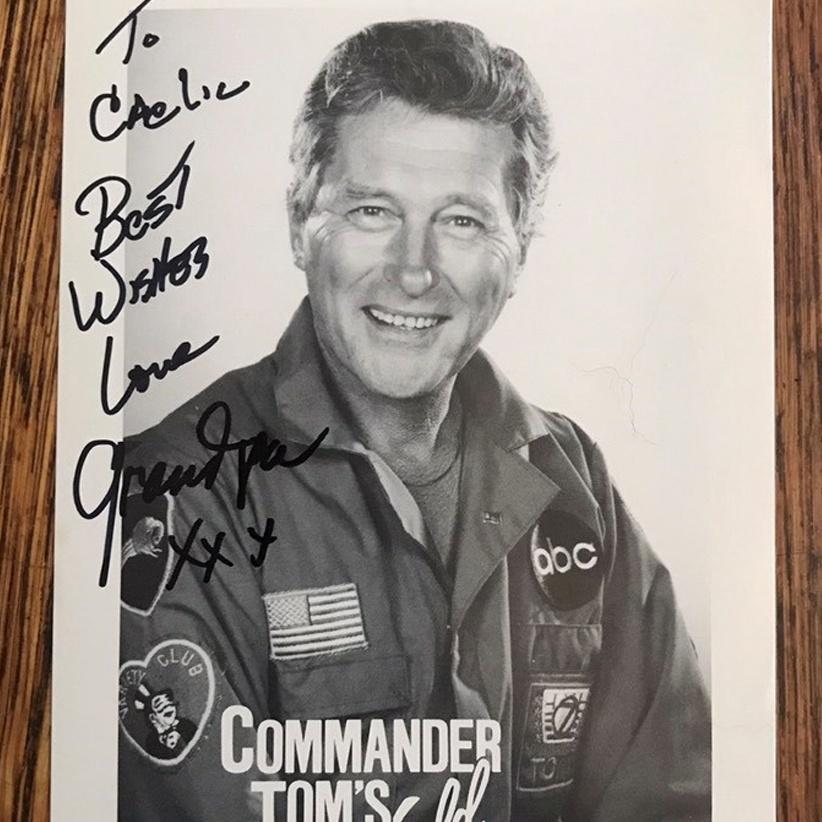 I'm one of Tom's many grandchildren and I just adore his legacy and the impact he had on many Buffalonians.

Caelie
Buffalo, NY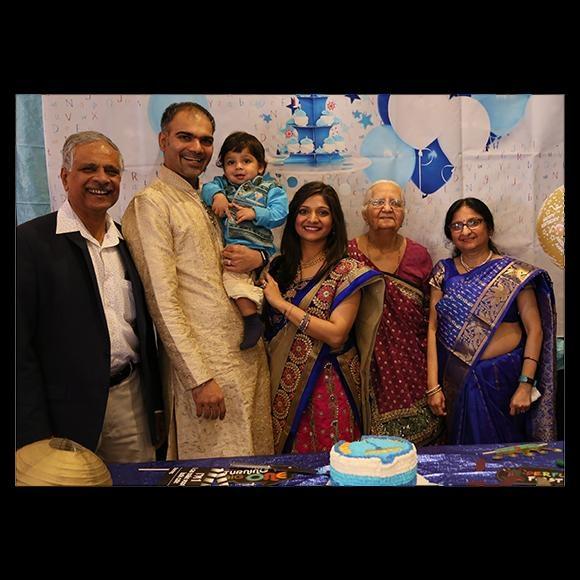 My parents made a life changing decision to leave India and immigrate to the United States in April, 2000 to give their daughters a better future. We arrived to the U.S. on different planes. It still surprises me that my parents sent me, all of 16 years old, on an international flight and go through immigration all alone! My parents chose Buffalo, NY because my uncle was already settled here.

As a former professor, my dad had to look for a job in his 40's and my mom had to look for an alternate career. Luckily Dad found a temp job to start providing for the family and Mom took up a job at a motel. As a teenager, it was exciting and equally challenging to fit in at a new high school.

We never complained about anything and instead celebrated little things, such as a great find at the thrift store or listening to old Bollywood songs at home together. The hardships we experienced only made the opportunities that much more valuable and our family bond tighter. The local Indian community provided a sense of belonging and a connectivity to the culture we had left behind.

Buffalo has given me the opportunity to grow closer to my family, get an education, have amazing friends, meet my husband, have my son and now start my passionate venture – Kulture Khazana. My passion is to help other families across the U.S. reconnect with their Indian roots and learn about the vibrant culture. My husband and I are involved with a few nonprofits and try our best to give back, as this place has given us a home.

Every year we complain about the winters but never discuss moving away from Buffalo and its warmth. After almost 19 years now, Buffalo is where I belong. It's my home.

Akruti
East Amherst, NY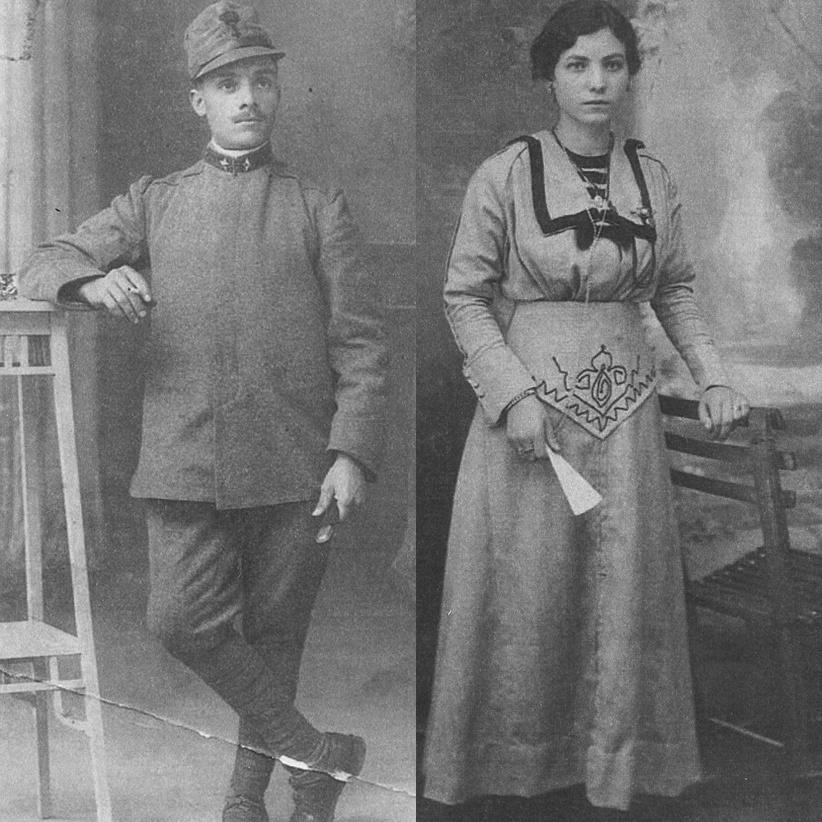 My great-grandparents Cologero and Concetta Sanfilippo arrived in Buffalo in 1920 from Castel Termini and Agrigento, Italy on board a German ship that had been captured by the Italian and American navies. The ship was renamed the Woodrow Wilson.

At that time, any Italian veteran that wished to Migrate to the United States received free passage on the Wilson. My great grandmother shared stories with my Aunt about seeing the Statue of Liberty, and finally boarding a train that would take them to Buffalo, NY.

Matt
Buffalo, NY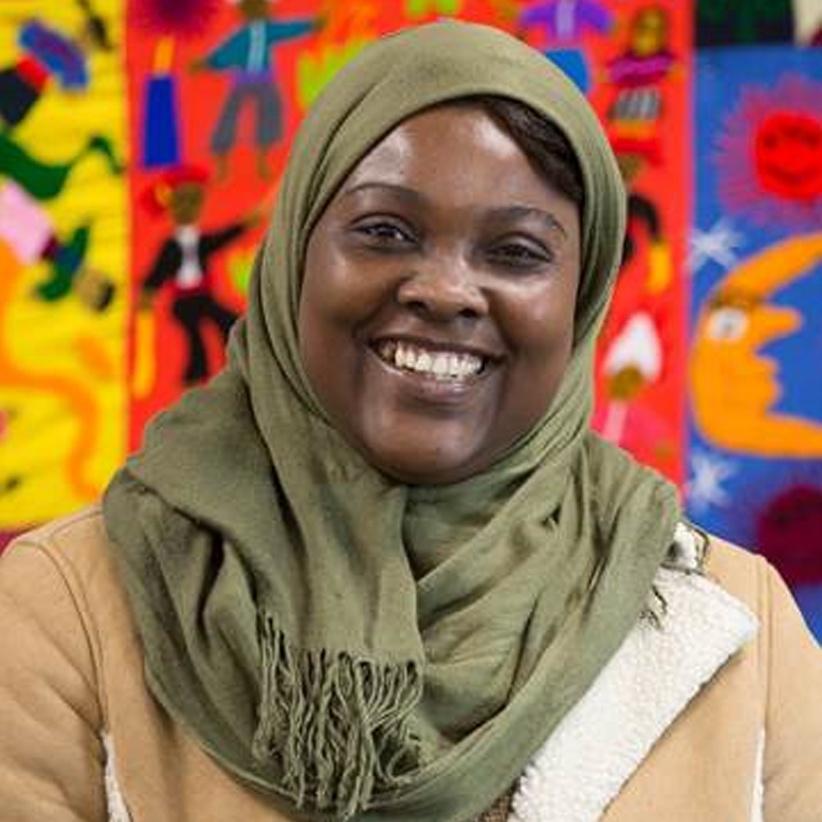 My name is Amal and I fled the fighting, violence and discrimination in my hometown Khartoum, Sudan in 2005 when I moved to Egypt. I stayed in Egypt for 15 years, where I worked as a housekeeper and nanny doing many different jobs and suffering under very poor working conditions. My life in Egypt was hard and I was discriminated against because I am Sudanese.

I finally moved to the United States when I was resettled in Buffalo, NY in 2017 by Journey's End Refugee Services. I am so grateful to the Sudanese community and my resettlement agency for welcoming me to Buffalo. When I first arrived, any Sudanese people who heard I am new here came to my house to welcome me and my family and offer us support. All of my new friends showed me around, helping me find the market and where to do laundry. In my community, it does not matter which ethnicity you are, or if you are from the North or the South, because we are all Sudanese.
Insha'allah (God willing) Journey's End will continue to grow as an agency and help more people like me.

Buffalo is like my country, because it rains often here and is hot during the summer. I learned that if you have a good coat and good boots for the snow, then the winter here is not so bad. The people in Buffalo are cool and interesting, and I am happy to call Buffalo my new home.

Amal
Buffalo, NY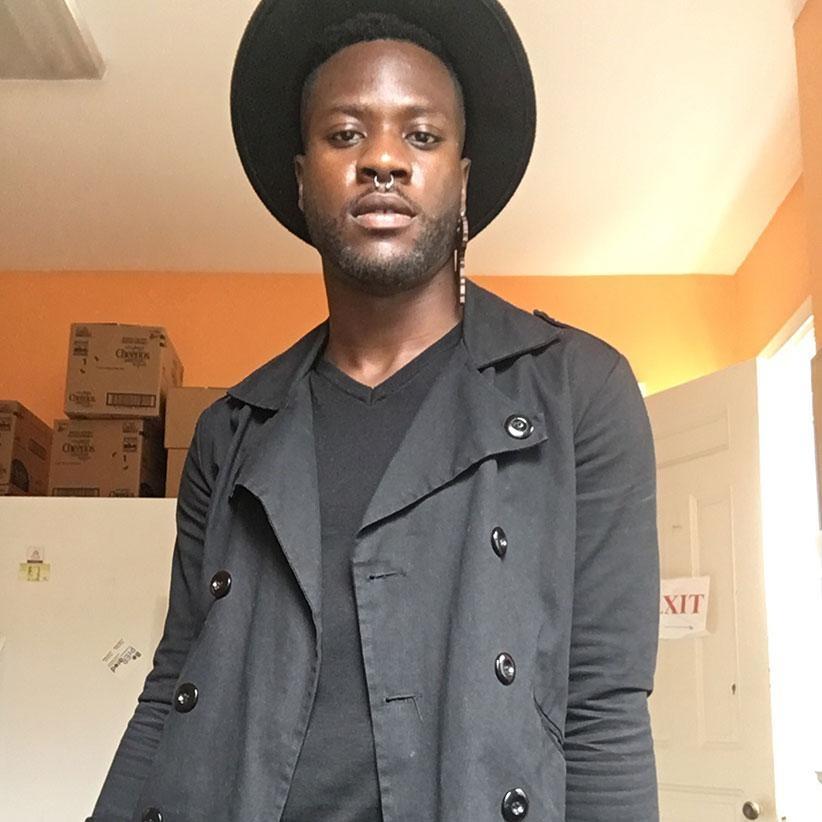 On August 2010, a 16 year-old Nigerian boy made his way to Buffalo from Queens, New York for school and almost nine years later, hasn't looked back. That was me, Richmond Wills although my friends commonly refer to me as "Richie". I was born in Lagos Nigeria and moved to the United States when I was 10, thanks in large part to the efforts of my hard working mother who became a citizen by rites of marriage to a white man whom I would never come to know.

I discovered a passion for writing poetry that sustained me through high school and allowed me to voice my struggles. One was my very thick accent. I was bullied mercilessly. I absorbed as much as I could of how those around me spoke and behaved, an efficacious endeavor mimicking characters on American television shows and film. In 11th grade a fellow classmate asked why "I sounded white".

Against the will of my mother I graduated with a Bachelors of Arts degree in Psychology at the State University of New York at Buffalo, as opposed to one of the "Holy Trinity" of career choices for a first generation child immigrant: Doctor, Lawyer or Engineer, the first I'm sure of many disappointments for my mother, but I persevered.

Upon graduation the appeal of moving back to New York City didn't outweigh the thought of having to live once again in a traditional home with a mother who would not accept my sexuality. Buffalo became my new home as I cultivated a group of friends that would affirm and support me without prejudice, and continue to pursue my dreams as a creative, writer and community advocate. I never imagined I'd still be in the rust belt city almost nine years after moving to Buffalo, but it has become as much a part of me as my birthplace, shaped my identity in ways that influence the way I look at the world.

WE ARE BLACK ROSES
WITH PETALS AS DELICATE AS GENTLE RAIN
AND ROOTS SPREAD FARTHER THAN A CHRISTMAS SONG
BUT DO NOT PRESUME OUR SOFTNESS FOR WEAKNESS
OR OUR QUIETNESS FOR SILENCE
BECAUSE IN THE DARKNESS OF NIGHT OUR THORNS GROW STRONG AND DISCERNING FOR TRUTH
AND WHEN DAYBREAK COMES
ONLY THE TRUTH WILL SURVIVE

Richmond
Buffalo, NY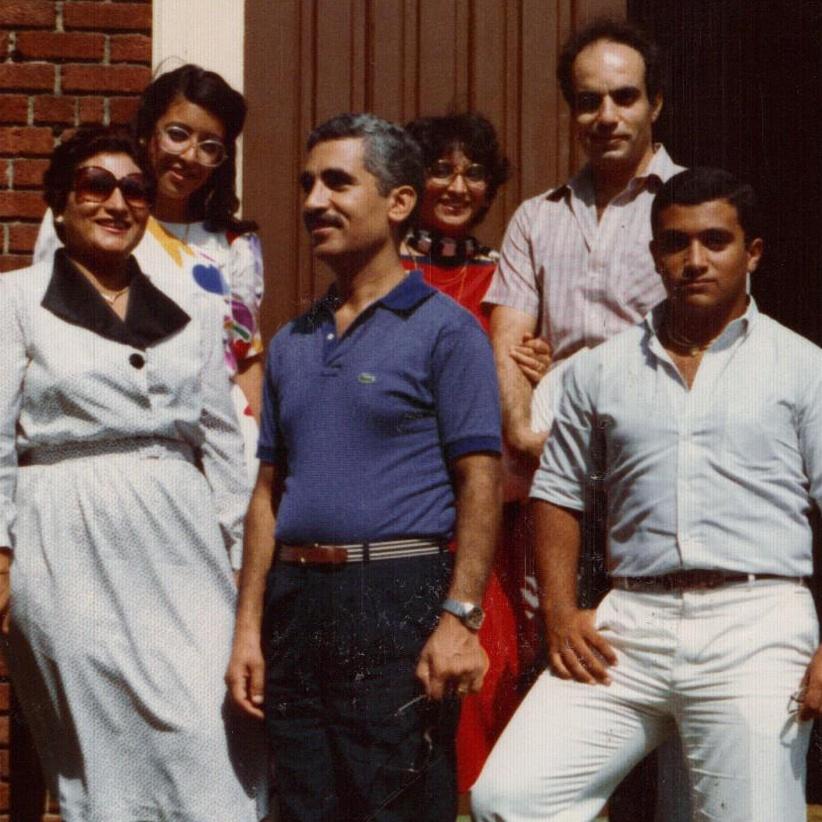 In the late sixties my grandfather left everything he had in Egypt and moved to New York City as part of a program to work with the United Nations. It wasn't until years later that he would bring his new family of five to Brooklyn to begin their lives as Americans. Largely misunderstood in a new society, my grandfather's family were left no choice but to Westernize while carefully keeping core Coptic (Egyptian-Christian) values intact. Coptic people pride themselves in having a close relationship with their faith, and an even closer relationship with their large families. Traditional Coptic Christmas, for example, involves a family gathering at midnight on January 6th with immediate, extended family & friends. Tables are filled with traditionally prepared meats, pastas and delectable desserts to end the two month long vegetarian fast. Truly a night never to be alienated, regardless of westernization.
The family quickly grew accustomed to their new lifestyle; my father a die hard Yankees fan, my grandmother working in the fashion district, and my grandfather a distinguished United Nations employee to name a few examples. Overtime each family member moved away whether for work or marriage and the family began to settle around Lake Ontario. My aunt and grandparents settling in Mississauga and the other aunt in Buffalo. My father was the hold out traveling every year to different Hotels as he was a leading Hotel Operations Specialist in his company. In May 2005 my father passed away as a result of a brain aneurysm leaving my mother, sister and I alone.While myself only thirteen and my sister nine, we knew when we discussed with our mother that moving to Buffalo to be closer with family was a must. Thirteen years later I cannot imagine my life anywhere but Buffalo - The value of family and faith passed down from my grandfather directly influencing that decision.
Tom
Youngstown, NY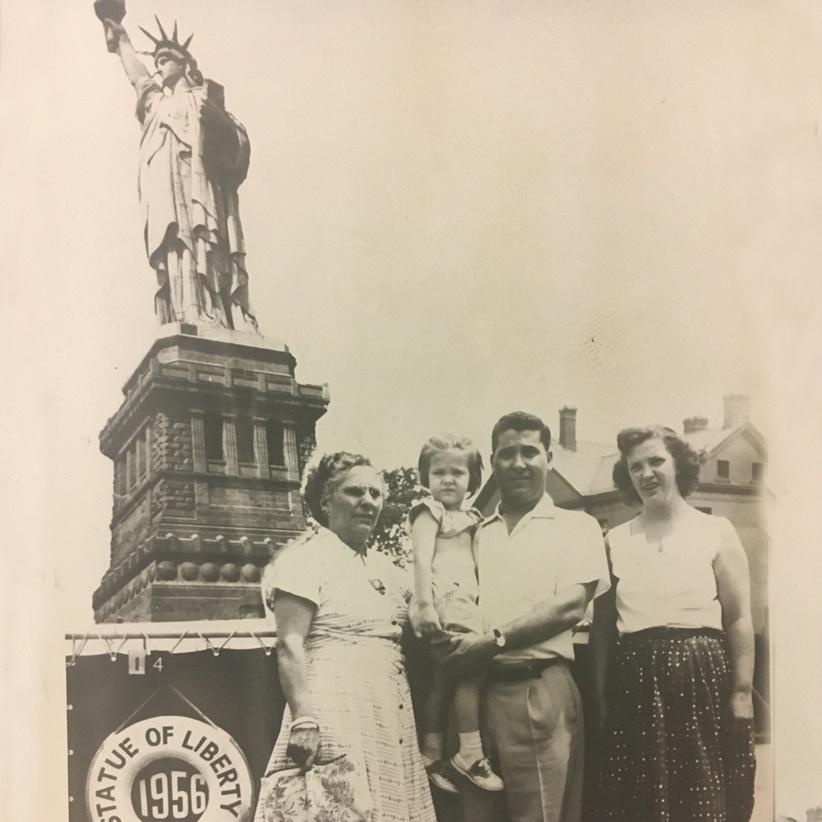 My paternal grandmother, Grace Etiopia, was born in 1896 in Valguarnera, Sicily. She immigrated to the United States from Palermo, Italy aboard the S.S. Francesca in 1907. She and her brother, Giuseppi, were travelling to Buffalo to live with their father. Grace was 11 years old. Her mother was deceased.

At 16 years old Grace married Philip Russo. They settled in an Italian neighborhood in Buffalo and had six children, five girls and one boy. Their west side property had two homes on one lot which enabled three of her children's families and Grace to live together. They gathered together for family dinners on Sundays--usually in Grace's small apartment. They kept an eye on each other's children. And they all gathered in their one basement to help with the seasonal tomato canning—even the grandchildren. Eventually, some of Grace's children moved from the "family" residence to live on their own, but they never lost the bond of those early days together.

Unfortunately, Phillip and Graces bond did not last and Grace was left alone to raise their children. He visited occasionally, usually of holidays, to bring the children gifts. Grace supported her family by working as a cleaner for Linde Air Products. She eventually succumbed to Parkinson's disease at the age of 91.

Barb
Buffalo, NY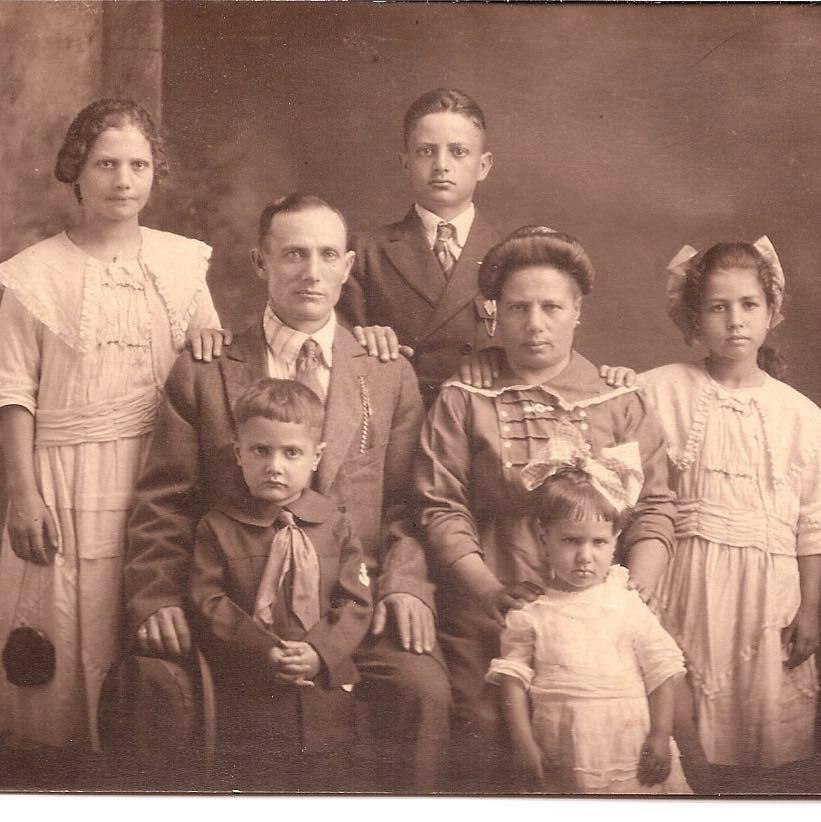 My Uncle Lawrence Inchiostro's family was originally from Ragusa, Sicily. Many of them immigrated to the United States in 1915, travelling on the Santa Anna from Palermo in Southern Italy.

Eventually, Esther Inchiostro married Carmello Burrafato, whose family came here from Pozallo, Italy in 1904. They both became citizens in 1939 and together owned and operated The Garrick Bar.
Lynne
Cheektowaga, NY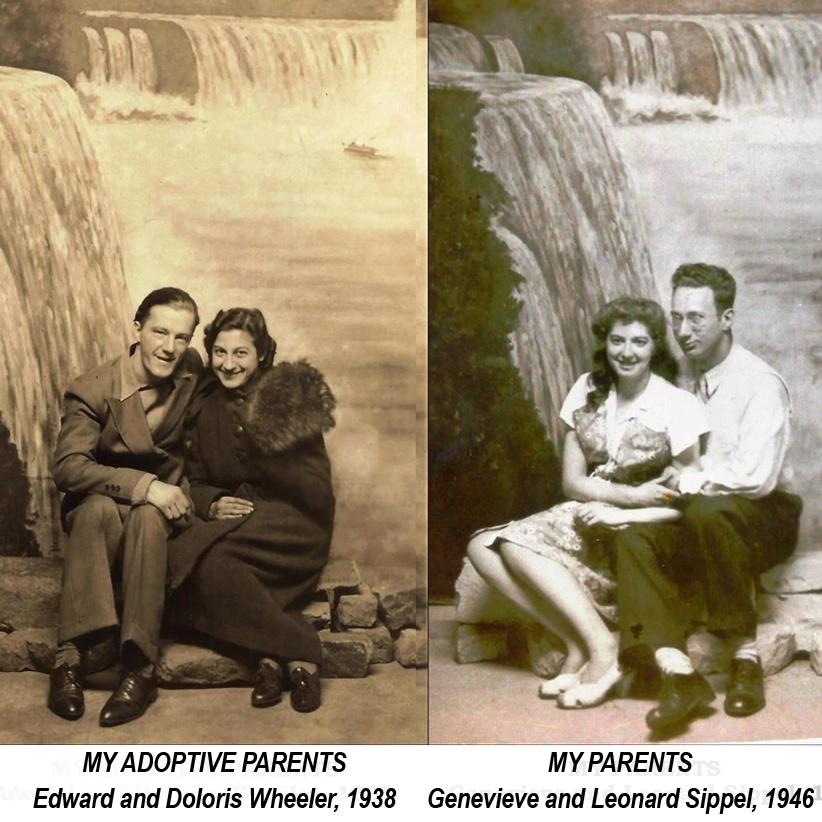 I'm adopted. I celebrate two sets of parents and their ancestors.

My adoptive father's parents were English and Polish whose families arrived here 200 years ago. Pennsylvania's mining community was the home of my Italian adoptive mother's family since the mid-1800s. Her father left Italy at the age of 14, supposedly the illegitimate son of Italian royalty.

My natural father's family came to Buffalo in the late 1800s from Germany. His mother's family arrived here from Germany and Poland around the same time.

My mother's mother had German, Swiss, and French roots. Her ancestors settled in Niagara Falls, Lockport, and Rochester in the early 1800s.

My mother's father had German, English, and Scots-Irish ancestors who lived in the Northern colonies. My 6th great grandparents, a young married couple, left Northern Ireland in 1772 to settle in Pennsylvania. Their descendants spread out to Ohio, Iowa, and Washington State. Family rumor has it that our Tuttle line came from England on the 2nd trip of The Mayflower in the mid-1600s. However, the furthest link I've found was my great-great-grandmother who was born in Ohio in 1827.

In 1845, my German maternal great-great grandparents lived in the Settlement of Tonawanda. They left in a covered wagon in 1855 with their 10 year old son and bought a farm in Iowa where they had many more children. When their son turned 17, he fought for the North in the Civil War. Sometime later, he met his wife who was Irish and English. Their son, my grandfather, came back to Buffalo where he met my German, Swiss, and French grandmother.

It's fascinating to me to have this melting-pot of ethnicities, and comforting that I was raised in the Town of Tonawanda where part of my blood line once lived.

The coincidences don't stop there! In 1938, my adoptive parents, Edward and Doloris Wheeler, had their picture taken in a photo booth in Niagara Falls, New York six months before they were married. In 1946, my parents, Genevieve and Leonard Sippel, sat in that same photo booth the day they were married. As far as I know, I am the only adopted person in the world to own photos of both sets of parents taken at the same photo booth!

Doris
Town of Tonawanda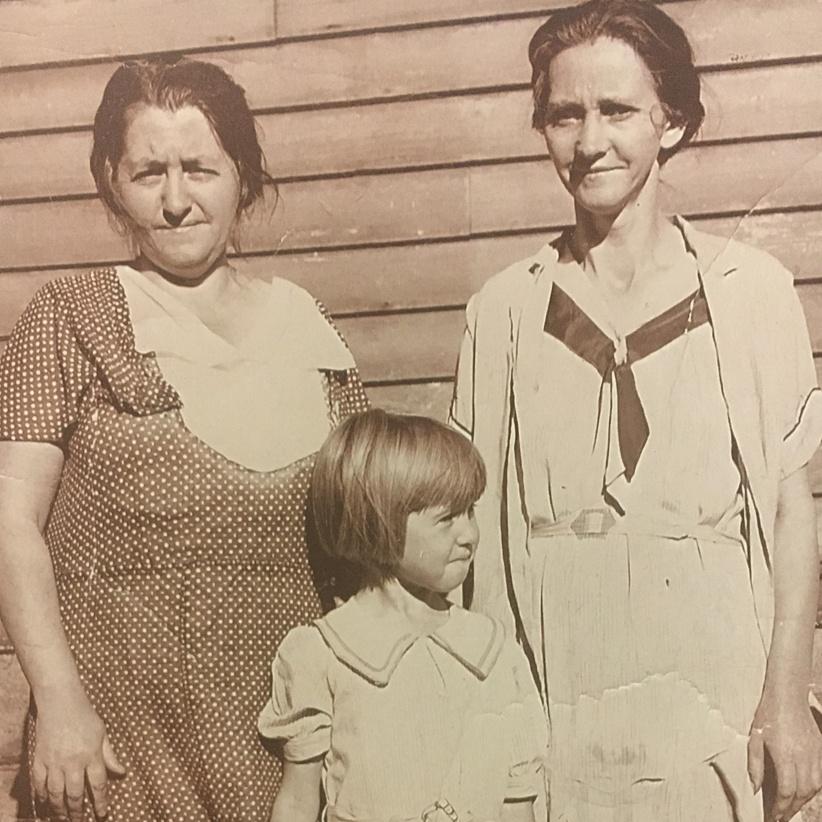 My maternal grandmother, Eva Edelbruk, was born in Morrisfield, Hungary in 1892. In 1914, she and her sister Angelina sailed to the U.S. from Hamburg, Germany on the ship The Fatherland. They had come for a visit. As they began their journey back to Germany, World War I broke out. The ship was ordered back to the port of New York and arrived there on July 10, 1914.

Eva and Angelina ended up staying in the U.S. They settled in Buffalo, New York. Thirteen years later, on June 30, 1927, Eva signed a "declaration of intention" to become a U.S. citizen. On May 2, 1930 she was granted U.S. citizenship.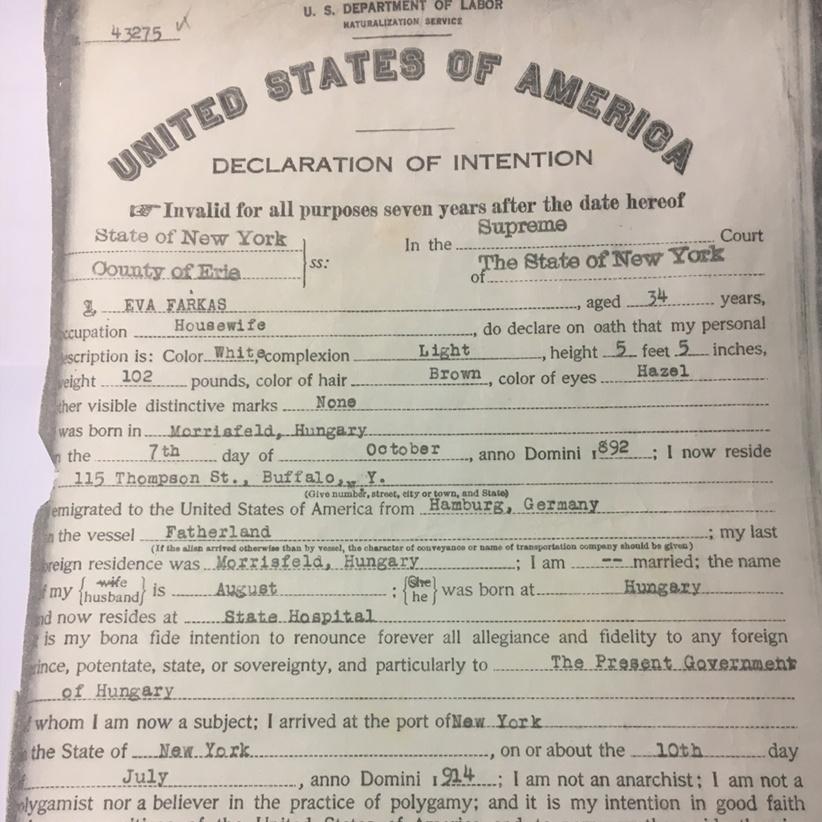 Eva's 1927 "declaration of intention" stated that she was married to August Farkas. It also stated that he was confined to Buffalo State Hospital due to alcoholism. It is known that August later denied paternity of their seven children and abandoned the family. Records from Buffalo State Hospital indicate that Eva and her children spent time living in poverty. From my recollection of time spent with Eva in the late 1950's and early 1960's, she was employed as a cleaner of doctor's offices. Eva passed away at the age of 88.

Barb
Buffalo, NY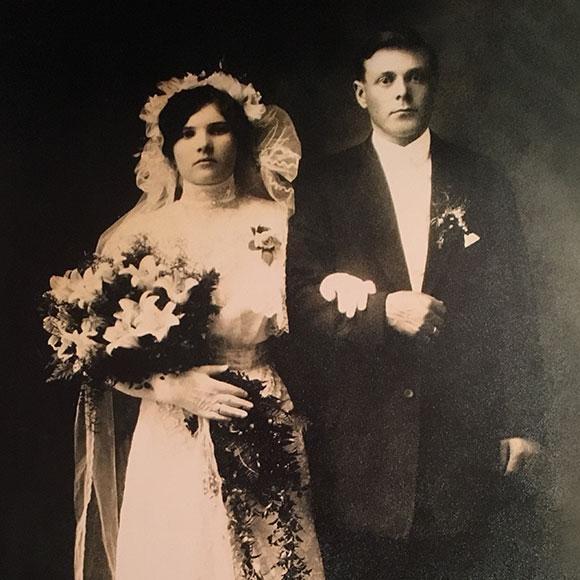 I moved to WNY 90 years after my grandfather, John Bargiel, immigrated from Zbydnowice, Poland to Buffalo in 1908. He worked for Lackawanna Iron and Steel Company and lived in labor housing in Smokes Creek Village. A few years later my grandmother, Anna Zarzycha, immigrated to Buffalo from Poland. She lived at the Genesee Hotel where she worked as a "kitchen girl."

John and Anna were married in July of 1913 by Rev. Stanislaus M. Cichowski, assistant priest at St. Barbara's in Lackawanna. By 1914 they had moved to Flint Michigan and eventually settled in Detroit in 1918. From the time my grandparents left Buffalo, no one else in my extended family lived in this area--until I moved here in 1998 to teach at SUNY Fredonia. In fact, I didn't even know my grandparents started their life together here, until after I moved when a cousin who was researching our family history told me.

What I do know is that from the moment I got here I felt an inexplicably strong connection to Buffalo and WNY. I have lived a lot of places in my life and have enjoyed them all, but none captured my heart the way Buffalo has. I sometimes think that is because I have completed some kind of family circle by returning to the place where my grandmother and grandfather started their new lives in America.

This family immigration history is also part of what motivates me to teach English to our community's newcomers as a tutor for Literacy WNY-Niagara. John and Anna came here not knowing the language or customs, but became citizens and had successful lives. I'd like to think that there were people who made my grandparents' transition just a little easier. Now it's my turn to return the favor.

Linda
Orchard Park, NY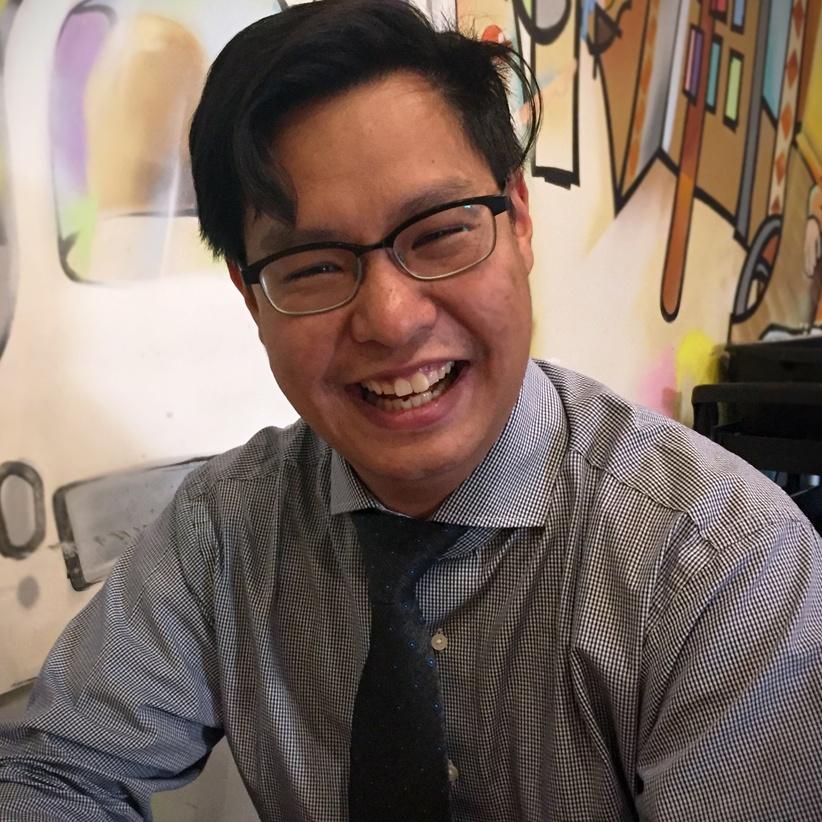 I immigrated from Burma in early 2006 to pursue education and a new life in the United States. I was only 18 at that time. Life in Burma was very difficult. My family already had to seek asylum here in the United States before I arrived. Eventually I did the same. Having witnessed enormous amounts of social injustice in my native country, and a significant threat to my own life, I'm fortunate for the opportunities of education and a meaningful career here in the United States. It was in Buffalo that I first saw another person from my home country – what a joy that was. It left me yearning to find out more about this city and the refugee and immigrant communities here. As I became better acquainted with my new home, I realized this country also experiences social, political, economic, and academic injustice in its own way. I want to work alongside my fellow Buffalonians to help us understand and appreciate all we can offer each other.

Ba Zan Lin
Buffalo, NY
I am Mary Lou Frost, born in Mercy Hospital in Buffalo, New York on March 7, 1933. My grandfather (on my father's side), Egbert Humphrey Stanfield, was born in Colden, New York on June 24, 1864. As a young man he moved to Canada to help build the Welland Canal. He was a structural engineer. He was married to Merinda Sherk in Fort Erie on January 14, 1885. My grandparents, Egbert and Merinda Stanfield had moved to Buffalo and lived on Babcock Street by 1893. My father, Roy Stanfield was born in Port Colborne, Canada on November 30, 1891, but was a U.S. citizen through his father, Egbert Stanfield. My father had four older sisters, three of whom settled in the Buffalo area and raised their families there. The "Stanfield Clan" were close and their children have maintained that family closeness for over a century.
Mary Lou
Buffalo, NY

Making Buffalo Home is a two-year, in-depth WNED | WBFO engagement initiative to inform and raise awareness of immigration for our entire community. The project aims to help the region develop a better understanding of the shared opportunities and challenges we face together as long-time residents and new immigrants and refugees.
Making Buffalo Home is funded by Rich Products Corporation and Rich Family Foundation.


---